2011 Australian of the Year Award recipients
We'd like to congratulate the following people for their extraordinary achievement in being selected as the 2011 Australian of the Year Award recipients.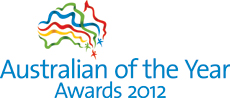 Find out more
Read more about the Australian of the Year Awards, including how to nominate.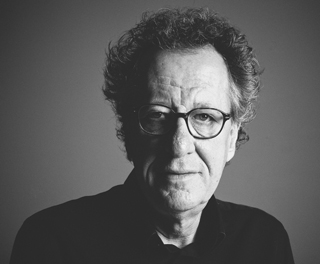 Australian of the Year - Geoffrey Rush
Geoffrey Rush has now celebrated 40 years as an Australian actor, achieving the rare international distinction of the 'Triple Crown' – an Oscar, a Tony and an Emmy. He also has three Australian Film Institute honours, three British Academy Awards, two Golden Globes, four Screen Actors' Guild Awards, and last year was inducted into the ranks of Australia's elite with a Helpmann Award. When he received his fourth Academy Award nomination playing Australian therapist Lionel Logue in The King's Speech which he also executively produced, the revival of Belvoir's The Diary of a Madman played to acclaim in Sydney and in New York. He starred in and executive-produced Fred Schepisi's film of Patrick White's Nobel Laureate-winning novel The Eye of the Storm, and played Lady Bracknell in the MTC's celebrated production of The Importance of Being Earnest. Seen as a creative mentor by many, Geoffrey philanthropically supports young actors and arts companies. He is Patron of the Melbourne International Film Festival; of Toowoomba's Empire Theatre Foundation distributing bursaries to young performers; and of the Spina Bifida Foundation Victoria. He is an Ambassador for the Melbourne Symphony Orchestra and UNICEF Australia. In 2011 he was honoured to be appointed as foundation President of the newly-established Australian Academy Of Cinema and Television Arts.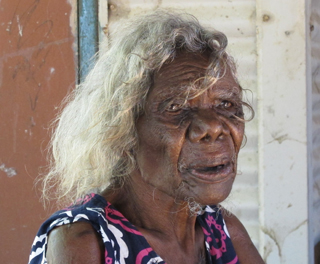 Senior Australian of the Year - Laurie Baymarrwangga
In the nine decades since her birth on the island of Murrungga, Laurie Baymarrwangga has seen the arrival of missionaries, exploitation by Japanese and European fishermen, war and tumultuous change. Undaunted, she has almost single-handedly nurtured the inter-generational transmission of local ecological knowledge through a lifelong commitment to caring for kin, culture and country. In the 1960s Laurie established a housing project on her homelands that has benefitted generations of kin. Speaking no English, with no access to funding, resources or expertise she initiated the Yan-nhangu dictionary project. Her cultural maintenance projects include the Crocodile Islands Rangers, a junior rangers group and an online Yan-nhangu dictionary for school children. In 2010, after a struggle stretching back to 1945, Laurie finally received back payments for rents owed to her as the land and sea owner of her father's estate. She donated it all, around $400,000, to improve education and employment opportunities on the island and to establish a 1,000 square kilometre turtle sanctuary on her marine estate. In the face of many obstacles, this great, great grandmother has shown extraordinary leadership and courage in caring for the cultural and biological integrity of her beloved Crocodile Islands.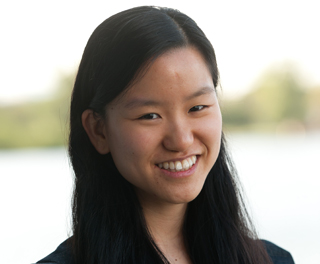 Young Australian of the Year - Marita Cheng
While still a university student, Marita Cheng has demonstrated vision and leadership well beyond her years and is dedicated to encouraging young women to become interested in a career in engineering. The daughter of Chinese parents, Marita was born and raised in far north Queensland and now studies at the University of Melbourne. She founded Robogals Global in 2008, as a response to the traditionally low levels of participation by women in engineering and technology. Robogals uses fun and educational activities to teach schoolgirls about engineering and the difference that engineers make to our lives. Already Robogals has run robotics workshops for 3,000 girls across 80 schools in Australia and now has 17 chapters across Australia, New Zealand and the United Kingdom. Marita's career path includes studying for a Bachelor of Engineering and a Bachelor of Computer Science on a Paterson Scholarship. She has a Nancy Fairfax Churchill Fellowship, an International Youth Foundation YouthActionNet Fellowship and an Anita Borg Change Agent Award. A former panellist on ABC TV's New Inventors program, Marita plans to start a robotics company, creating robots that will take care of many everyday and mundane tasks. Already she has changed the way that girls view their capacity to contribute to engineering and technology.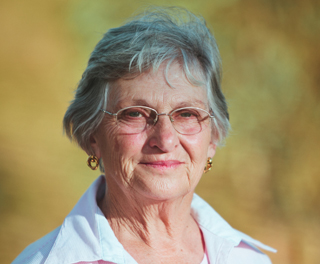 Australia's Local Hero – Lynne Sawyers
In fostering children, Lynne Sawyers travels hundreds of kilometres every week, prepares up to 15 meals a day, washes clothes, sews, bakes and raises funds. For 15 years, she has been on call to care for lost, abused and bewildered children in heartbreaking circumstances. She has fostered more than 200 children, many of whom arrived on her doorstep with huge problems, physical, intellectual and emotional. Lynne lives near Cowra with her husband, Ken, and even though she has had up to six children at a time (as well as her own daughter, Emma), she has given them a rounded, supportive and non-judgmental family environment, often their first such experience. Her warmth, humour and generosity have had an enormous impact on these children. Because of her, many are now leading fulfilled, happy lives and have adopted Lynne as their 'second mother'. For the past 15 years, Lynne has worked tirelessly without leave, or overtime or penalties for difficult working conditions, but she could not imagine living them in any other way. At the age of 68, she continues to do her very best to give these children a better chance at a good life.