Housing affordability stabilises for the first time in two years
Quarterly review of housing affordability - March 2003
The nation's leading indicator of the relative cost of housing - The Commonwealth Bank/HIA Housing Report - indicates a stabilisation in housing affordability for the first time in two years. With property prices growth slowing, the Housing Affordability Index for Australia rose by 0.3 per cent in the March quarter with improvements in Sydney (4.2 percent) and Adelaide (2 percent) offsetting declines in all other capital cities.
However, affordability remains historically low. Households entering into home ownership will need to set aside 23.4 per cent of their monthly income to meet minimum loan repayments. This compares to 17.6 per cent recorded in September 2000.
Mr. Hugh Harley, The Commonwealth Bank's Group Executive of Retail Banking Services comments: "Home ownership is a major goal for Australians as it remains, over the long term, a solid way to build wealth. The potential stabilisation in affordability is a positive sign for Australian home buyers."
Australia's peak building industry body, Housing Industry Association (HIA), welcomed today's improvement in housing affordability but cautioned that the recent boom in property prices is still keeping home ownership out of the reach of many households.
HIA's Chief Economist, Simon Tennent, said that while excessive demand has been a factor, supply constraints have also played a part in inflating prices.
"An acute shortage of land has sent prices through the roof and in some cities, the land component of a new home is as high as 60 per cent of the final purchase price. When you add to this the myriad of fees, charges and taxes levied on all types of property, it is clear that if the Government is serious about addressing the affordability problem, they need to be looking beyond the demand side of the equation," Mr Tennent said.
The Housing Report highlights include:
Hobart remains Australia's most affordable city, followed by Adelaide, Perth, Brisbane, Canberra, Melbourne and Sydney.
The median price for a dwelling (includes houses and units) is $259,600, up $200 on the previous quarter (or 0.1 per cent)
Annual Household disposable income grew $200 to $66,500
Interest rates remained on hold over the quarter at 6.55 per cent.
Full copy of the Commonwealth Bank/HIA Housing Report - March 2003 (PDF - 66KB)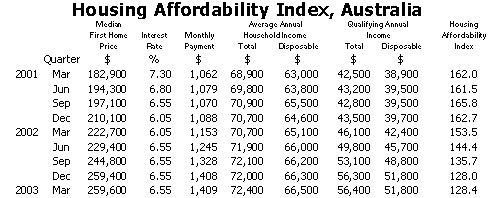 Note to Editors
The Housing Report uses Commonwealth Bank house price data to measure the ratio of average household disposable income to the qualifying income required to meet payments on a typical dwelling.
The Commonwealth Bank is Australia's biggest home lender with over 1.1 million home loan customers.
For further information, please contact:
Bryan Fitzgerald
Group Corporate Relations
The Commonwealth Bank Group
Phone: 02 9378 2663