Housing affordability falls to a 13 year low
The nation's leading indicator of the relative cost of housing, the Commonwealth Bank/HIA Housing Report, reveals that in the June quarter, housing affordability across Australia slipped by 9.3% to its lowest level in 13 years.
An increase in household income when interest rates remained on hold was not enough to offset the rise in median first home buyer house prices – up 12.2% to $291,300 over the June quarter.
For regional Australia, the story was not much better with affordability sliding 8.7% on the back of a 10.9% rise in the median first home buyer price to $238,200.
First home buyers entering into home ownership must now on average, put aside 25.3% of their income to meet mortgage repayments.
Geoff Austin, Executive General Manager Mortgage and Investment Services, Commonwealth Bank says: "In today's changeable market, housing affordability is constantly varying – as recently as the March quarter both Sydney and Adelaide showed signs of stabilising. The recent rise in housing prices can be partly attributed to the decreased number of first home buyers in the market. As their share of home purchase activity declines, the median price of what remains should naturally rise.
"Buyers should exercise caution in the housing market to ensure they choose home lenders that can provide them with a wide range of flexible options that will enable them to start building equity from day one," he adds.
Australia's peak building industry body, the Housing Industry Association (HIA), said that the affordability of housing is currently the biggest issue facing the industry.
HIA'€™s Chief Economist Mr Simon Tennent, said that first home buyer numbers are at record lows and today'€™s figures once again support the findings of HIA's review of housing affordability launched earlier this month and reinforce calls for an independent and comprehensive enquiry into new housing costs.
"With new housing contributing nearly 40% to economic growth over the past year, this fall away in first home buyer numbers coupled with the burden of indirect taxes casts a shadow over future housing activity and economic growth," Mr Tennent said.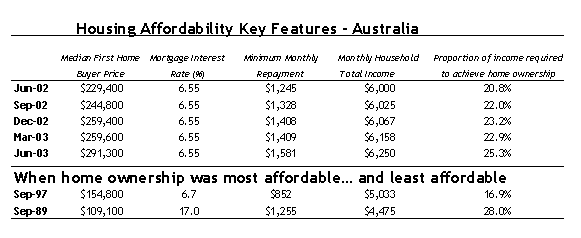 Note to Editors
The Housing Report uses Commonwealth Bank house price data to measure the ratio of average household disposable income to the qualifying income required to meet payments on a typical dwelling.
For a full copy of the Commonwealth Bank/HIA Housing Report and state-specific press information, please visit the Commonwealth Bank's website or contact Caroline Lemezina, HIA Senior Economist on (02) 6249 6366.
The Commonwealth Bank is Australia'€™s biggest home lender with over 1.1 million home loan customers.