Commonwealth Bank reveals the real-time goals of the nation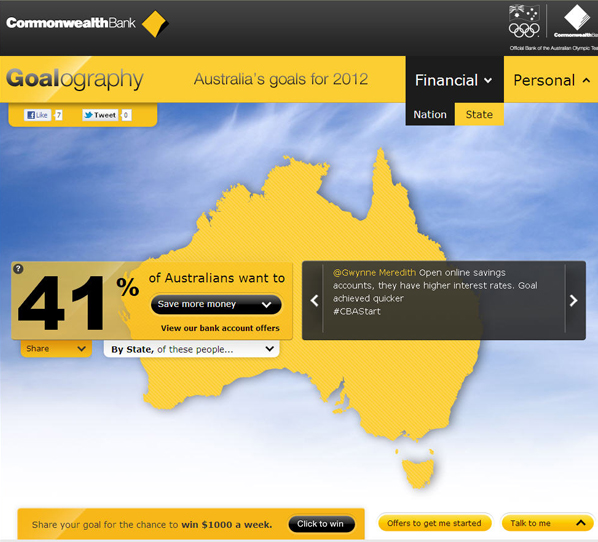 18 April 2012: Commonwealth Bank has today launched Goalography, an interactive website that showcases the real-time goals of the nation.
Utilising video and bringing savings goals to life, Goalography reveals both national and state findings and is constantly updated as new goals are entered in to the site, to reflect the changing face of Australian ambitions.
The results show that the goals of Australians fall into two main categories, financial and personal.
Goalography has revealed that the most important financial goal is to save more money (41 per cent) with 22 per cent wanting to own a home.
The findings mirror customer behaviour, with customer spending now, more than ever, showing Australians are cutting back on luxuries and saving their extra cash. Between June 2007 and February 2012, household deposits in Australia have grown from $303 billion to $539 billion – an increase of 78 per cent.
The findings for personal goals reveal a large proportion of Australians want to improve themselves (26 per cent), with 21 per cent wanting to see the world and 16 per cent wanting to improve their health.
Michael Cant, Executive General Manager, Retail Products, Commonwealth Bank said, "Commonwealth Bank is committed to helping Australians reach their financial goals. Following the global financial crisis we have seen deposits grow roughly 10 per cent a year as Australians feel more confident with bank deposits than other more volatile investment options.
"Goalography not only let's Australians know what their peers are saving for, but also links them to tools and other interactive insights, which will help them reach their financial goal sooner," said Mr Cant.
Visit Goalography to view the nation's results and to submit your own goal visit www.startwithus.com.au.
– ENDS –
Media Inquiries:
Sarah Gibbons
Phone: 02 9118 1706
Mobile: 0403 681 515
Email: sarah.gibbons@cba.com.au
Editor's note: about Goalography
The interactive website presents the findings of a three-month (and ongoing) conversation with the Australian public, where over 18,000 goals have been submitted. Utilising video and data visualisation techniques, Goalography reveals both national and state findings and is constantly updated to reflect the changing face of Australian ambitions.
Commonwealth Bank asked people right across Australia about their financial goals for 2012. These are the topics they were interested in.
Own a home
This is all about real estate goals for 2012. Many of people are thinking of buying their first home or renovating their existing one.
Save more money
Saving for a deposit, saving for a rainy day, saving for a nest egg. This section is all about saving.
Buy something big
The definition of big purchases can vary from person to person. It could be a new house, a car, a trip away or even a new TV.
Make an investment
With one eye set on the future, some are thinking about investments in 2012. This category includes managing super, creating wealth and share portfolios.
Manage their money
There's nothing quite as satisfying as paying off something completely. This category is about taking control of your financial situation and managing your debts.
*Results reflect the views of those that have shared their goals. The Commonwealth Bank shall not be held liable for any improper or incorrect use of the information described or contained herein and assume no responsibility for anyone's use of any of that information.