Aussies face $360 million burden to replace lost travel documents

CommBank Signals reveals what's trending in spending across health, beauty and fitness
Overall gym spend has increased by 49%1 since 2009
Average spend per person on gyms has decreased by 12%1
Total cosmetic store spend increased by 39%1 since 2009
Average spend per customer in cosmetic stores has decreased by 21%1 since 2009
Warehouse pharmacies grow by 16%2 in the past year
Rise in popularity of online health stores as Aussies search for better deals.
25 July 2013: Data from CommBank Signals1, has revealed fascinating patterns in consumer behaviour when it comes to spending on health, beauty and fitness.
Australians spent $2.23 billion1 last year across fitness, beauty and health categories. While the number of consumers spending across these categories has increased, the average spend per person has decreased.
Australia's passion for keeping fit has continued to grow, with the popularity of gyms and fitness clubs increasing by a staggering 58%1 over the last four years. This popularity can be attributed to more Australians deciding to sign up to gyms and choosing to pay by credit card. This has resulted in an impressive 49%1 increase in overall spend on memberships; meaning a higher overall spend due to more people spending in this category.
Diana Mousina, CommBank Economist says this could be a result of increased competition; "While gym and fitness clubs popularity is increasing, spend per person is actually down by 12%1. This would indicate there is an increasingly competitive marketplace for fitness clubs, meaning customers are being offered more choice and the opprutnity to take advantage of better deals."
In a surprising insight, August is the most popular month for Australians signing up to the gym, while spend is lowest in January.
"With dark and wintery conditions in August, and with summer on the horizon, health-conscious Australians are heading indoors to the gym to prepare for the summer. Supporting this trend, January is the quietest month for gym memberships as we swap the treadmill for the great outdoors", explains Diana.
When it comes to the cost of beauty, total consumer spending in cosmetic stores has surged by an impressive 39%1 over the past four years as a result of more people spending with their card. However the average individual spend per person is down by a substantial 21%1, which indicates that retailers have to operate in an environment with increased competition from online shopping due to the high Australian dollar. Examples of this are the increased market share of online stores (growth of 5%)2 and larger warehouse style pharmacies (growth of 16%)2.
Diana discusses some key trends across Australia; "When it comes to spending on health and beauty, there is great variance in what consumers are spending on and what they are paying across Australia. Nationally, spending on 'Dentists & Orthodontists' is the highest cost per customer, with ACT residents spending the most in this category. Interestingly, Tasmania would spend the most per year on health and beauty, if they were to spend on all wellbeing categories, amounting to an average of almost $7,000 per person per year. This is driven by large spending in categories including 'Nursing & Personal Care' and 'Opticians & Optical Goods'. In fact, Tasmanians spent more than twice the national average on 'Nursing & Personal Care'. This may be as a result of the higher percentage of baby boomers living in the state."
State snapshot of spend per category3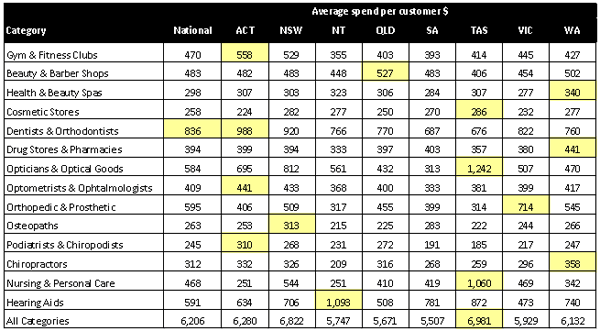 Note: 'All Categories' spend refers to the average total spend per person assuming a person was to spend on al the wellbeing categories listed above.
"If Australians were to spend on all wellbeing categories, the average Australian would spend more than $6,000 each year, which is a significant cost in most people's budget. It is pleasing to see that a more competitive market with new entrants and increased usage of channels such as online has led to a decrease in the average spend per customer. However, I would encourage consumers to look at this data and check what they are spending each year to maintain a healthy lifestyle. This will help them make more informed decisions on their spending and enable them to ensure that they are taking advantage of the best deals available to save money," concluded Diana.
For more information and an infographic on the data, visit CommBank's consumer trends website, Signals, which identifies trends based on CommBank transactional data across a significant sample size of Australian debit and credit card holders.
Additional Assets:
The following additional assets are available as part of the research:
Interview with CommBank Signals spokesperson, Diana Mousina (biography below)
Infographic of Australia's spending habits on health, beauty and fitness by state (attached alongside release)
A digital widget to provide an interactive and personalised way of seeing how you fare in your demographic.
-ENDS-
1CommBank credit & debit card spend data 2009-2012 adjusted for; trends in all credit & debit consumer spend, retail price index changes and changes to the customer profile of the base. Data is across beauty, fitness and health categories (excluding hospital and doctor expenses).
2 Advanced Analytics Report: CommBank customer transaction data March 2012 to March 2013
3 Signals data: CommBank customer credit & debit card spend data 2009 to 2012
For further information, images or interviews, contact
Elizabeth Lovett
Public Relations Advisor
(02) 9303 1403 / M 0400 234 035
elizabeth.lovett@cba.com.au
About CommBank Signals website:
CommBank Signals is a content platform that houses information on CommBank transactional data, looking at consumer buying patterns and trends to assist consumers in making better and more informed financial decisions. A new focus, or Signal, is published each month. All trends are based on aggregated spend data and no individually identifiable information is made available to the public.
For more information, visit www.commbank.com.au/signals
About Diana Mousina, CommBank Economist: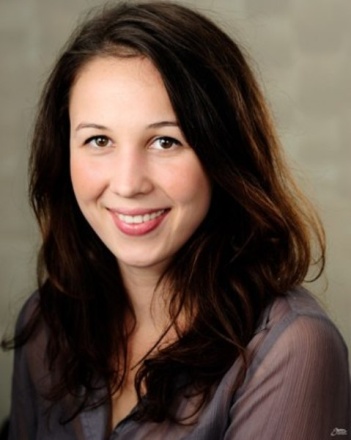 Diana joined CommBank in 2011. As an Economist her responsibilities include monitoring, analysing and forecasting trends in the Australian economy and sharing these insights. Diana holds a Bachelor of Commerce/Economics from the University of New South Wales.
About Juliette Saly, CommBank Spokesperson and Market Analyst at CommSec: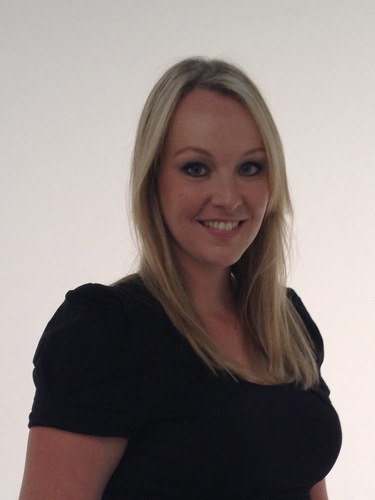 Juliette Saly is a Market Analyst with Australia's leading online broker, Commonwealth Securities. She presents daily stock market reports to Sky News Australia, Channel Nine, Network Ten and ABC TV; as well as to numerous radio stations around the country. Juliette also appears in international media, and has presented on Sky News London, Al Jazeera, CNBC, TVNZ and Fox News. She also writes updates for the CommSec website, and is regularly featured as a market commentator in online and print media
How the research was calculated:
CommBank Signals data is calculated through the collection and analysis of CommBank transactional data over the past 4 years (2009 – 2012) combined with CommBank research findings. The data is scrutinised by a CommBank senior analyst, researcher and economist to ensure accuracy.