Commonwealth Bank welcomes improved banking sector Code of Practice

CommBank makes banking online more convenient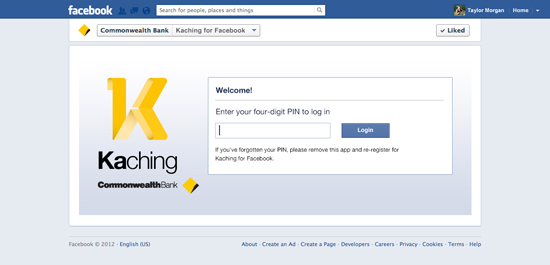 06 March 2013 – Commonwealth Bank today gave Australians access to the nation's first social banking app, with the launch of CommBank Kaching for Facebook. New updates to CommBank Kaching for smartphones have also been announced, improving functionality and user reviews across iOS and Android platforms.
As Australia's affinity with Facebook continues to rise, CommBank Kaching for Facebook will give Australia's 12 million Facebook users more ways to bank, including world-first payment options, without ever needing to leave the world's largest social platform.
"With Facebook popularity skyrocketing to more than 55 per cent of the population in Australia, we know our customers, particularly Facebook's core user base of 18-35 year olds, are looking for new ways to connect their banking and their lives, friends and causes inside Facebook. So what better way than by giving them access to everyday banking and payments on their favourite social network," said Andy Lark, Commonwealth Bank's Chief Marketing and Online Officer.
In addition to enabling users to make payments to Facebook friends or anyone with a mobile number or email address, CommBank Kaching for Facebook has a number of payment options. These include the ability to make payments to Facebook Events, and gift payments to friends and family on Facebook for special occasions such as birthdays.
A new payment request functionality also allows users to post payment requests for anything from joint birthday presents to holidays, on their friends' timeline or via private message. Other functionalities include the ability to view an account balance and transaction history, transferring funds between accounts and viewing peer-to-peer payment and requests history.
Security remains a priority for CommBank Kaching for Facebook. A PIN and NetCode SMS sit behind payments to third parties, while Commonwealth Bank offers a 100 per cent security guarantee on all transactions, meaning it will cover any losses should someone make an unauthorised transaction via a customer's Facebook account.
"Customer's privacy is paramount to us. In addition to the security measures we have in place to protect a customer's personal information, we have designed CommBank Kaching for Facebook in a way that ensures Facebook does not have access to, or visibility over, anything our customers do within the application. Our customers have total control over which personal and transactional information they choose to send to friends, post on their walls or post on your wall." added Andy Lark
"We know peer-to-peer payments are already becoming mainstream, with more than $416 million P2P payments already recorded via CommBank Kaching. As social banking starts to take off, we believe more of our customers will embrace a range of payment options, including Facebook event payments, as they start to integrate their everyday banking needs within their social networks."
Updated CommBank Kaching app for iOS and Android
Updates to Australia's most popular digital wallet, CommBank Kaching, are also now available. iPhone users can look forward to new functions and services, including the ability to pay new BPAY billers, enhanced 'find us' functionality and use of the full screen real estate for iPhone 5 users.
A new version of CommBank Kaching for Android, designed specifically for the Android platform, has proven extremely popular with Android users, increasing positive ratings on Google Play store. New functions and features announced earlier this month include a revamped interface, the ability to pay new BPAY billers, email or SMS payment notifications and improved navigation and performance.
"We're always looking to improve our mobile apps and we're very pleased the new updates have been well-received by Android users. We'll be announcing further updates to CommBank Kaching in the coming months as we continue to evolve and take customer feedback on board," added Andy Lark.
CommBank Kaching for Facebook can be installed from the Commonwealth Bank Facebook page at www.facebook.com/commonwealthbank.
- ENDS -
For more information please contact:
Sarah Gibbons,
Commonwealth Bank
T (02) 9118 1706
M 0403 681 515
E: sarah.gibbons@cba.com.au
Images for download
Share this page