Aussies face $360 million burden to replace lost travel documents

Federal election uncertainty weighs heavy on minds of Australia's mid-market businesses
Business confidence amongst Australia's mid-market companies remains fragile
Government policy uncertainty seen as having major impact on sentiment
17 July 2013: There has been a sharp decline in business confidence amongst Australia's mid-market organisations in the June quarter, according to the Commonwealth Bank Future Business Index.
The Index shows that business confidence has fallen to a six month low of 5.2, following two quarters of increases in confidence. The sharp decline in sentiment across mid-market businesses reflects a range of factors including the impact of policy and government uncertainty in the lead up to the federal election, rising energy and fuel costs and increased wage pressures.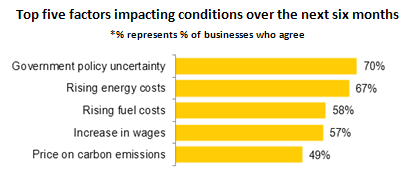 The Index is an analysis of the views of financial decision makers in companies with a turnover of $10m – $100m, measuring their outlook on business conditions, investment plans, business challenges, projected revenue and how prepared they are to navigate volatile conditions for the six months ahead.
The Index also reveals fewer than half of businesses surveyed expect revenues to rise over the next six months and there is a focus on cost management rather than growth. Businesses in most sectors are not just focused on cutting back in spending; they are also focused on achieving cost savings through improved productivity.
Michael Cant, Executive General Manager, Corporate Financial Services, Commonwealth Bank, said, "After a consistent rise in confidence over the past six months, the sudden drop we're seeing through the Index is a reflection of the uncertainty experienced by businesses. History tells us that an impending federal election generates conservative business conditions and the findings of the Index are consistent with that."
"In line with the drop in confidence of the mid-market businesses the research highlighted companies are implementing cost management strategies to cope with uncertainty. Businesses are taking a conservative outlook to their revenue and profit projections which is further confirmation they are tightening their purse-strings and keeping a head-down approach," said Mr Cant.
Commonwealth Bank Chief Economist, Michael Blythe, says the result reflects the fragility of sentiment across the mid-market due to ongoing global uncertainties, volatile financial markets, a rapidly moving currency and a degree of political uncertainty.
"What is disappointing in terms of the broader outlook is that businesses see less chance that domestic demand or the consumer or the global economy will drive future growth. And those surveyed are increasingly reliant on the idea that government policy change will ride to the rescue," said Mr Blythe.
Industry Analysis - Construction industry the most confident sector
Despite the overall drop in confidence, some sectors improved including Construction, and Business Services.
The Retail sector remains among the more confident sectors in the mid-market, expecting solid sales for the future despite nearly one third of businesses performing worse than expected in the 2013 financial year.
Industry snapshot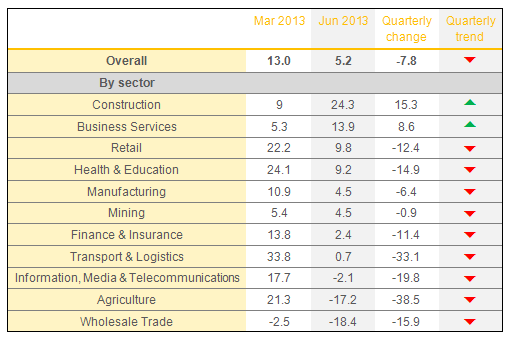 State Analysis – WA confidence declines
Western Australia has dropped from being the most confident state in the previous survey to the lowest, falling from 22.7 to 0.0. The much publicised slowing of the resources boom combined with government policy uncertainty, a skills shortage and expectations of falling revenues and profits are all contributing to the decline of sentiment in the state. Queensland, South Australia and Northern Territory have reported a rise in confidence, and are also most likely to be businesses that have a well-defined business strategy for the six months ahead.
New South Wales, Australia Capital Territory, Victoria and Tasmania also suffered a fall in business confidence, with 30% of Victorian and Tasmanian businesses believing revenue and profits will fall. New South Wales and Australian Capital Territory have reduced appetite for risk and expect a rise in input costs.
State snapshot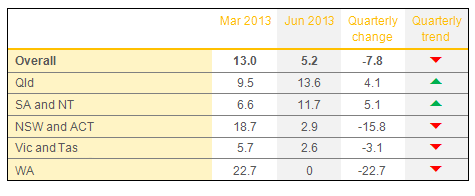 – ENDS –
For further information, contact:
Liz Lovett
Commonwealth Bank
T (02) 9303 1403 / 0400 234 035
E: Elizabeth.Lovett@cba.com.au
About the Future Business Index
The Commonwealth Bank Future Business Index is based on a detailed quantitative survey of 427 financial decision-makers in public and private companies throughout Australia with turnover between $10 to $100 million, conducted between 22 April – 09 May 2013. Conducted by ACA Research, the Future Business Index is an indicator of what the business landscape will look like over the next six months, based on business confidence, predicted future activity and an organisation's ability to manage fluctuating business conditions. The survey sample includes businesses from a range of sectors including Retail, Business Services, Construction, Health & Education, Information Media & Telecommunications, Manufacturing, Mining, Transport & Logistics and Wholesale Trade. The data has been weighted to reflect the latest Australian Bureau of Statistics Business counts.
The Index seeks to identify:
The level of confidence in business conditions over the next six months
The challenges and threats businesses face over the next six months
How prepared businesses are to navigate volatile conditions
The use of financial facilities and risk planning
Expected sources of growth and opportunities.
How the Index is calculated
The Commonwealth Bank Future Business Index has been calculated by taking a net balance of future business conditions, net revenue and risk as indicated by businesses with an annual turnover of $10 to $100 million.
Net Business Conditions is a net balance of those that indicated that business conditions will improve minus those who predict business conditions will decline.
Net Revenue is calculated by taking those companies that see an increase in revenue over the next six months minus those that foresee a decline.
Net Well Preparedness is a net balance of those that are 'well prepared' minus those that are 'somewhat' and 'not well prepared'.
About ACA Research
ACA Research is a full-service market research consultancy, with particular expertise in customised business-to-business thought leadership, executive research and syndicated multi-client studies throughout Australia, New Zealand and Asia. Through a high level of business and research experience, industry expertise and focus on high-quality outputs, ACA Research effectively supports business thought leaders in their decision-making activities.
For a full copy of the report visit www.commbank.com.au/futurebusinessindex
Media contact:
Liz Lovett
Commonwealth Bank
T (02) 9303 1403 / 0400 234 035