We publish case studies that demonstrate how we bring sustainability to life in all of our business areas.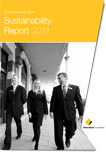 Sustainability Report 2011
Download the 2011 report (PDF 4.25MB)

Sustainability Report 2010
Download the 2010 report (PDF 3.15MB)

Sustainability Report 2009
Download the 2009 report (PDF 2.76MB)
Related information
We have been measuring and voluntarily reporting our energy use and greenhouse emissions since 2001.
Learn more
Our annual Sustainability Reports capture the year's performance and progress of our sustainability program.
Learn more