How your account statement is changing
As part of the upgrade to our new banking system, we're making some changes to account statements to provide customers with clearer, more detailed information about their transactions, interest rates and fees and charges.
We're gradually moving accounts over to our new banking system — so you'll begin to notice the changes over the coming months.
To help you understand the changes, we've provided an example of our new-look account statement, plus some more information about what's changing and how it benefits you.
What's changing?
Your daily transactions will now appear in the order they occur rather than being grouped by credits and debits, so you can track sales and expenses as they happen. Your new statement also has more detail about your transactions, so you can spot individual transactions with ease.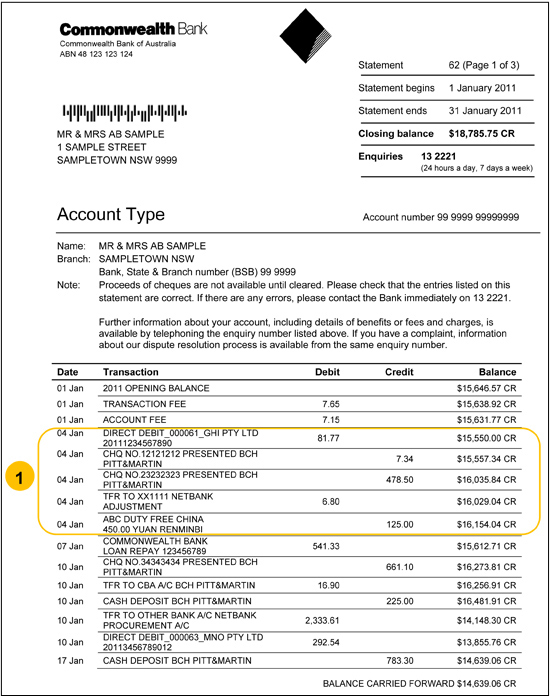 As your account is moved over to our new banking system, interest rate changes will no longer be displayed in the transaction history. Instead interest rates will be summarised in the new Credit Interest Summary and Debit Interest Summary tables.
The Credit Interest Summary table lists the current rates that applied to your account balance during the statement period, whilst the Debit Interest Summary table displays the rates for any of your overdraft limits including permanent or temporary limits — and the rate that applies if you go over your limit or don't have an approved overdraft facility.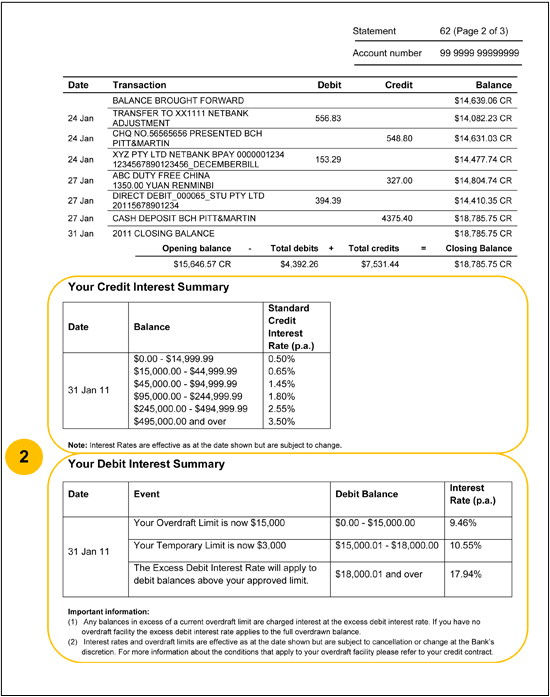 Now you can view your fees and charges for the statement period in more detail with our new Transaction Summary table, located at the bottom of your account statement.
Here you'll find a list of the types of transactions you performed over the statement period and the fees associated with them, as well as your Account Fee.
Your total Transaction Fee and Account Fee are also displayed separately in the transaction history. Previously this appeared as one Gross Fee in your transaction history.
The new Transaction Summary table also displays any fee rebates you have received for the statement period. You will notice that the fee rebate amount has already been applied directly to the total Transaction Fee and Account Fee you have been charged. Previously this figure was displayed in your transaction history as a deduction off the Gross Fee.