Better Quality Services
Ian Narev, CEO Commonwealth Bank Group, shares his vision of the 'Bank of the Future'
In his first keynote speech to over 800 attendees at the Trans-Tasman Business Circle, Ian Narev delivers his view on the subject of 'The Bank of the Future'. The speech was also broadcast live on Sky News.
Read the transcript of Ian's speech.
School Banking
For over 80 years, the Commonwealth Bank has worked with schools to equip primary school children with cash management life skills. How many of us have had, and still have, a Dollarmite account? The Commonwealth Bank is the only bank committed to providing banking services and education to our children in schools. See how our School Banking Programme is complimenting the education curriculum for our children.
Find out more about our School Banking programme

University and TAFE Campus Card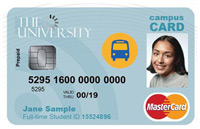 A student identification card
A value card for photocopying and printing
A building access card
A library borrowing card
A transport concession card
A card to that can be used for retail purchases
A card that can make online purchases and
A card that can be used for overseas purchases
See how the award winning Commonwealth Bank Campus Card is creating a new experience at the University of Canberra and Macquarie University.
Find out more about our Campus Card
The Campus Card is a low risk product. Please refer to the Campus Card Product Disclosure Statement for information concerning conditions of use, risks and fees.