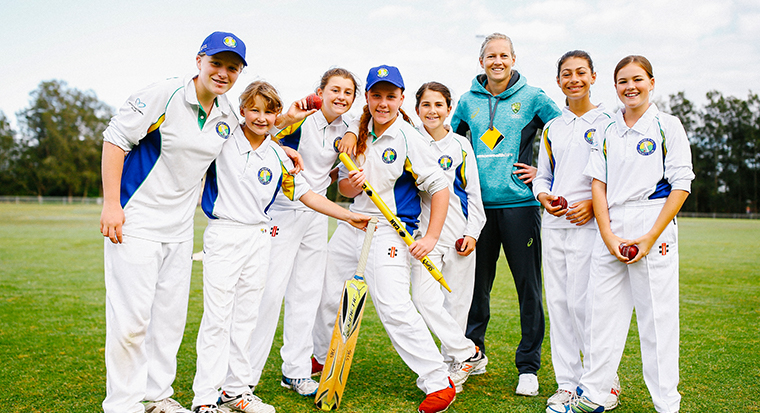 Grassroots cricket clubs are the lifeblood of local communities and are the incubators of the next generation of cricket stars, like Ellyse Perry.
That's why we're helping to keep cricket strong across Australia by providing more than $1 million to 395 local cricket clubs over the past five years through grants and sponsorships.
Our Cricket Club Sponsorship program provides local clubs with two years of funding worth $2,000 a year, for new equipment for training and matches. Each year 65 clubs are sponsored through the program and, in 2017, 12 sponsorships were added specifically for regional communities.
The sponsorships are provided to clubs that are most in need, be that to fix their pitch, provide new playing gear and facilities or bring more women and girls into the game.
Here are just a few examples of how our sponsorships have helped local cricket clubs:
At Collarenebri Cricket Club in rural NSW, our funding went towards building a wider pitch, which meant the club could host home games for both juniors and seniors in the community.
In Rockhampton, North's Cricket Club's grounds suffered massive water damage in the 2013 Queensland floods. Our financial assistance helped redevelop the club house to keep the game going strong.
In Perth, the Joondalup Kinross Cricket Club had the support of the CommBank Cricket Club empowerment program for its Cricket Champs all-abilities program. The support helped the club to boost its fundraising facilities, providing sporting gear and clubhouse equipment, including fridges, a barbeque and tables and chairs.
We couldn't agree more with Southern Stars all-rounder Ellyse Perry when she said that local club will always be the "foundation of the game" in Australia.
If you're involved with a local cricket club, our applications for the 2018 CommBank Cricket Club Sponsorships are open to local cricket clubs across the country through 1 June 2018.