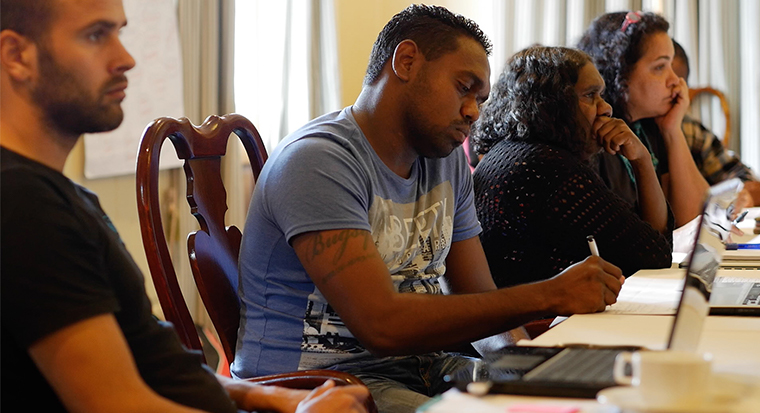 When it comes to realising your dreams – whether it's owning a home, pursuing a career, supporting a family or ensuring a prosperous retirement – having a strong grasp of finances is one of the key ingredients to making your dreams a reality.
In addition, living in remote or isolated areas can mean people don't always have the same access to services as people who live in major cities.
That's why we've partnered with the Indigenous Consumer Assistance Network (ICAN) to help deliver financial education and support to Aboriginal and Torres Strait Islander communities around Australia. ICAN is a not-for-profit organisation that provides consumer education, advocacy and financial counselling services to Indigenous consumers across the nation.
Specifically, our partnership with ICAN provides remote Indigenous consumers with the same assistance and financial information as those living in urban areas.
Training for development
Since 2006, ICAN and CommBank have been working with community service providers to "train-the-trainer", a model which sees local people upskilled about financial issues, which is then passed on to the wider community to build financial literacy.
In 2011, there was a noticeably low number of Indigenous people accredited in financial counselling, so together with ICAN we developed a program to increase accreditation.
The program provides financial counselling scholarships for at least 10 Aboriginal and Torres Strait Islander Australians to become qualified financial counsellors each year. In turn, these financial counsellors assist Indigenous people with budgeting, debt management and understanding their consumer rights.
Mentoring and support
But our support doesn't stop there. The newly qualified financial counsellors receive ongoing support from mentors, as part of our Indigenous Financial Counselling Mentorship Program.
Numbers have quadrupled since the launch of the program, with at least 19 Diploma accredited counsellors and almost 20 others currently completing the Diploma.
The ICAN partnership is part of our Reconciliation Action Plan (RAP), which has been in place since 2008. The RAP sets our vision for working hard to foster greater economic, social, and financial equity for Aboriginal and Torres Strait Islander peoples. To learn more, download our RAP for FY2017 – FY2019.