Thursday 10th July 2008
Believe it or not, you're better off
Stephen Craft

Despite rising petrol prices, food bills and interest rates, most Australians are better off than they were just a few years ago, according to new data from CommSec.
"While rate hikes and higher petrol prices attract much attention, wage increases and tax cuts have been quietly boosting purchasing power over the past six years", says Craig James, CommSec Chief Equities Economist. "Fundamentally, household budgets remain in good shape."
James gives the example of an average wage earner who bought a home in 2002. While repayments on a typical home loan have increased by almost $300 a month since then, the average after-tax wage has soared by more than $1,000 a month. As a result, that home-buyer would be more than $425 a month richer — even after taking into account a $287 a month hike in the cost of living.
"Clearly a lot depends on the assumptions used", he says. "The 'average' Joe or Joanne Citizen exists more in theory than the real world."
"But the basic point is that higher wages and lower taxes have, over time, put more spending power in people's pockets."
Rising real incomes have also left consumers with more money to spend on gadgets like iPods and DVD players, which have become cheaper at the same time as other prices have been climbing. In the year to March, spending on electronic goods overtook spending on petrol for the first time.
But regardless of the realities of rising incomes and tax cuts, the gloomy headlines will continue to take their toll on consumer spending, at least in the short term.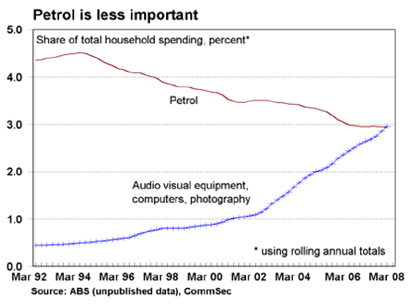 "Events like rate hikes or soaring petrol prices tend to get plenty of attention, depressing consumers and causing kneejerk adjustments in household spending", says James. "But once the initial effects have passed, it is the lasting impact on budgets that really matters. And this is where the 'behind the scenes' factors, such as tax cuts and even cheaper goods like technology, come into their own."
"Consumers will gradually filter back into the shopping malls once they realise they can indeed continue to spend."
Important Information
The Commonwealth Bank believes the information in this report is correct and any opinions, conclusions or recommendations are reasonably held or made as at the time of its compilation, but no warranty is made as to accuracy, reliability or completeness. This information does not take into account your individual objectives, financial situation or needs. You should consider the appropriateness of this information in relation to your own situation before acting on it. Commonwealth Securities Limited ABN 60 067 254 399 AFSL 238814 (CommSec) is a wholly owned but non-guaranteed subsidiary of the Commonwealth Bank and a Participant of the ASX Group. Commonwealth Bank of Australia ABN 48 123 123 124.