Why the changes?
We are always looking for ways to help you find what you need as quickly and easily as possible. With that in mind, we're making some exciting new changes to our homepage to improve your website experience.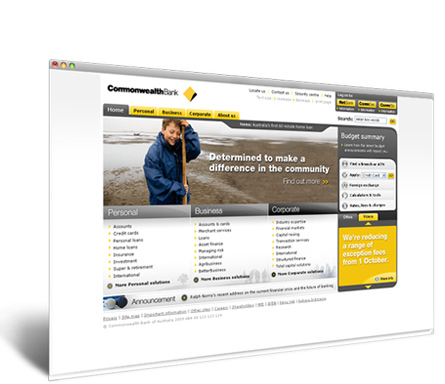 What's changing?
Security centre
There's a new link to the Security Centre at the top of the page so you can easily find information on our Security Guarantee when using NetBank, and other steps you can take to secure your computer and use the Internet safely.
Online banking log on
We've redesigned our log on to NetBank, CommSec, and CommBiz, so you can access whichever service you're after, no matter where you are on the website, in just one click.
Quick links
There's new quick links available on the right-hand side of the page so you can find a branch or ATM, and access our foreign currency calculator faster than before.
Announcements
A new message section at the bottom of the page will help you stay informed about a wider range of topics and events as they happen, from announcements and shareholder centre updates as they are made to new video content when it's added to our media centre.
Foreign language options
We've introduced four foreign language options to the footer to help enhance the experience for our many international and other language speaking customers.