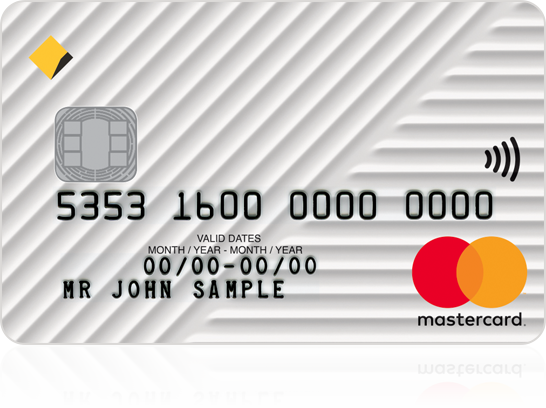 With an interest rate of 13.24% p.a. on purchases, the Low Rate card is our most popular credit card.
Rates and fees
| | |
| --- | --- |
| $59 | annual fee |
| 13.24% p.a. | purchase interest rate |
| 21.24% p.a. | cash advance interest rate |
$200 cashback offer. Apply by 28 Oct 2018 and spend $500 within 90 days of card activation.*
Didn't find what you were looking for?
Related products

Stay in control of your finances with a low interest rate, plus handy extras like complimentary insurances.
Learn more

Reward your everyday spend. Redeem points instantly at Myer, Flight Centre or choose an item from the CommBank Awards Program.
Learn more
Things you should know
CommBank Credit Card Conditions of Use
*Offer applies to new personal Low Rate and Low Rate Gold / Low Rate Business Credit Cards (personal liability) applied for online, in-branch and over the phone between 15 August 2018 and 28 October 2018 only. To be eligible for the $200 cashback, you need to spend $500 on eligible purchases using your new card within the first 90 days of card activation (excludes balance transfers, cash advances and any purchase that is reversed or refunded). Offer excludes all existing cards, switches from other card types and is not available to customers who currently hold, or have held, any of the eligible card types in the 12 months prior to 15 August 2018. Offer only available on one credit card per customer, can be withdrawn at any time, and cannot be used in conjunction with any other offer. Cashback will be credited within 60 days of you meeting the eligibility criteria and will appear on your statement as 'CASHBACK $200'. You will be ineligible for the cashback if your account is closed, switched to another card, or in default at any time prior to the cashback being credited to your account.
Applications are subject to credit approval. Full Conditions of Use will be included in our Letter of Offer. Fees and charges apply.
1 Excludes some manual transactions and some contactless payments
2 Subscription to this service may be limited
3 And immediately notify us of the loss, theft or misuse of your card, PIN or password and of any suspicious activity on the account.
4 At the end of the balance transfer period, the interest rate on any outstanding transferred balances converts to the cash advance rate current at that time. Other fees and charges may be payable.
5 Charge applies to cash advances at Commonwealth Bank branches.
6 Charge applies to cash advances through a terminal of any financial institution in Australia, at ASB Bank in New Zealand, Commonwealth Bank in Indonesia and Commonwealth Bank in Vietnam.
7 Charge applies to cash advances by way of funds transfer through NetBank, PhoneBank Transfer, Commonwealth Bank Customer Service Centre, Australia Post, 13 2221 Transfer Cash, NetBank Transfer Home Loan, Mobile Bank Transfer and NetBank Transfer Personal Loan.
8 Fee applies to cash advance transactions made at other financial institutions within Australia.
9 A maximum charge of $150.00 (or a flat fee of $2.50 applies if your closing balance on previous business day was in credit).
10 Charge applies to purchases of cash equivalent items or cash substitutes including gambling transactions or traveller's cheques.
11 Excludes transactions flagged as recurring (e.g. direct debits) and transactions not sent to us for authorisation. Other Terms & Conditions apply.
Note: For cash advances and balance enquiries made through a non-Commonwealth Bank ATM in Australia, the ATM owner may charge you a fee, which will be disclosed at the time of the transaction. If you proceed with the transaction, the ATM owner's fee will be debited to your account (in addition to the cash advance amount) if applicable. You should check the ATM owner's fees that apply carefully before completing.
Mastercard and the Mastercard brand mark are registered trademarks of Mastercard International Incorporated. PayPass and Tap & Go are trademarks of Mastercard International Incorporated.
The information on this website has been prepared without considering your objectives, financial situation or needs. Because of that, you should, before acting on the information, consider its appropriateness to your circumstances. Please view our Financial Services Guide. Please view our Credit Card Conditions of Use.