Why choose Essential Super?
Start sorting out your super

You can then run an instant online search for any other super you may have.

Get a pre-filled form from NetBank or the CommBank app and email it to your employer.
Ready to open your Essential Super account?
Once you're set up, it's easy to check your balance and manage your account in NetBank or the CommBank app.
Competitive fees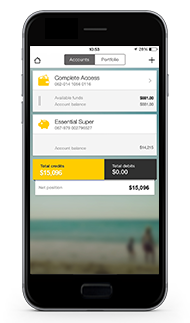 Essential Super, a MySuper product, has competitive fees and simple features.
If your super is invested in the Essential Super 'Lifestage' investment option, there are no exit fees and you'll pay:
Monthly fee: $5 (net)
Combined Investment & Administration fee: 0.80%
0.15% per transaction (Buy / Sell Spread)
Find your super

Once your account is opened, you can search in NetBank or the CommBank app for any other super you may have and view the results in real-time.
If you'd like to, you can then bring your super together*. This can help you avoid paying multiple fees and make it easier for you to track.
Tell me more
Know your options
When you join Essential Super, you will be opted into the 'Lifestage' investment option. We'll do the hard work for you and automatically adjust your investment mix as you get older. This helps ensure your money is invested appropriately based on your age and how long you have until you retire.
If you'd like to, you can also choose from our three other investment options:
You'll receive Death and Total and Permanent Disablement (TPD) cover if you're under 60 (provided you fund your account within 120 days of opening it).
You can double, halve or cancel your insurance cover anytime in NetBank.
Tell me more
Show me important documents and information related to Essential Super
Important information
*Before you make a decision on consolidating your super, you should compare the costs, fees, risks and benefits of your other super funds against Essential Super. It makes sense to consider whether you can replace any insurance cover you may lose upon rolling over, potential costs for withdrawing from other super funds as well as any investment or tax implications. You should also decide which super fund you want your employer to pay your future employer contributions to and complete a Super Choice form if necessary.
Colonial First State Investments Limited ABN 98 002 348 352, AFS Licence 232468 (Colonial First State) is the issuer of interests in Commonwealth Essential Super ABN 56 601 925 435. This information is not financial product advice and does not take into account any person's individual objectives, financial circumstances or needs. You should read the Product Disclosure Statement (PDS) for Commonwealth Essential Super and consider talking to a financial adviser before deciding whether to acquire or continue to hold this product. Click here to download the PDS, collect one from any branch of the Commonwealth Bank or call us on 13 4074 and we'll post one out to you. Colonial First State is a wholly owned subsidiary of Commonwealth Bank of Australia ABN 48 123 123 124 ('the Bank'). The Bank and its subsidiaries do not guarantee the performance of Essential Super or the repayment of capital by Essential Super. An investment in Essential Super is via a superannuation trust and is therefore not an investment in, deposit with or other liability of the Bank or its subsidiaries. An investment in Essential Super is subject to risk, loss of income and capital invested.