The Commonwealth Bank is set to improve student education outcomes with the launch of a toolkit that offers free, simple and accessible research on different teaching methods.
The Australian Teaching and Learning Toolkit supports teachers through an online resource based on world-class research that assesses 34 educational approaches, from the value of using technology to the effects of a longer school day. It also explores the many aspects of teaching, including the impact of homework, repeating years and wearing school uniforms.
The Toolkit is a result of the Bank's new partnership with Social Ventures Australia and forms part of the details of its $50 million community investment strategy, first announced earlier this year.
Speaking at the CEDA State of the Nation conference, Commonwealth Bank Chief Executive Ian Narev said: "To take the advantages that we have in Australia, we are going to need to invest in the skills of the future, to make sure our economy adapts successfully to the future.
"This Toolkit enables proven educational techniques to be shared right across schools, right across the country. This is where we've decided our contribution is going to be in education over the next three years and beyond. Because better schools make a better country," said Mr Narev.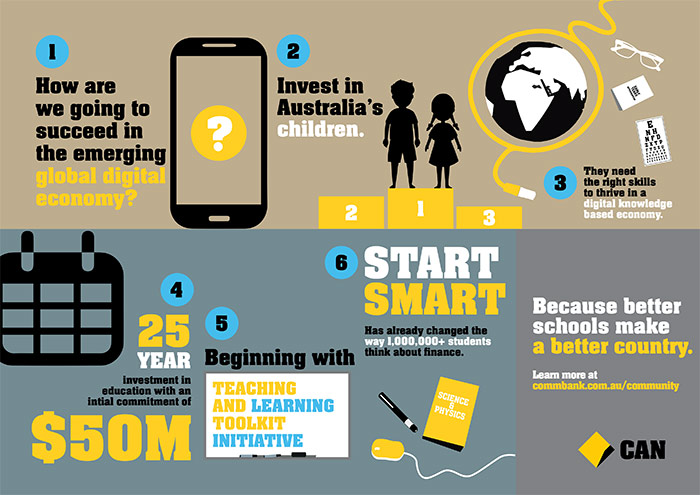 SVA's CEO Rob Koczkar said: "The Toolkit Initiative will empower school leaders by providing up to date, relevant information about approaches that impact student learning. We believe it will be an important part of the education landscape in Australia."
"The support of CBA has been instrumental in beginning this work in Australia. We look forward to building new partnerships across the country to give every child the very best opportunity to reach their full potential," said Mr Koczkar.
Research from the OECD has found that the demand for the number of high skilled workers required to maintain Australia's prosperity will grow faster than the working-age population, making these jobs more difficult to fill.
Mr Narev also re-committed to scaling up the Bank's financial education program Start Smart, which has already changed the way more than one million students learn about finance. The Bank will increase the reach of the program to 500,000 students each year.
Commonwealth Bank's community investment program will also highlight, celebrate and recognise best-practice teaching through its Teaching Awards program. Teachers are encouraged to apply now at teachingawards.com.au
Notes to editors
About Commonwealth Bank in the community
The Commonwealth Bank has been actively supporting the Australian community since it opened its doors in 1912. The Bank, together with its community partners and people, achieves social outcomes that enrich the communities in which it operates. Some examples of the Bank's work in the community include Start Smart, Community Grants, Teaching Awards, Clown Doctors, CommBank Cricket Club and other programs in the arts, sport, welfare, Indigenous communities and the environment. Visit commbank.com.au/community