The latest Commonwealth Bank Business Sales Indicator (BSI) – a measure of economy-wide spending – shows continued momentum in sales at clothing stores in June, up 0.7 per cent for a second consecutive month.
"The late arrival of winter has left many Australians decidedly chilly, however it's been good news for clothing retailers. Shoppers have been flocking to stores to buy apparel as the colder weather finally arrived across the country," CommSec Senior Economist Ryan Felsman says.
Mr Felsman added, "Consumer purchases of apparel, garments and footwear were benign over the Christmas and New Year trading period but spending at clothing stores has now risen for five successive months."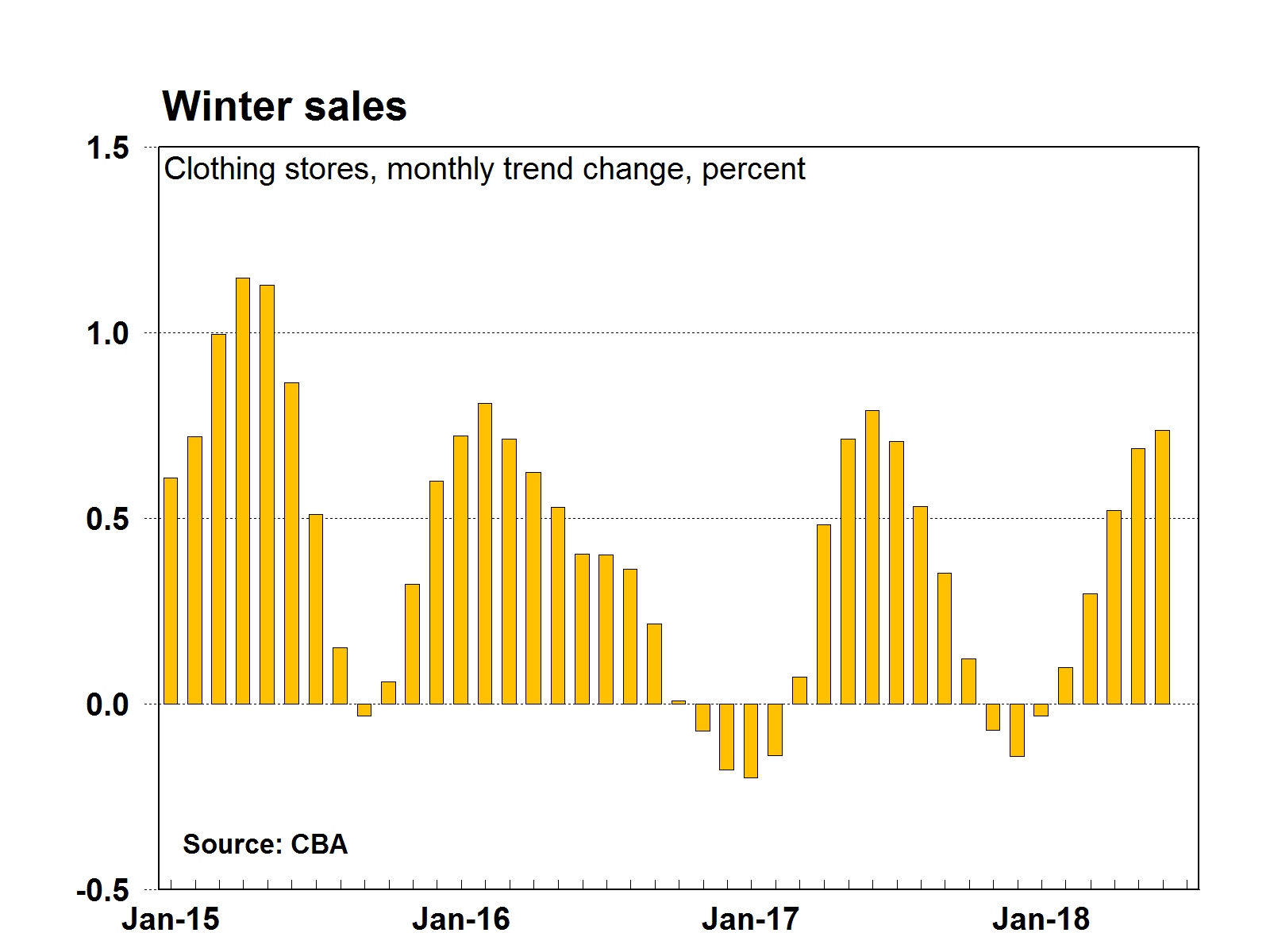 Spending on mail and telephone orders, including internet purchases, also continued to lift in June, up by 3.2 per cent.
"The lift in orders, which includes online buying, appears to coincide with Amazon's arrival in Australia late last year. But catalogue-related purchasing remain popular with shoppers," Mr Felsman says.
"That said, other web-based retailers such as The Iconic, Kogan, Catch and OzSale have also penetrated the market. And catalogue vending remains popular with Aussies. Retailers such as Bunnings, IKEA, Coles, Woolworths, ALDI and Chemist Warehouse and EziBuy, enable shoppers to buy in store, or via the phone, or online. Strong e-commerce growth and Aussies' love affair with catalogues as media for selection is contributing to aggressive price discounting, which is pushing down goods prices and pressuring the margins of bricks and mortar retailers."
Automotive and vehicles sales were also up in June, by 1.0 per cent. "SUV car sales in Australia are at record high levels, reflecting a shift in preferences from passenger vehicles to utes and other recreational vehicles," Mr Felsman says.
Overall, the BSI posted the slowest growth in 15 months, up 0.2 per cent in trend terms. While sales in 16 of the 19 industry sectors rose in trend terms, on the other side of the equation sales fell for retail stores (outside of clothing and apparel specialists) and government services (both down 1.0 per cent), followed by transportation (down 0.5 per cent).
"Spending on transportation has fallen for five consecutive months now. Rising crude oil prices, which are near threeand-a-half-year highs, have pushed up unleaded and diesel fuel prices. And jet fuel prices are also increasing. This month's fall in spending on Airlines could be seasonal, but discount airfare prices are on the rise," Mr Felsman says.
State-by-state analysis
Across all states and territories in June, sales were stronger except for NSW (down 0.4 per cent). The strongest growth occurred in Northern Territory, South Australia and Tasmania (all up 0.6 per cent); ACT and Western Australia (both up 0.5 per cent); and Queensland and Victoria (both up 0.4 per cent).
In annual terms all states and territories had sales higher than a year ago. The strongest growth was in Queensland (up 9.9 per cent); Western Australia (up 9.5 per cent); South Australia (up 8.4 per cent); Tasmania (up 8.1 per cent); Victoria (up 7.7 per cent); Northern Territory (up 7.3 per cent); the ACT (up 6.6 per cent); and NSW (up 4.9 per cent).
"Job gains in Queensland at the turn of the year were the strongest since 2007. And population growth is booming as interstate migration picks up. It's no coincidence that Queensland leads spending," Mr Felsman says.
Read the latest Commonwealth Bank Business Sales Indicator.