Australians are predicted to spend more than double on food and in supermarkets in the lead-up to Good Friday, according to Commonwealth Bank data looking at pre-Easter spending habits in previous years.
Last year, Australians spent 148% more at food retailers and 124% more at supermarkets on the Thursday before Easter, in comparison to the average Thursday spend in the four weeks leading up to Easter.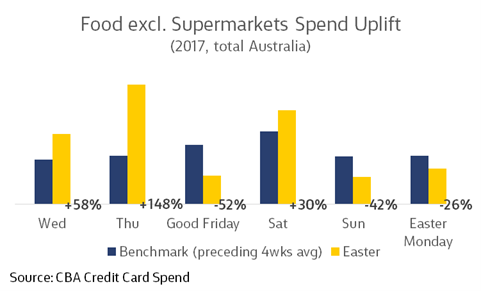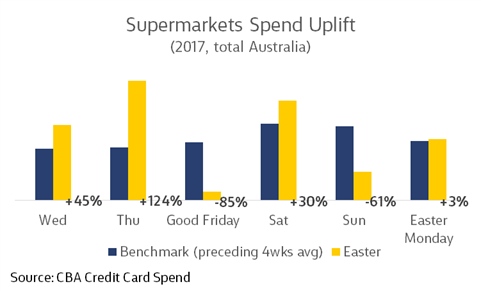 Angela Clark, Executive General Manager Small Business, Commonwealth Bank, says, "We predict Aussies will spend more in the lead up to Easter, and so business owners should be thinking about how to prepare. Better planning for the pre-Easter rush can help them take advantage of increased customer spending, which in turn can reduce stress for many of them."
Some considerations for businesses ahead of Easter:
Maximise peak vs. quiet times – Consider how you could prepare for any possible peak shopping times and think about utilising any quiet times for admin tasks and stock checks.
Popular products – Consider which products or services are most likely to be in high demand during busy holiday periods and ensure you have sufficient stock or resources to cater for any increased demand.
Know your customers – Gather knowledge and insights about your customers to plan ahead for what they may need. CommBank business customers can use Daily IQ, our business insights tool available through online banking. It is designed to optimise cash flow, enhance performance and help businesses better understand their customers.
Some considerations for customers ahead of Easter:
Plan ahead and set a budget – Before hitting the shops, have a shopping list and try to stick to it – those impulse purchases build up! From your shopping list work out a budget for your Easter shop to help not go over.
Track your spending – Take advantage of budget tracking tools to keep track of your spending and make sure you're not going over budget. CommBank customers can use the Spend Tracker feature built into their Commbank app.
Shop out of peak times – If you can, head to your local food retailer or supermarket at quiet times to beat the queues – peak times include the Thursday before Easter.
About the data
The spending data is produced by Commonwealth Bank based on information available at the time of publishing. The statistics presented only take into account Commonwealth Bank Credit Card Data and therefore may not reflect all trends in the market. This information is provided for general information only and does not have regard to your financial or personal situation or needs. This information should not be taken as constituting financial professional advice. You should seek professional advice before making any decision based on this information. We believe that the information in this release provided today is accurate and any opinions, conclusions or recommendations are reasonably held or made as at the time of its compilation, but no representation or warranty is made as to accuracy, reliability or completeness. All customer data used or represented as at the date of this release is anonymous and aggregated before analysis and is used and disclosed in accordance with the Commonwealth Bank Group's Privacy Policy Statement.
About Daily IQ 2.0
Included in online banking, the market leading Daily IQ tool provides business customers with access to a data and analytics service at no cost.
Accessible through online banking portals CommBiz and Netbank, the platform focuses on three key areas designed to optimise cash flow, enhance performance and to help businesses better understand their customers.
To optimise cash flow, the tool analyses linked accounts to visualise the cash position and the cash coming in and out of a business either daily, weekly or monthly. It also tracks against the same period last year.
To optimise performance, a business can visualise their sales metrics, busiest times of the day and week by transaction volumes, and total card sales compared to last year. It also includes an industry sales comparison tool, which uses Commonwealth Bank card data to compare sales against the broader industry, as well as a foreign exchange forecasting tool to assist with the management any potential foreign exchange exposure.
To help businesses better understand their customers, an analysis of Commonwealth Bank card sales powers insights into new versus repeat customers and key details such as average sale per customer, average total spend, transaction size and number of visits. Businesses can also look at average customer gender, age and location.