The number of Australian businesses that have become 'disruptors' has more than doubled in the past 12 months, as part of a spike in the level of innovation across the nation, according to early results from the latest Commonwealth Bank Business Insights Report.
Adam Bennett, Group Executive Business and Private Banking, Commonwealth Bank, said, "The surge in innovation among Australian businesses arrives as the engine room of the national economy continues to move from mining to services, and as businesses are being called upon to improve productivity to underpin Australia's economic growth while responding to rapidly changing customer demands."
Commonwealth Bank's soon to be released annual report into the levels of, and financial return from, innovation in businesses shows the CommBank Business Innovation Index has climbed considerably to 32 from a score of 24 last year, ranked on the scale of minus 100 to 100.
Across the innovation index range, there are four distinct mindset categories from the most innovative to the least: Disruptors, Harnessers, Adopters, and those below the threshold for innovation, Resistors. The index assesses a set of 15 behaviours and capabilities across entrepreneurism and management performance.
Scale and mindsets of innovation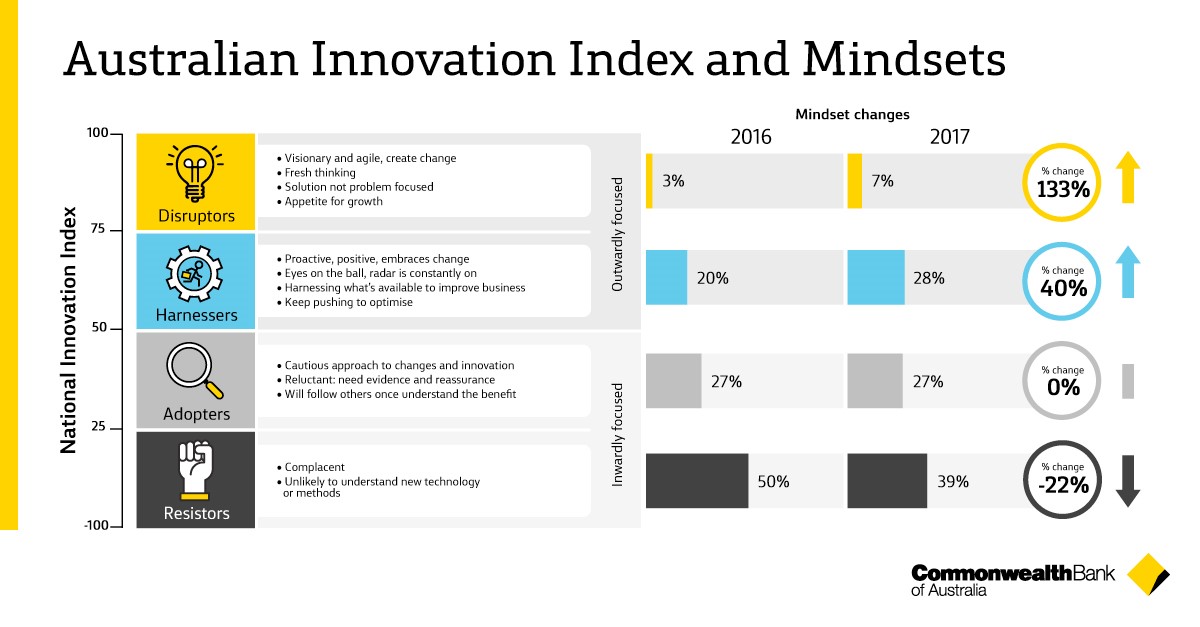 The research shows that the number of Disruptors (Index score of 75 or above) has increased significantly, albeit from a low base. Seven per cent of all businesses now sit in this category, up from only three per cent 12 months ago. Concurrently, the number of Resistors has decreased by 22 per cent – now 39 per cent of all businesses. And the number of organisations classified as Harnessers (Index score of 50-74) has also risen by 40 per cent, now represented by more than one in four (28 per cent) businesses.
"In the past year we have seen a dramatic shift in the innovation performance of Australian businesses, and as a nation, innovation is now firmly embedded into the mindset of most organisations," Mr Bennett said.
"And as innovation in Australia continues to take hold, the recent spike in the number of home-grown disruptors will likely increase as businesses continue to face new challenges in a competitive environment. As we heads towards one in ten businesses displaying behaviours that support peak innovation performance, we expect this to lead to a positive impact for businesses' bottom lines, and greater productivity at a macroeconomic level."
The increase in the national Index score over the past year this marks the important transition from day-to-day business improvement into businesses embracing genuine innovation. The threshold for innovation is represented by an Index score of 25.0 or above.
State of innovation in Australia
Queensland achieved the highest Innovation Index score of all states and territories at 37.7, experiencing the largest increase in the past 12 months (up from 23.7), and surpassing Victoria/Tasmania as the most innovative state which now ranks second. While Western Australia's Index score improved modestly compared to 2016, it now ranks as the least innovative state at 26.7.
According to the research, almost all Disruptors displayed certain behaviours that drive innovation within their organisations. Among Disruptors, 99 per cent conduct experiments to test new ideas and methods, 93 per cent have used a formal process to network outside their organisation, and 91 per cent are willing to take financial risks to pursue an opportunity.
When looking at the differences between drivers of innovation between Disruptors and those at the other end of the index scale, the Resistors, a clear disparity is evident in the areas of customer focus, remaining competitive and business growth. This can be seen by 71 per cent of Disruptors seeking to leverage innovation to improve the quality of their offering, compared to 35 per cent of Resistors.
"We are seeing uniform characteristics among Australia's most innovative businesses, and a key trait is adopting the right mindset rather than simply making a large capital outlay to be innovative. For businesses aspiring to take advantage of the benefits of innovation, looking to incorporate this mindset is key."
Overall, the uplift in the CommBank Business Innovation Index at a national level is underpinned by an increase in all but one of the 15 contributing components. The greatest increase was seen in the number of businesses evaluating creativity and innovation within staff appraisal, with 58 per cent of all businesses now engaging in this practice.
Case study
We have a number of businesses able to talk about their innovative capability and practices.
About the Commonwealth Bank Business Insights Report
The annual Commonwealth Bank Business Insights Report (BIR), due for official release on 13 December 2017, is the pre-eminent study of innovation within Australian business. Now in its second year, the report focuses on the innovation performance, management capabilities and entrepreneurial behaviours that drive innovation, and the return on investment amongst Australian businesses.
The survey is based on responses from 2,473 business decision makers within organisations with an annual turnover of more than $500,000 and more than two employees. The survey was conducted by DBM consultants between August and September 2017, with data analysis undertaken by ACA Research and CBA.