Future Business Index records second highest reading since inception
All industries and states record positive Index score for 2nd consecutive quarter
Confidence soars in Construction & Property Management sector
Confidence amongst Australia's mid-market businesses remains high, despite a moderate drop in the Commonwealth Bank Future Business Index1 over the March quarter.
The March quarter Index eased slightly to 14.3, down 2.7 from the December quarter high of 17. While confidence edged lower, businesses remain positive with the Index recording its second highest reading since the survey began in September 2011.
The Index reveals nearly half of all mid-market companies are anticipating a lift in revenue and profit over the next six months. In addition, a growing number of businesses indicate they are well prepared to manage future volatility, up eight per cent quarter on quarter to 46 per cent.
According to the March quarter Index, many mid-market businesses remain confident that domestic growth (44 per cent) and consumer confidence (41 per cent) will have a positive impact over the next six months. While cost management remains a focus, businesses indicate that they have more of an appetite to increase risk and capital expenditure. In addition, the use of debt facilities for expansion and capital investment and funding from domestic and international markets is also expected to rise.
Despite this positive sentiment, there was a drop in the number of mid-market firms expecting business conditions to improve in the next six months, down from 47 per cent in the December quarter to 35 per cent in the March quarter. Businesses indicate that managing growth & expansion and access to skilled staff will be key challenges over the next six months.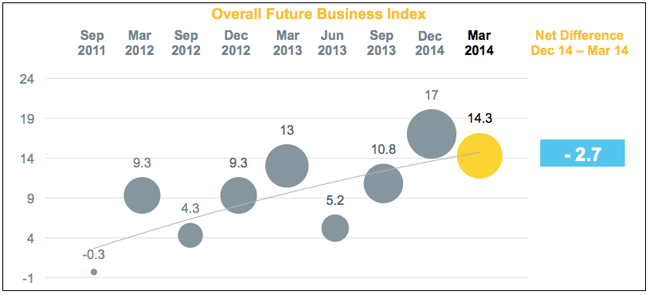 Michael Cant, Executive General Manager Corporate Financial Services, Commonwealth Bank, said the March quarter Index points to a positive outlook for mid-market businesses with strong signs of future business growth.
"It's encouraging to see confidence levels remain at near recent highs, buoyed by positive revenue and profit expectations and decreasing input costs. Overall, businesses are also generally feeling better prepared to meet future volatility. This optimism was echoed by businesses expecting increased investment and use of debt to fund expansion over the next six months.

"While the outlook remains robust, the landscape is not without its challenges. In the next six months, managing growth and gaining access to skilled staff rank amongst the top challenges for mid-market organisations," said Mr Cant.

According to the Index, mid-market businesses are divided on the impact of the upcoming Federal Budget with 35 percent indicating a positive impact, 28 percent expecting a negative impact and 37 per cent predicting no impact. The Mining and Transport & Logistics industries were the most positive about the predicted outcome, while more businesses in the Services, Government, Education & Health industries believed the impact would be negative for their business.

Michael Blythe, Chief Economist Commonwealth Bank, said, "With risk appetite, business capex and labour hiring expected to increase, this bodes well for the broader economy. Stabilisation of the jobs market is needed to support consumer confidence and the growth transition to non-mining activity will be driven by greater investment in the mid-market.

"The results also found that a small majority of firms expect a positive impact from the upcoming Federal Budget, with businesses indicating they would most like to see reduced taxes and red tape, and increased infrastructure spending as a result," said Mr Blythe.
Industry Analysis

Confidence soars across the Construction & Property Management industry

The Construction & Property Management industry witnessed the biggest increase in confidence over the March quarter, rising to 31.5 – the highest reading since the survey began and the most confident of all industries. Confidence in the Mining industry improved for the second straight quarter, up 21.1 from the December quarter to a reading of 28 in the March quarter.

The Transport and Logistics industry experienced a significant drop from its ranking as the most confident industry in the December quarter, falling 33.1 to 5.6 in the March quarter.

State Analysis

Western Australia and Queensland the only two states to record increases in confidence

Western Australia and Queensland were the only two states to see increases in confidence over the March quarter, ranking as the first and second most confident states respectively. Western Australia witnessed an increase in confidence of 9.7 to 28.5 in the March quarter, whilst Queensland saw a rise of 2.2 to 17.5.

New South Wales experienced the largest drop over the quarter, falling from its ranking as the most confident state in the December quarter, and is now the second-least confident state.
About the Future Business Index
The Commonwealth Bank Future Business Index (FBI) is based on a detailed quantitative survey of 442 financial decision-makers in public and private companies throughout Australia with turnover between $10 million and $100 million. The March quarter survey was conducted between the 14th February 2014 and the fifth of March 2014.
Conducted by ACA Research, the FBI is an indicator of what the business landscape will look like over the next six months, based on business confidence, predicted future activity and an organisation's ability to manage fluctuating business conditions. The survey sample includes businesses from a range of sectors including Retail, Business Services, Construction, Health & Education, Information Media & Telecommunications, Manufacturing, Mining, Transport & Logistics and Wholesale Trade. The data has been weighted to reflect the latest Australian Bureau of Statistics Business counts.

The Index seeks to identify:

The level of confidence in business conditions over the next six months.
The challenges and threats businesses face over the next six months.
How prepared businesses are to navigate volatile conditions.
The use of financial facilities and risk planning.
Expected sources of growth and opportunities.

How the FBI is calculated

The FBI has been calculated by taking a net balance of future business conditions, net revenue and risk as indicated by businesses with an annual turnover of $10 to $100 million.

Net Business Conditions is a net balance of those that indicated that business conditions will improve minus those who predict business conditions will decline.
Net Revenue is calculated by taking those companies that see an increase in revenue over the next six months minus those that foresee a decline.
Net Well Preparedness is a net balance of those that are 'well prepared' minus those that are 'somewhat' and 'not well prepared'.

About ACA Research

ACA Research is a full-service market research consultancy, with particular expertise in customised business-to-business thought leadership, executive research and syndicated multi-client studies throughout Australia, New Zealand and Asia. Through a high level of business and research experience, industry expertise and focus on high-quality outputs, ACA Research effectively supports business thought leaders in their decision-making activities.

For a full copy of the report visit www.commbank.com.au/futurebusinessindex