Future Business Index declines as revenue and profit growth softens, costs increase
Businesses increase focus on growth and investment in technology
Confidence jumps in New South Wales – now most confident state
Nearly half of Australia's mid-market businesses are focused on growth initiatives, even though confidence among these businesses declined in the June quarter, according to the Commonwealth Bank Future Business Index1. The June quarter (Q4) Index dipped to 10.4, down 3.9 from the March quarter (Q3) to settle in line with the long-term average.
While confidence moderated, there was a material rise in the number of businesses focused on growth initiatives, increasing five per cent in the June quarter to 48 per cent. The Index also reveals nearly half of businesses expect to increase investment in technology (47 per cent) and many anticipate an increase in product or service development/innovation (44 per cent).
The primary opportunities for businesses include new/expansion markets, new clients/business and new products/diversification. Conversely, maintaining profitability and cash flow was cited as the biggest challenge in the next six months.
The Index reveals that fewer businesses anticipate revenue growth (272 in Q4, 33 in Q3) and profit growth (16 in Q4, 28 in Q3) in the next six months. Businesses also expect a rise in the cost of salaries and wages (38 in Q4, 31 in Q3) and operating costs (29 in Q4, 18 in Q3). In addition, businesses cited the impact of the Federal Budget, lower consumer confidence and domestic economic conditions as the key reasons for a decline in business conditions over the next six months.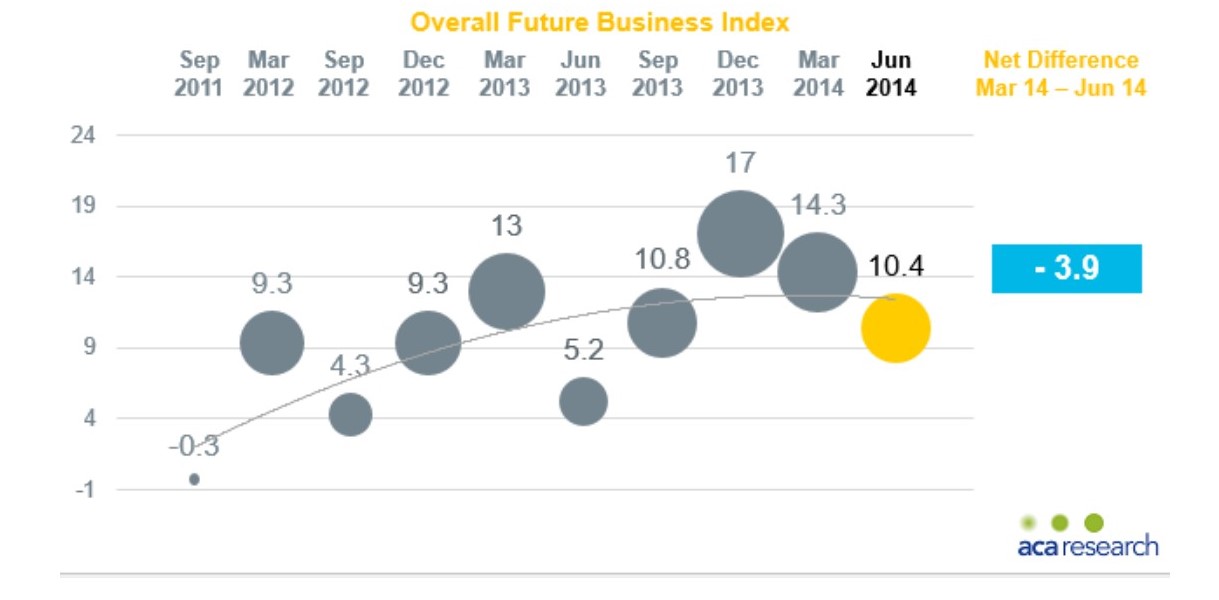 The June quarter Index suggests that although confidence eased, businesses are starting to focus on longer term growth opportunities, said Michael Cant, Executive General Manager Corporate Financial Services, Commonwealth Bank.
"The softening in business confidence in the June quarter was primarily driven by the decrease in net revenue expectations. While businesses indicated that the Federal Budget and lower consumer confidence both played a role in sentiment levels this quarter, the impact of these factors appears to be moderating, and many businesses are again turning their minds to future expansion opportunities," said Mr Cant.
"The renewed focus among many businesses on growth marks the first significant movement away from cost management over the 2014 financial year. We are starting to see businesses looking at expansion plans with many flagging an increase in investment in technology and product innovation to enhance longer term business performance."
Michael Blythe, Chief Economist, Commonwealth Bank, said, "The latest Index readings confirm business sentiment was not immune to the negative post-Federal Budget reaction seen in the consumer space. However, the relative resilience of labour hiring and business capital expenditure plans for the next six months suggests that the Federal Budget and softer consumer confidence will not have a lasting impact.
"Mid-market organisations appear to be actively pursuing growth initiatives, centred on expanding markets and clients, new products and a belief that sales demand will rise. Again, this shift in focus suggests a degree of confidence in longer-run prospects for the Australian economy," said Mr Blythe.
NSW the most confident state as WA and Queensland drop
New South Wales is the most confident state, recording a 3.9 increase in the June quarter to 14.5. South Australia ranks second in terms of confidence at 13.3 in the June quarter, while Western Australia andQueensland witnessed significant declines this quarter (falling 19.4 and 17.2 respectively), and are now the two least confident states.
About the Future Business Index
The Commonwealth Bank Future Business Index (FBI) is based on a detailed quantitative survey of 429 financial decision-makers in public and private companies throughout Australia with turnover between $10 million and $100 million. The March quarter survey was conducted between the 29th May 2014 and the 18th of June 2014.
Conducted by ACA Research, the FBI is an indicator of what the business landscape will look like over the next six months, based on business confidence, predicted future activity and an organisation's ability to manage fluctuating business conditions. The survey sample includes businesses from a range of sectors including Retail, Business Services, Construction, Health & Education, Information Media & Telecommunications, Manufacturing, Mining, Transport & Logistics and Wholesale Trade. The data has been weighted to reflect the latest Australian Bureau of Statistics Business counts.
The Index seeks to identify:
The level of confidence in business conditions over the next six months.
The challenges and threats businesses face over the next six months.
How prepared businesses are to navigate volatile conditions.
The use of financial facilities and risk planning.
Expected sources of growth and opportunities.
How the FBI is calculated
The FBI has been calculated by taking a net balance of future business conditions, net revenue and risk as indicated by businesses with an annual turnover of $10 to $100 million.
Net Business Conditions is a net balance of those that indicated that business conditions will improve minus those who predict business conditions will decline.
Net Revenue is calculated by taking those companies that see an increase in revenue over the next six months minus those that foresee a decline.
Net Well Preparedness is a net balance of those that are 'well prepared' minus those that are 'somewhat' and 'not well prepared'.
About ACA Research
ACA Research is a full-service market research consultancy, with particular expertise in customised business-to-business thought leadership, executive research and syndicated multi-client studies throughout Australia, New Zealand and Asia. Through a high level of business and research experience, industry expertise and focus on high-quality outputs, ACA Research effectively supports business thought leaders in their decision-making activities.