Research commissioned by Commonwealth Bank ahead of the festive season, indicates that a quarter of Australian shoppers surveyed (26 per cent) will be looking for deals and discounts to keep costs down this Christmas.
According to the research, Millennials (31 per cent) are more likely than Gen X (27 per cent) and Baby Boomers (21 per cent) to look for cheaper options to cut back on Christmas spending this year.
Baby Boomers will be the most relaxed shoppers this Christmas season, as one third (31 per cent) are more likely than Gen X (20 per cent) and Millennials (17 per cent) to fit their Christmas shopping around their regular shop.
The research also found that over two million Australians (12 per cent of the adult population) do most of their Christmas shopping at the last minute.
The biggest spending days predicted for this Christmas are Thursday 19, Friday 20 and Saturday 21 according to CBA's latest transaction forecasts.
Commonwealth Bank's 2018 spending data also revealed that Christmas Eve spend was particularly high, even compared to Boxing Day. On Christmas Eve last year, credit and debit card spend totalled $571m, dropping to $148m on Christmas Day, and jumping again to $429m on Boxing Day.
An analysis of 2018 credit card spending categories also revealed the costs of the last minute food and beverage run with grocery stores and supermarkets ($30m), package stores ($10.6m) and other food stores such as specialty markets ($4.7m) totalling over $45m.
Commonwealth Bank 2018 Christmas credit card spend by category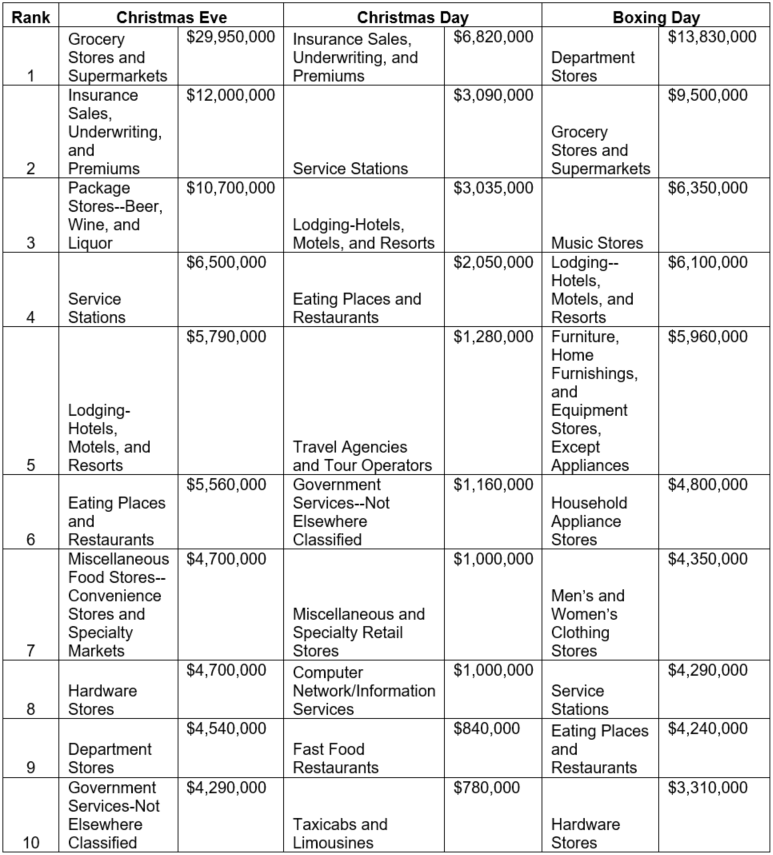 Source: CBA 2018 credit card spending data
Kate Crous, EGM of Everyday Banking, CBA said: "Christmas can be an expensive time of year for many Aussies. It's clear that most of us are on the lookout for deals and discounts to keep the costs down but discretionary and non-discretionary items still have a way of creeping up on us, especially as many of us do our shopping last minute.
"To better manage finances, there are budgeting and tracking tools and technology that can help. For example, Spend Tracker & Insights – a tool in the CommBank app – automatically puts your transactions into categories such as groceries, cash and bills so you can see where your money is going this holiday period." Crous said.
Important information
The commissioned research was conducted on the YouGov Galaxy Online Omnibus between 14-17 November 2019. The sample comprises 1,065 respondents aged 18 years and older distributed throughout Australia. Following the completion of interviewing, the data was weighted by age, gender and region to reflect the latest ABS population estimate.