For many first home buyers, achieving the Dream has become more of a stretch target during the prolonged property boom.
But as fresh Commonwealth Bank of Australia (CBA) research shows, tapering property prices and new record low interest rates have re-kindled consumers' interest in scaling the property ladder - one rung at a time.
Home is where the heart is
Dubbed Home Own, the survey-based research is based on a survey of 1,012 home loan customers (both CBA and non-CBA) nationally.
As well as affirming Australians' entrenched faith in – and love of – property, the results reveal they are optimistic about the economy and their employment prospects as they embark on the property ownership journey.
The resounding finding is that a convincing majority of respondents - 91 per cent - still believe home ownership is affordable, with only 9 per cent believing 'the Dream' to be out of reach. Given Sydney's higher property values, 12 per cent of NSW borrowers thought ownership was unattainable.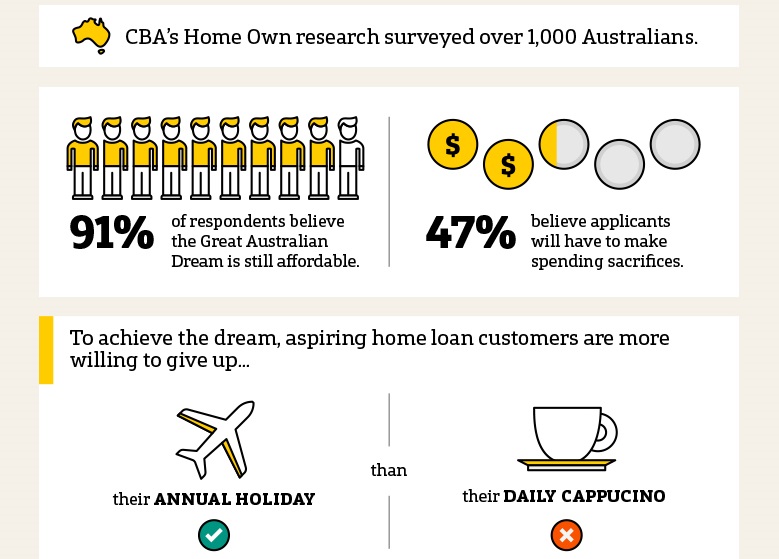 Listen to the audio or view the pdf
Close to half of the sample – 47 per cent – believe ownership is possible if the applicants are willing to make a few spending sacrifices.
A further 39 per cent believe that parents – also known as the 'bank of mum and dad'– would have to assist to some degree (such as contributing towards a deposit).
In a similar survey last year, 81 per cent considered the Great Australian Dream to be in reach. Notably, the proportion of under 30s considering ownership to be completely out of reach has declined from 26 per cent in 2018, to 11 per cent now.
On the flip side, the research shows that despite the housing gloom only 31 per cent of established borrowers are concerned about falling housing prices.
Buyer sentiment improving
"Our research shows a large shift in the number of people who now feel that the dream of property ownership is achievable," says CBA executive general manager home buying, Dan Huggins.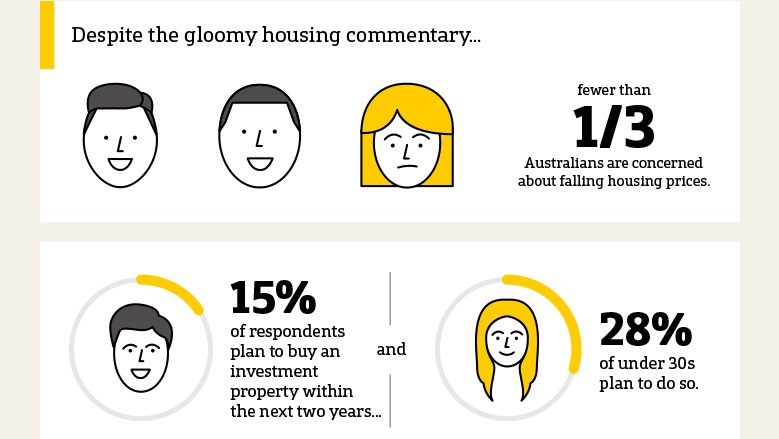 Listen to the audio or view the pdf
While the Great Australian Dream can refer to ideals such as a comfortable lifestyle and overall financial wellbeing, the research suggests a majority of Australians (70 per cent) still equate the notion to owning property. This sentiment is also strongest among the under 30s, even though that cohort is most affected by affordability issues.
The market's resilience is also reflected in the intentions of established home buyers in terms of upsizing, downsizing, renovating or migrating to the better suburbs.
While 53 per cent of the sample cites paying down the mortgage as a primary goal, 28 per cent intend to renovate within the next two years, while 12 per cent want to buy a bigger home. One-tenth of the respondents intend to downsize, with this figure skewed naturally to the 60-plus demographic.
Australians, it seems are evenly split between being upwardly mobile and being content with their current 'castle'. 49 per cent aspire to move to a better suburb, while 51 per cent are happy to stay put.
Of those under the age of 30, 73 per cent plan to move to a more prestigious postcode.
The 'shifters' also accept that to achieve the improved version of the Great Australian Dream, spending sacrifices might be required.
To prune the household budget, the respondents are happier to renounce their annual holiday than to scrimp on the small daily treats: one-fifth said they would be willing to forego holidays, while only 14 per cent were willing to renounce a daily coffee and only 11 per cent were willing to kick their Uber Eats addiction.
The survey shows that property investors are also making their presence felt. Overall, 15 per cent of respondents intend to buy an investment property within the next two years, with 28 per cent of the under 30s cohort expecting to do so.
Whether investor or owner occupier, CBA has a range of competitively-priced home-loan products to suit all borrowers.
Whatever their home lending needs, we encourage Australians to speak with one of our home lending specialists in a branch or over the phone. Alternatively, customers can book an appointment with a one of our home lending specialists online or through the app.