With many regional communities suffering from the impact of both the drought and bushfires, Rural Aid and Commonwealth Bank have delivered close to 300 bales of hay to farmers in northern New South Wales, as part of CommBank's 2019 Christmas Drought Appeal.
Following CBA's donation to Rural Aid for the Appeal, the much needed hay was delivered on road trains and distributed to farmers in Armidale, who filled up their trucks with feed to take to their livestock on Wednesday morning.
On the ground for the hay drop, Grant Cairns, Executive General Manager for Regional and Agribusiness Banking at CBA said, "Many communities across New South Wales and Queensland have been hit hard by the unrelenting drought and this hay drop is one of the ways we can help provide some support to local farmers in the Northern Inland area.
"Thanks to generous donations of Australians across the country, we've been able to contribute to the vital work Rural Aid is doing to support communities affected by the drought - whether that's delivering hay, support with groceries and bills, or counselling – Rural Aid is doing a lot to support farmers and we're proud to partner with them.
"We hope that donations continue well into the holiday season as we show our farmers, businesses, and local communities we're here to help in this difficult time. We're accepting donations for the 2019 Christmas Drought Appeal through the CommBank app and in-branch, so customers to can make donations anywhere, anytime."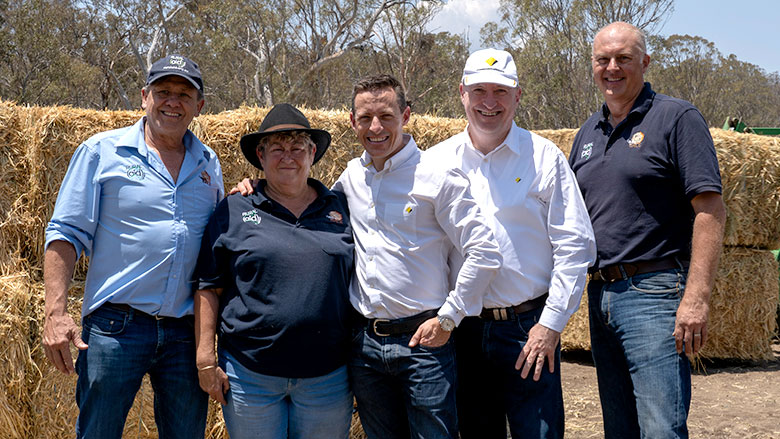 Rural Aid NSW Business Development Manager, Craig Marsh said he would like to thank CBA for supporting our farmers who are struggling, on many levels, through this record-breaking drought and now, the impact of bushfires.
"The hay drop, made possible by the generosity of CBA's customers, employees and the broader community, will go a long way in easing some of the burden experienced by the 35 Armidale farmers struggling to feed their stock," Craig Marsh said.
In addition to this week's hay drop, on Sunday, CBA will partner with Channel 9 for the Nine Hay Mate charity concert in Mornington Peninsula to help raise money through a telethon for Rural Aid. The concert will include performances from Australian legends John Farnham and Daryl Braithwaite.
CommBank call centres will be taking calls to facilitate donations throughout the event with over 300 staff volunteering to support the drought effort.
About the CommBank Christmas Drought Appeal
The Commonwealth Bank will be donating $500,000 to each of its fundraising partners on the appeal: Rural Aid and Australian Red Cross, in order to provide balance in supporting regional communities for the short and long term.
Rural Aid is one of the largest rural charities in Australia, with a focus on supporting farmers and rural communities in times of natural disaster such as drought, flood and fire. Well known for the highly successful 'Buy a Bale' campaign, their support includes fodder, financial assistance, water, counselling and volunteers. The charity also supports initiatives that are focussed on the long term sustainability of farming and rural communities.
Australian Red Cross is the nation's leading humanitarian organisation and a national emergency responder. It supports and empowers people and communities in times of vulnerability to reduce suffering, by mobilising a network of volunteers.
To find out more about the CommBank Christmas Drought Appeal, go to: http://www.commbank.com.au/drought