Having grown up in humble beginnings in Western Sydney, she loved the simplicity and authenticity of the Vietnamese food that was a staple of her family's heritage.
Embracing the hallmarks of that approach in a 15 year stint in the fashion industry - a career that took her to London and New York – Tina (pictured below serving a customer) saw there were similarities between the disciplines of her work life - attention to detail, design standards and quality products - and the thing she most enjoyed doing during her little time off.
On Sundays, hosting friends for meals, not only gave her the chance to hone her food skills it also sparked the idea to blend her love of fashion and cooking into a business idea which would change her life completely.
Returning to Sydney in 2010, she realised there were hardly any quality, stylish outlets that served authentic Vietnamese street food, Pho, a noodle soup consisting of broth, rice noodles, meat, vegetables and herbs.
Starting out, appropriately, on a market stall under the name Bar Pho, Tina and her business partner, Niels, graduated to pop-up cafés before opening their first venue in Sydney's CBD, they serve both corporate clients and customers on the go with MSG-free meals using natural and fresh ingredients for lunch and a newly-launched next day delivery service.
As a small business customer looking to expand, Tina turned to her CBA small business specialist for help to build the company and add to their original store and existing Saturday stalls at two of the city's busiest markets.
Using data and insights from the bank's Daily IQ service that analysed her customers, cash flow, likely locations and demographics, she chose another central location to tap into the busy weekday corporate and workers' trade that then tie directly into her weekend market operations.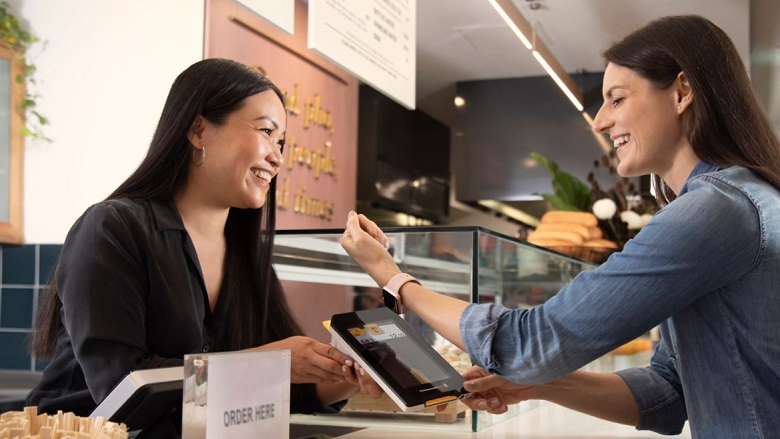 Tina has also taken a 21st century approach to her business using CBA's technological know-how and innovative payment systems to go cashless. While she ends up turning away a couple of customers out of every 200 by not taking cash, the time, cost, convenience and data benefits help her to run a much more efficient company, as far as she is concerned.
"I've wanted to make a real difference to people's lives and I think I can do that by bringing design, cooking and business experience into one company that is focused on quality and customer service," says Tina. "We've got fashion and style together which is evolving into being very brand orientated. This speaks to our customers and I believe it is setting us apart."
Tina is one of a growing number of small business customers in CBA's Business and Private Bank (BPB) which now serves more than 810,000 customers. BPB forms one of the key planks of CBA's revised strategy under CEO Matt Comyn to become a simpler, better bank which is focused on growing its retail and business banking operations in Australia and New Zealand.
BPB grew its business lending to customers by 2% during the six months to 31 December 2018, with the main growth coming from business services, and agribusiness while pulling back on exposure to the property development sector.
An increase in costs and a rise in impairment expenses were responsible for a 3% decline in BPB's half year net profits to $1.4 billion. Details of the division's cash earnings were contained in CBA Group's interim results that were released to the Australian Stock Exchange on 6 February 2019.
CBA's Chief Economist Michael Blythe is forecasting that business credit will grow between 5% and 7% for the year ending 30 June 2019.