Commonwealth Bank's lending exposure to renewable electricity generation was $2.2 billion at 30 June 2016, representing more than five times the Group's exposure to direct coal-related electricity generation. This compares to renewable exposure of $1.4 billion, three times the exposure to direct coal-related electricity generation, and a year on year improvement of 63 per cent.
The increase in our exposure to renewable electricity generation was largely due to mandated lead arranger roles in three landmark transactions in the UK: £100 million¹ financing of the 588 MW Beatrice Offshore Wind Farm; a £100 million¹ interest-only facility for Greencoat UK Wind, the UK's first-ever 'renewable energy yield company'; and a £47.5 million loan to UK solar business Magnetar. In addition, we participated in two smaller transactions in Canada – C$32 million in senior debt for the 270 MW K2 wind project in Ontario and a C$60 million senior debt facility for the 272 MW SdB wind project in Quebec.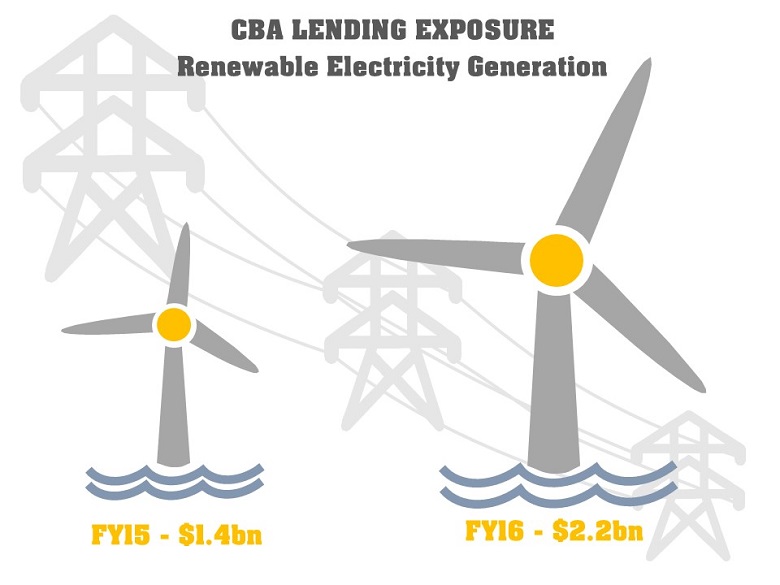 Commonwealth Bank plays a crucial role in enabling innovation, economic and social development while supporting the transition to a low-carbon economy. We balance a commitment to responsible lending with operating sustainably to ensure we excel at securing the financial wellbeing of people, businesses and communities.
We are committed to the renewable energy sector and have an unlimited appetite for financing commercially viable renewable energy projects in Australia and around the world. We actively seek opportunities to lend to, invest in, and support innovative technologies and businesses that decrease dependence on fossil fuels and mitigate the effects of climate change.
Commonwealth Bank's 2016 Corporate Responsibility Report is available on our website.