Strong population growth, underpinning a lift in construction activity, has resulted in Victoria nudging NSW out of top spot for economic performance, according to the latest CommSec State of the States report.
CommSec, the online broking arm of Australia's largest bank, assesses the performance of each state and territory on a quarterly basis using eight key indicators.
Those indicators include
economic growth,
retail spending,
business investment,
unemployment,
construction work,
population growth,
housing finance, and
dwelling commencements.
Just as the Reserve Bank uses long-term averages to determine the level of "normal" interest rates, CommSec compares the key indicators to decade averages; that is, against the "normal" performance.
In the latest report, Victoria ranked first for three of the eight economic indicators (construction work, economic growth and dwelling starts), taking top spot in the performance rankings for the first time since CommSec introduced the report in October 2009.
NSW maintained its top rankings for retail spending and the relative performance on unemployment, coming in second overall, while ACT maintained third place, continuing to lead the nation for home loans. Tasmania was strongest on relative population growth.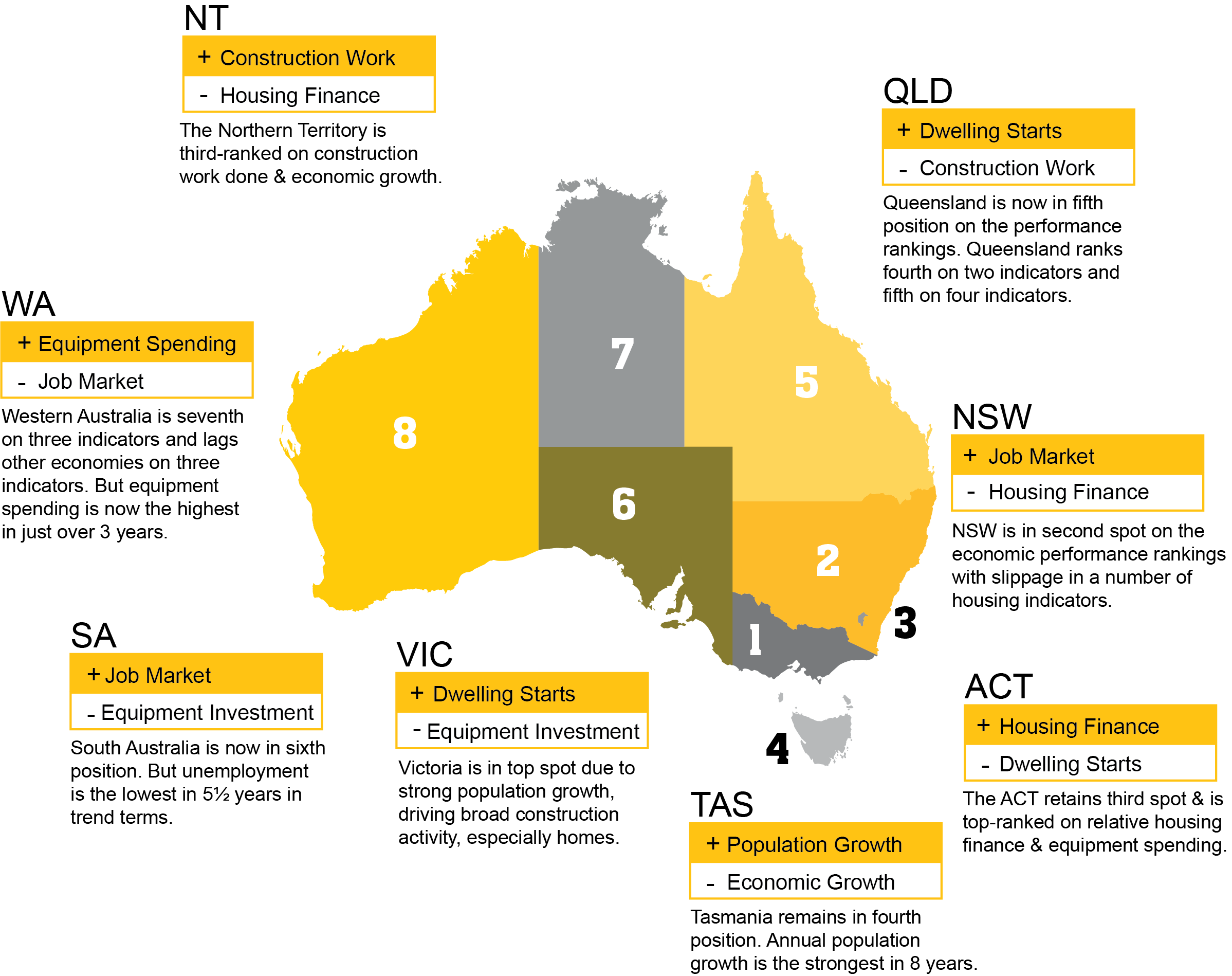 CommSec Chief Economist Craig James said: "After closing the gap with NSW last quarter, Victoria has taken the top spot for the first time since CommSec introduced the rankings.
"However there is little to separate the two economies, with the common features being firm population growth, higher home building and stronger job markets.
"While NSW has the strongest job market in the nation and is showing good economic growth, a number of housing indicators softened this quarter, including home loans and spending on new plant and equipment," Craig said.
CommSec also compares annual growth rates for the eight key indicators for all states and territories, in addition to Australia as a whole, enabling a comparison of economic momentum. Victoria outperformed other states and territories on three growth measures and exceeded the national average on six of the eight indicators. NSW and the ACT lead on two growth measures and Tasmania on one.
Findings in detail:
1. Victoria
Victoria rose one position and premiered as Australia's best performing economy, while securing the top rank for three economic indicators: dwelling starts, construction work and economic growth.
Victoria ranks third on relative population growth, up 11.2 per cent above the decade average, but has the fastest absolute annual population growth, up 2.3 per cent on a year ago. The state also now ranks second for both retail spending, after NSW, and housing finance.
Victoria secured three top spots in the performance rankings: on economic growth, dwelling starts and construction work done. While employment growth in Victoria has slowed to a 2 per cent annual rate, the jobless rate of 5.3 per cent is only just above the six-and-a-half-year low set in May.
2. New South Wales
NSW slipped to second position in Australia's economic performance rankings, holding first place in only two economic indicators, down from five last quarter. The state ranks number one for retail spending, ahead of Victoria, and unemployment. NSW ranks second behind Victoria for both construction work, (although at record highs in the March quarter), and dwelling starts.
3. Australian Capital Territory
The ACT held on to its third spot in the national performance rankings. The ACT is top-ranked on relative housing finance and equipment spending and second-ranked on population growth and unemployment. Both business investment and relative population growth have improved over the quarter, adding to the momentum provided by the strong job market.
"The ACT continues to lead the nation for home lending with the strongest number of housing commitments, up 19.8 per cent on the long-term average. ACT also saw the strongest relative position on equipment investment, up 27.2 per cent on the decade average and at a six-and-a-half year high," Craig said.
4. Tasmania
Tasmania remains in fourth position and ranks No.1 for relative population growth. Annual population growth is close to the fastest rate in eight years and is driving stronger activity in home buying and building, with annual growth numbers for dwellings commenced at the highest levels in over two years. Tasmania has also taken the second spot for equipment investment, up 55.8 per cent on a year ago.
"Tasmania continues to benefit from faster relative population growth, with its 0.94 per cent annual population growth rate almost 65 per cent above the decade-average rate, as well as six-year highs for equipment investment," Craig said.
5. Queensland
Queensland moves up from sixth to fifth position after swapping positions with South Australia, but there is little to separate the two economies. The state ranks fourth on two indicators and fifth on four indicators.
"Population growth has consolidated at higher levels and this has led to a lift in home starts," Craig said.
6. South Australia
South Australia dropped one position to sixth place and has been ranked third for unemployment, with the jobless rates below relative decade averages.
"Unemployment in South Australia is the lowest in five-and-a-half years in trend terms, but on the flip-side, equipment investment activity has softened over the past three months," Craig said.
7. Northern Territory
The Northern Territory remains in seventh position on the economic performance rankings, just ahead of Western Australia. Both face challenges with the transition of resource projects moving from the production to the export phase.
"Economic output in the 'Top End' was 25.6 per cent higher than the decade average. The territory also recorded the weakest result in four of the eight economic indicators: retail spending, annual population growth, home loans and dwelling starts," Craig said.
8. Western Australia
Western Australia continues to face challenges. It still has the weakest job market, as well as the weakest relative position on construction work; 36.7 per cent below the decade average and up just 0.2 per cent on a year ago. On the flip side, spending on equipment is now at its highest level in just over three years.
"The good news is that many mining regions are reporting firmer demand for workers and better conditions in housing markets," Craig said.
Read the latest State of the States report.