The latest monthly data from the Commonwealth Bank Household Spending Intentions (HSI) Series indicates a sustained and solid upward trend in home buying intentions is translating into higher motor vehicle spending intentions – the form of spending most sensitive to changes in consumer wealth, according to RBA research – for a second consecutive month.
CBA Chief Economist Michael Blythe said: "The monthly Commonwealth Bank Household Spending Intentions series, data to end January, shows that the wide gap between consumer spending intentions and home buying intentions persisted into early 2020. While the headline home buying intentions data eased back a little in January, the solid upward trend remains in place and there are now more signs this improvement may translate into stronger motor vehicle spending intentions – off a very low base."
Mr Blythe said: "A positive wealth effect could spill over into other parts of consumer spending as well."
Mr Blythe highlighted that trends in the remaining HSI measures are mixed but on the soft side overall, citing the Australian bushfires and coronavirus as having a potential negative impact.
"There are clear signs of a turn down in education spending intentions and, especially, travel spending intentions," said Mr Blythe.
"These sectors have likely been impacted by the combination of the devastating summer bushfires in Australia and the policy response to the coronavirus. Retail, health and fitness, and entertainment spending intentions all look to be trending sideways," Mr Blythe added.
Looking ahead, Mr Blythe said: "The drag from falling construction activity on consumer spending and the broader economy could be over by mid-year."
The HSI series offers a forward-looking view by analysing actual customer behaviour from CBA's transactions data, along with household spending intentions from Google Trends searches. This combination adds to insights on prospective household spending trends in the Australian economy.
Household Spending Intentions
CBA obtains an early indication of spending trends across seven key household sectors in Australia. Apart from home buying, the series covers around 55 per cent of Australia's total consumer spend across; retail, travel, education, entertainment, motor vehicles, and health and fitness.

Retail Spending Intentions
Retail spending intentions are zig-zagging around an essentially flat trend at present.
There are indications that household preferences are to take the benefit of interest rate cuts and tax rebates and use them to strengthen balance sheets.
Stronger balance sheets will ultimately encourage more spending at the retail level. But this preference for balance sheet repair is one reason why the RBA has dialled up its discussion of the long and variable lags underlying monetary policy.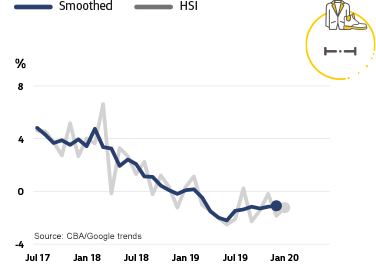 Travel Spending Intentions
Early signs of an uptrend in travel spending intentions have evaporated and a clear step down is now evident.
The January travel HSI readings are the lowest since the series began in 2015.
It seems the bushfires and coronavirus are impacting on travel spending intentions.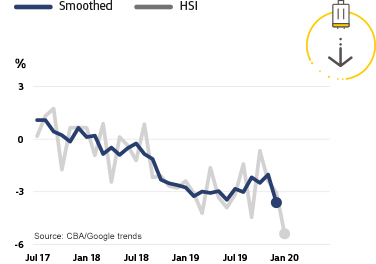 Home Buying Spending Intentions
Home buying intentions eased back a little in January but the solid uptrends remains intact.
HSI readings remain at levels pointing to further gains in dwelling prices, a turn in the residential construction cycle and a positive wealth effect that should help consumer activity.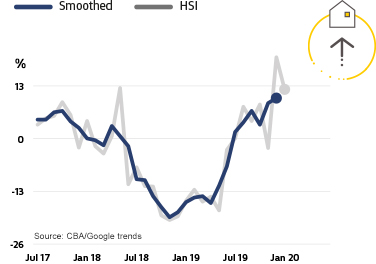 Education Spending Intentions
Education spending intentions have momentum and turned down in recent months. As with entertainment, however, spending intentions remain in positive territory.
Along with tourism, the education sector is particularly exposed to the negative effects of the coronavirus.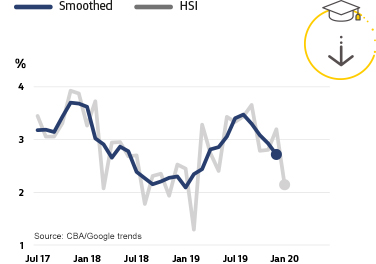 Entertainment Spending Intentions
The uptrend in entertainment spending intentions has levelled out.
Spending intentions in this segment are still rising. But the levelling out would again be consistent with some negative impact from the fires and virus.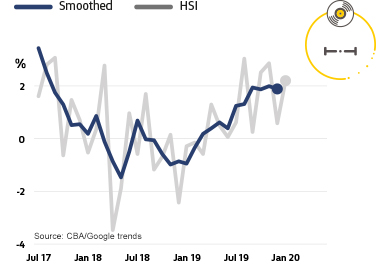 Motor Vehicles Spending Intentions
Buying intentions for motor vehicles have turned decisively higher.
The improving trend is significant because RBA research has revealed that the form of spending most sensitive to changes in wealth is motor vehicles.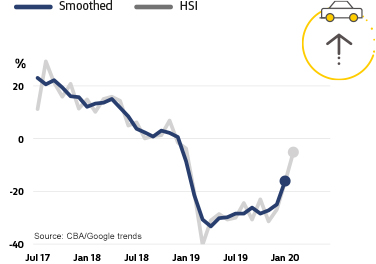 Health & Fitness Spending Intentions
In contrast, the downshift in intentions to spend on health & fitness reversed in January.
Overall, the HSI for health & fitness spending remains comfortably in positive territory.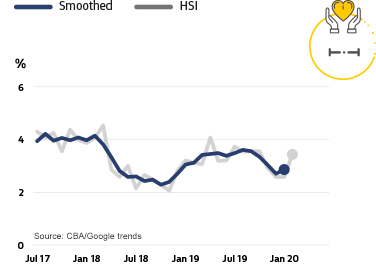 To find out more about CBA's Household Spending Intentions Series, visit www.commbank.com.au/spendingintentions.