Spending remained positive across all state and territory economies in July, according to the latest Business Sales Indicator (BSI) released by Commonwealth Bank today.
In trend terms, sales gains were recorded in 16 of the 19 industries that are tracked each month, painting a continuing positive picture in relation to Australian business transactions.
The BSI report, a key monthly indicator of the condition of the national and state economies, shows that spending lifted by 0.3 per cent in trend terms last month after a 0.4 per cent gain in June.
"This is another positive month for Australian businesses with increased spending benefiting the airline sector, as well as service providers, clothing stores, hotels and motels," said CommSec Chief Economist Craig James.
"So it looks like people are getting out and taking a mid-year break as we move into the back half of winter or perhaps they are planning for a holiday break in the future. Overall these figures paint a good picture for businesses."
Annual trend growth in sales eased from 8.3 per cent to 8.1 per cent in July.
The more volatile seasonally adjusted measure of the BSI fell by 1.3 per cent in July after posting solid growth of 0.7 per cent in June.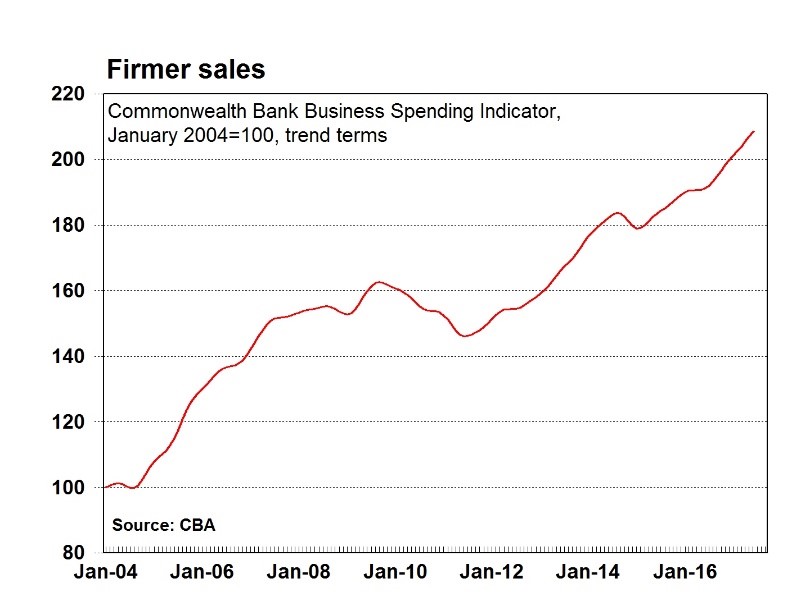 Sector analysis
Sixteen of the 19 industry sectors posted higher sales in trend terms in July.
The biggest lift in sales occurred at Airlines (up 1 per cent), followed by Service Providers (up 0.9 per cent), Clothing Stores, Hotels & Motels, and Transportation (all up 0.8 per cent).
Sales fell by 0.4 per cent across both the Automobiles & Vehicles and Retail sectors in July.
In annual terms in July, all but one of the 19 industry sectors recorded sales growth, with the exception of Mail Order/Telephone Order Providers (down 7.4 per cent).
Sectors with strongest annual growth in July included Service Providers (up 20.4 per cent), Airlines (up 20.3 per cent), Amusement & Entertainment (up 17.5 per cent); and Government services (up 15.3 per cent).
State by state breakdown
Sales across all states and territories were stronger in July and in annual terms.
Strongest in July were Northern Territory (up 1.2 per cent), Canberra (up 1 per cent); Queensland (up 0.7 per cent), followed by slower growth in Tasmania, Western Australia, Victoria, South Australia and New South Wales (all up 0.2 per cent).
In annual terms, strongest growth was Canberra (up 10.8 per cent), followed by Northern Territory (up 10.7 per cent), Queensland (up 10.4 per cent), Victoria (up 10.3 per cent), South Australia (up 8.6 per cent), Tasmania (up 8.3 per cent), New South Wales (up 7.0 per cent) and Western Australia (up 6.6 per cent).