It's not only the race that stops the nation but also the event that stops the nation's spending. New data released by the Commonwealth Bank shows that in the minutes before the start of the Melbourne Cup at 2:55pm and the horses crossing the finish line at 3:05pm, Aussie spending drops by 42 per cent.
The biggest spending winners on the day are restaurants and transport, as the number of transactions steadily increase throughout the morning and peak around midday before hitting a low immediately following the race.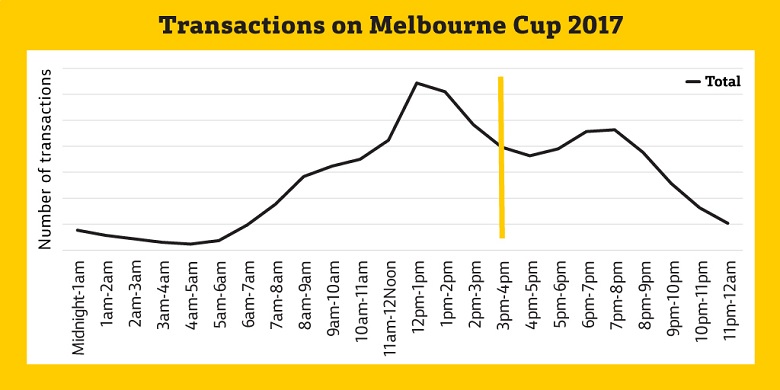 And while Aussies' hourly spending habits on race day fit a familiar pattern, we are continuing to spend more on the Cup as each year passes. Comparable spending data since 2015 shows an increase of approximately 62 per cent between 2015 and 2017 and approximately 25 per cent increase last year on the 2016 Melbourne Cup.
Rohan Ritchie, General Manager at CBA, said Melbourne Cup was unlike any other day.
"We don't usually see events that halt our customers' spending like Melbourne Cup. We see such a steep decline when that race starts, but it's short lived as spending rebounds in the evening when Melbourne Cup celebrations continue," said Mr Ritchie.
Melbourne Cup Day Spending Figures
Restaurants the race day winner – the customary Melbourne Cup lunch continues to be the way Aussies prefer to celebrate, with over $32 million spent on restaurants and dining out in 2017. This was an increase of around 23 per cent compared to 2016.
Transport spending another safe bet – the other winner on the day is transport, such as taxis and private cars, which saw an increase of approximately 36 per cent in spending compared to 2016.
Debit vs Credit – Aussies are becoming more inclined to spend the money they have rather than using a credit card, with more than half of the day's spending for dining out and transport now occurring on debit cards.
"The majority of the day's transactions occur in the lead up to the race. With most people choosing to spend a half day in the office before heading out to a celebratory lunch, it's not surprising to see a surge in spend categories like restaurants and transport. This is good news for businesses operating in these industries, as we expect this trend to continue.
"We also saw that spending on debit cards outweighed spending on credit cards. This suggests that perhaps Australians are becoming more conscious about their spending habits.
"It's always nice to have some fun on days like the Melbourne Cup, but if we're not careful the day can really add up. That's why we recommend taking some easy steps to ensure you keep track of your spending," said Mr Ritchie.
Tips for keeping yourself financially stable during Melbourne Cup:
Set your limit: if you're using your card to pay, set a realistic daily spend limit. It can be hard to tally up what you've spent, but if you impose a limit ahead of time, you can rest assured you won't be able to blow the budget. Customers can easily do this for their credit and debit cards using our 'Lock, Block, Limit' feature in the Commbank app or on Netbank.
Activate your transactions notifications: if you don't have your notifications turned on, we'd recommend activating them. It will help you keep track of your spending throughout the day, which is especially useful if you use different cards. You can easily do this online or using the Commbank app.
If you lose your card, act quickly: Melbourne Cup can be a busy day and it can be easy to lose or misplace your card. If this happens to you, don't panic. Simply use the 'Lock, Block, Limit' feature in the Commbank app to secure your card immediately.