Australian consumers are eagerly awaiting Amazon's entry in the local market, with almost 70 per cent likely to purchase from the online platform.
But most retailers (78 per cent) don't have a strategy in place to combat the global retail giant, Commonwealth Bank's latest Retail Insights research shows.
"It seems Australian shoppers are ready for Amazon but many of our retailers are still at the drawing board," Commonwealth Bank National Manager, Retail, Jerry Macey says.
"Although Amazon's arrival is reportedly weeks, not months, away, it will have a staged entry. So there is time to put plans in place, but that window is closing. There's still one quarter of retailers concerned about Amazon who not only don't have a plan, they aren't working on one."
Retail Insights has also found an unexpected generational split among Australian shoppers.
The older a person is, the more likely they are to be aware of Amazon. But older shoppers show the least inclination to buy from Amazon. In contrast, younger shoppers are more likely to buy from Amazon, despite having the least awareness of it.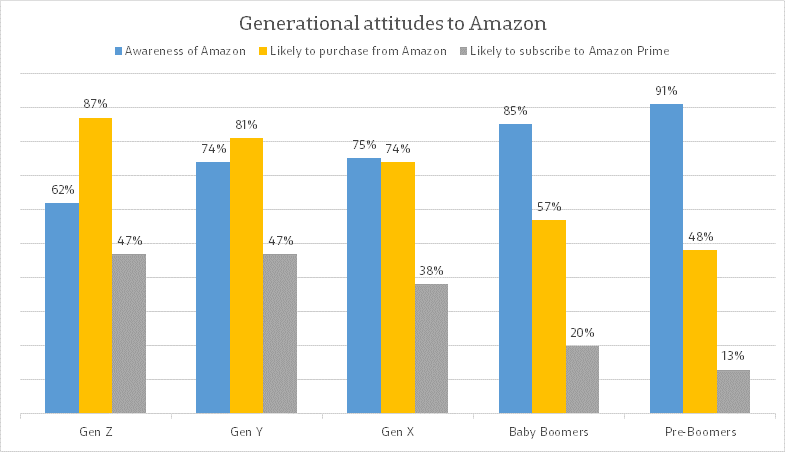 "Savvy retailers will be looking to better understand their target market and provide a relevant experience for that group. For instance, younger generations want a more engaging experience in-store to prevent them drifting online," Mr Macey says.
CommBank's Retail Insights report shows almost three quarters (73 per cent) of consumers are comfortable buying Amazon branded-products. A third are likely to subscribe to Amazon Prime for extra benefits, likely to include unlimited free delivery and access to video streaming, for a fee.
"Shoppers are clearly indicating their willingness to buy from Amazon and flagging a high degree of trust in the brand – before it has even arrived in the local market," Mr Macey says.
Almost nine out of 10 retailers are aware of Amazon's plans to enter the local market, a rise of 27 per cent over the past six months. Of these, the majority (52 per cent) now perceive Amazon as a threat, up from 47 per cent at the beginning of 2017. The proportion of those considering Amazon's entry as an opportunity remained flat over the past six months at 13 per cent.
Despite heightened awareness, the number of merchants who perceive Amazon as a threat and also have a plan to compete has only grown moderately, from 14 per cent to 25 per cent. A further 50 per cent of retailers are working on a strategy.
"With so many retailers planning for Amazon's arrival, we are going to see merchants ramp up activity. Those excited about expanding their channels will be learning the ropes of Amazon Marketplace, and those concerned will be considering their overall strategy including products, categories, pricing and distribution. So even if you don't think Amazon will impact your business directly, you need to be ready for an increase in competitor activity," Mr Macey says.
Shoppers said their purchases from Amazon are likely to include the categories of books, gaming, music and media (47 per cent) followed by consumer electronics/computers (35 per cent) and household appliances (32 per cent).
About the Retail Insights Report
The CommBank Retail Insights Report is an exclusive wide-ranging analysis, providing unique insights into the current trends and developments impacting the Australian retail industry. The report is now in its fifth edition, with the full version to be released on 2 October. The latest edition researches generational attitudes to spending and compares retailers' strategies with consumer demand. The research is based on quantitative surveys of two cohorts: (i) key decision makers from 506 small, medium and large Australian retail businesses and (ii) 1,531 Australian consumers with the data segmented across the generational groups.