New research finds the average small business decision maker spends more than 10 days a year managing day-to-day business finances.
Small businesses say up to 40 per cent of this time could be saved if they had automated notifications of payment movements.
CommBank launches new Real-time Alerts, helping small business customers save valuable time and better manage their finances.
New research from CommBank reveals that small businesses are spending a significant amount of time each year managing their finances, which could be better invested in growing their business.
According to the survey of over 500 small business decision makers, more than 10 days a year are spent managing business finances, with 75 per cent of this time spent on internal planning and management tasks. This includes chasing payments/invoices (2.4 days), scheduling outgoing payments (2.2 days) and forecasting business cashflow (2.1 days).
Financial visibility key to success
The report showed having a constant and clear view of their business cash flow is essential to small business decision makers. Key items that are of particular importance to them include:
Knowing when outgoing payments are due (91 per cent);
Knowing when incoming payments are due (88 per cent);
Knowing when their account balance hits a lower limit (79 per cent); and
Knowing when incoming payments are made (86 per cent).
Clive van Horen, Executive General Manager, Small Business at Commonwealth Bank, says: "We know one of the biggest pain points for small businesses is the time they spend each day chasing payments and checking their accounts. Over the course of a year, this time adds up at the expense of other areas of their business.
"We have developed Real-time Alerts to give small businesses a snapshot of their cash flow on-the-go, so they can see important payments coming in and out of their business accounts as they happen. By providing customers with updates that fit seamlessly into their working routine, it gives them the freedom to spend more time managing and growing their business, and less time monitoring their accounts."
Re-investing time into growth
Of the potential time saved by Real-time Alerts, 64 per cent of small businesses say they would re-invest these hours into generating growth (65 per cent) and developing business ideas (49 per cent). Other focus areas were building overall profitability (40 per cent) and developing marketing materials or business strategy (33 per cent).
A further 46 per cent of small business decision makers see the potential for automated alerts to free them up for activities outside the business. More than half (55 per cent) said that if they were able to reduce time spent managing business accounts, they would elect to spend more time with family.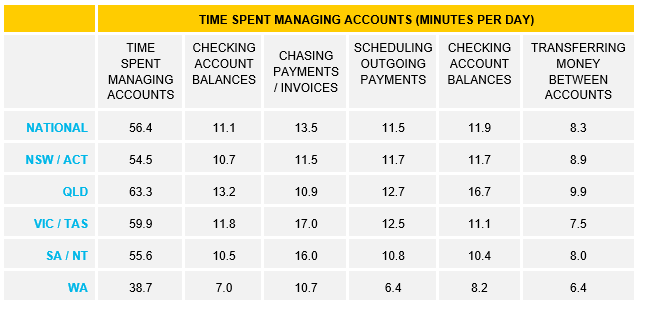 Real-time alerts available now
CommBank business customers can now receive Real-time Alerts on their Business Transaction Accounts. Real-time Alerts include instant notifications for key financial movements such as incoming payments and low or high balances. Alerts can be sent via SMS, email or CommBank app notifications and are easy to set up and manage in NetBank.
For more information on Real-time Alerts, please visit commbank.com.au/alerts
--ENDS--
Notes to editors:
The study:

Was conducted by ACA Research among 513 financial decision makers or key influencers in Australian small businesses with an annual turnover of below $1,000,000
A mix of business sizes, industries from locations across Australia were engaged
Fieldwork commenced on Monday 13 July 2015 and was completed on Monday 20 July 2015