The latest Commonwealth Bank Business Sales Indicator shows consumers in Australia are moderating their spending habits, with September's figures rising by 0.2 per cent, reflecting the weakest monthly increase in 16 months. Commenting on September's figures, CommSec Senior Economist Ryan Felsman said: "Even though business conditions are just below record highs, business confidence remains subdued potentially due to ongoing political uncertainty and US-China trade concerns, weighing on business services-related spending."
But spending on amusement and entertainment saw the biggest lift in September, up 1.1 per cent, followed by spending at retail stores, up 1.0 per cent – the biggest increase for six months – and hotels and motels, up 0.8 per cent. "Our data shows a positive theme around discretionary spending continuing, with consumers still willing to spend their money on experiences. Better Job security, and continued gains in the job market, has translated into people feeling more upbeat and therefore more comfortable to spend money at places like cafes and restaurants, and going on holidays. Cheaper clothing prices and inclement weather also encouraged shoppers to head to department stores," Mr Felsman said.
In contrast, sales fell most for business services providers, down 0.9 per cent, followed by automobiles and vehicles, and mail order and telephone order providers, both down 0.8 per cent. "Our data shows some weakness in the business services area, such as office furniture, falling to a 43-month low. As well as continued weakness in motor vehicle sales with the biggest drop in 31 months, moderated from the record highs we saw at the end of 2017 and beginning of 2018. Reduced spending on new cars correlates with falling home prices, particularly in Sydney and Melbourne, resulting in an overall reduction in wealth," Mr Felsman said.
While spending growth decelerated in September, it has not declined since January 2017.
Compared to last year, the annual growth in sales eased from 9.9 per cent to 9.4 per cent in September, although it remains elevated and well above the decade-average pace of 3.4 per cent.
State insights
In September, sales were stronger across all states and territories, except Northern Territory, which was down 1.3 per cent, and Tasmania, down 0.1 per cent, with the strongest growth occurring in the ACT, up 0.7 per cent.
In annual terms, the strongest growth was in Western Australia, up 11.2 per cent. "We saw a bit of a handover from Queensland this month, with Western Australia now just ahead. This follows an overall improvement in the WA economy on the back of a pickup in mining activity, with business confidence in the state this year the best it's been in around seven years.
"Things are picking up in WA, with leading skilled job vacancies in the country. Job ads in the mining sector, and more broadly, signal that iron ore projects are starting to have a positive impact on the overall WA economy. Real wage growth, coupled with low inflation, are positive spending indicators for the state," Mr Felsman said.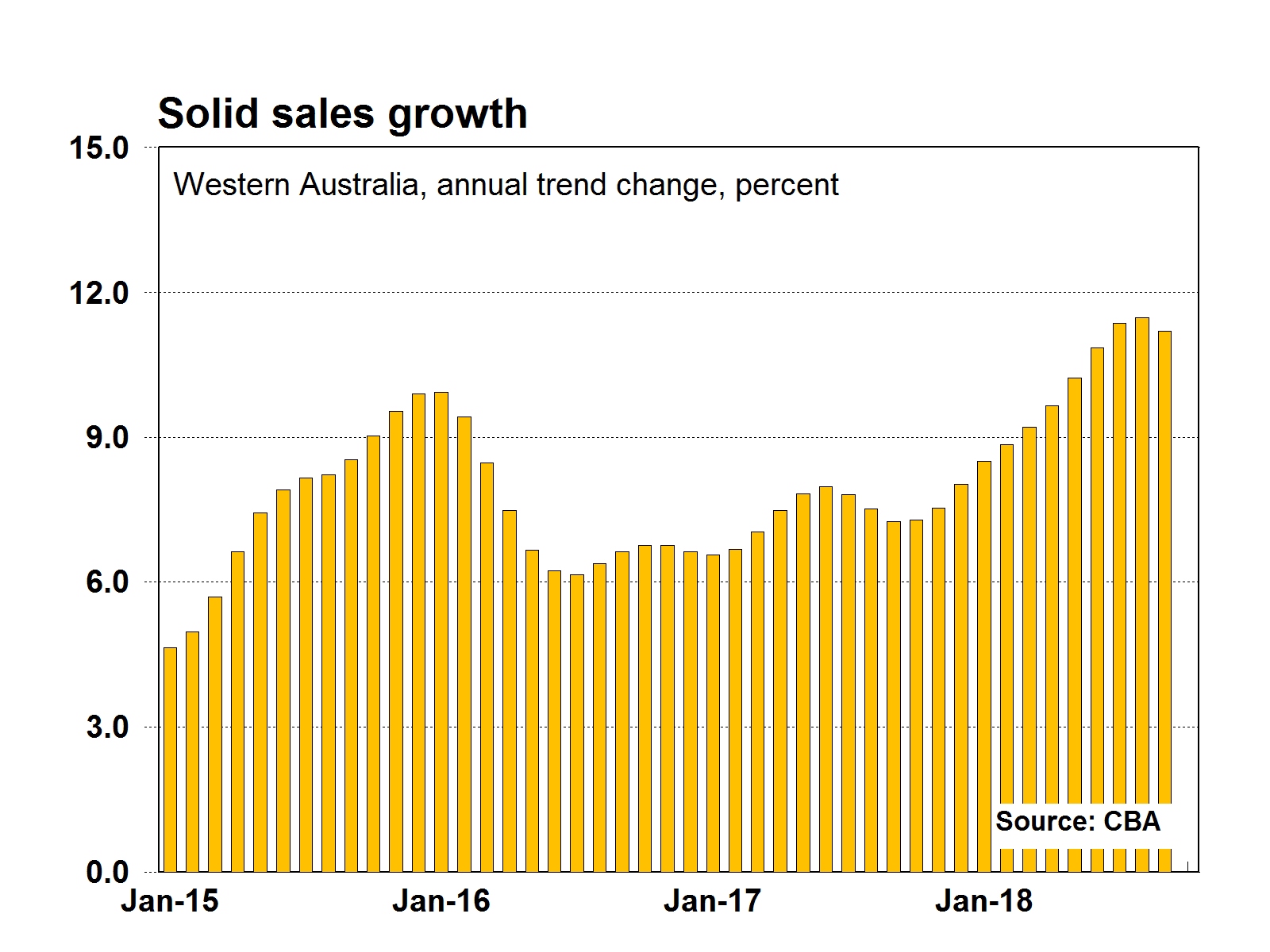 Read the latest Commonwealth Bank Business Sales Indicator.