Australia has reached its twenty-sixth consecutive month of spending growth with an increase of 0.9 per cent, according to the latest Commonwealth Bank Business Sales Indicator (BSI). Annual trend growth in sales hit a fresh four-year high of 11.4 per cent - up from 10.7 per cent in July.
CommSec Chief Economist Craig James said that a mix of economic indicators were keeping spending growth at higher than normal levels. "We are continuing to see strong growth in consumer spending across the economy with our data reinforcing the June quarter economic (GDP) growth figures.
"While wage growth remains low, strong employment figures and still-positive consumer sentiment are keeping spending growth 'above-normal'," said Mr James.
August saw spending increase across all states, with Queensland the best performing state (up 1.4 per cent), closely followed by South Australia and Western Australia (both up 1.0 per cent). Queensland also continues to out-pace the other states with an annual growth rate of 15.2 per cent; followed by Western Australia (up 12.2 per cent); Victoria (up 12.0 per cent), South Australia (up 11.2 per cent); NSW (up 9.0 per cent), ACT (up 7.6 per cent); Tasmania (up 7.1 per cent); and Northern Territory (up 6.0 per cent).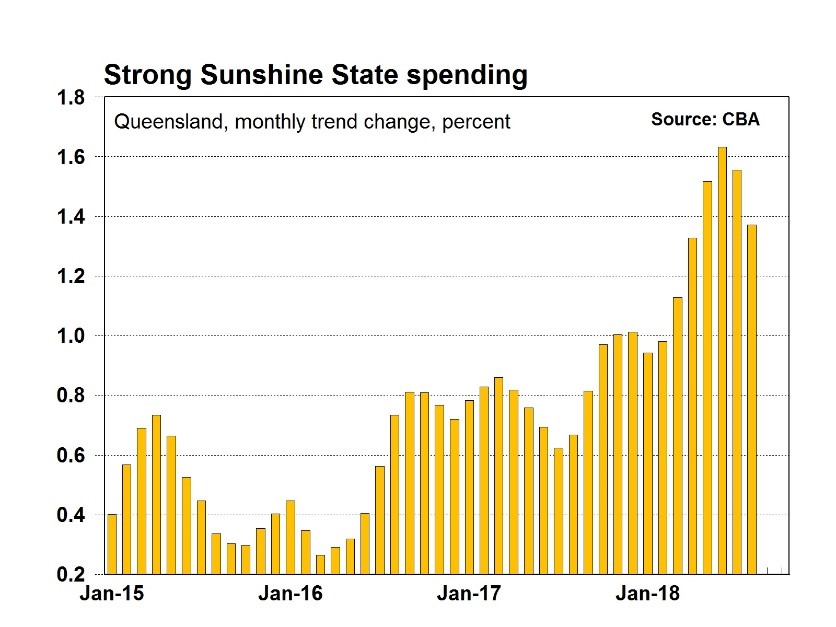 "Queensland continues its strong year of growth buoyed by an economic rebound, particularly in mining activity, strength in tourism, lifting interstate migration and solid jobs growth. The state added an additional 46,500 jobs over the year to August." said Mr James.
Sector spending
All spending sectors except for clothing stores rose in trend terms for the month of August. The biggest lift in sales occurred for amusement and entertainment up by 2.1 per cent, followed by government services up 1.7 per cent and hotels and motels which rose 1.1 per cent. Meanwhile, sales at clothing stores fell by 0.1 per cent.
"We saw spending fall at clothing stores in August, after a small rise in July, supported by the end of financial year sales. Interestingly, we saw a strong uptick in spending for amusement and entertainment over the month corresponding with higher credit card balances," Mr James said.
Spending fell by 0.1 per cent over the past year in the clothing stores sector, while the sectors with strongest annual growth in August included retail stores (up 15.7 per cent), automobiles and vehicles (up 13.9 per cent) and hotels and motels (up 13.2 per cent).
"While annual growth of sales at retail stores is seemingly solid at 15.7 per cent, this is from a low base. Retail stores recorded annual declines in sales from January 2016 to November 2017. Tourism continues to grow as a weaker Australian dollar attracts more international and domestic travellers," Mr James said.
Read the latest Commonwealth Bank Business Sales Indicator.