If you took St Patrick's Day as an opportunity to ask Aussies what Australia's top import from Ireland is, there's a better than fair chance they'd answer Guinness.
But Australia's trading relationship with our Irish cousins is a little more sophisticated than that.
In fact, the catch-all category of "medicaments" is both our top import from Ireland as well as our top export to the Emerald Isle, according to data from the Australian Bureau of Statistics for 2016-17.
"Medicaments is a strange term. It basically is defined as 'medicines' like antibiotics," CommSec chief economist Craig James says.
Similarly, pharmaceutical products (excluding medicaments) are our No.2 import from Ireland, with medical instruments running at No.5, just behind computers, according to the ABS data.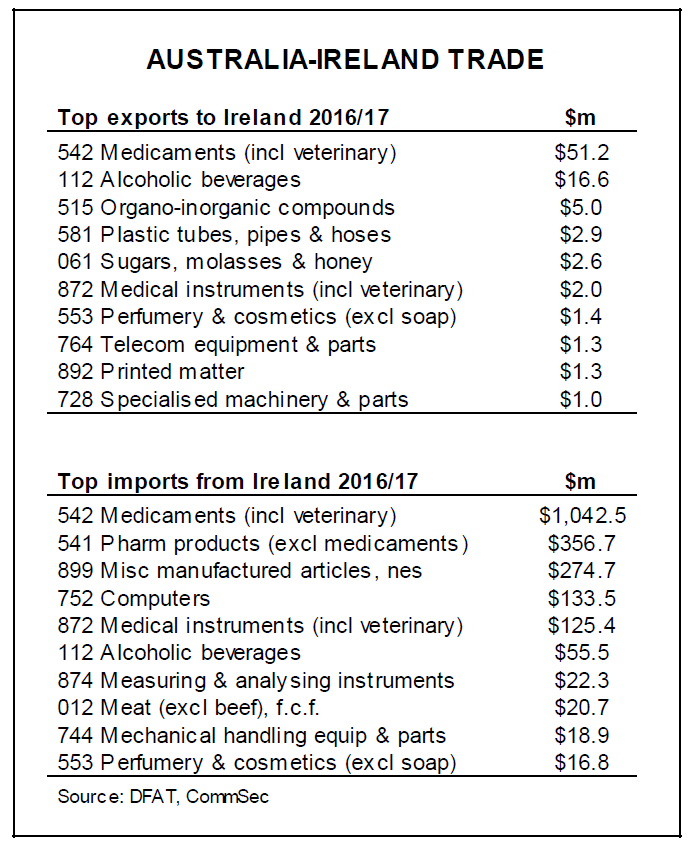 Ireland is reported to be the world's seventh largest exporter of medicines, with export trade estimated to be worth more than $US51 billion in 2017. Seven of the world's ten best selling drugs are made in Ireland, according to the US Government.
Australian fans of brands like Guinness, Kilkenny and Jameson Whiskey may be slightly disappointed to learn that alcoholic beverages ranks just sixth on the list of our Irish imports. At $55.5 million for 2016-17, the value of those imports is less than half of the $125.4 million worth of medical instruments that we brought in. In terms of our tastes for an Irish tipple, imports aren't the whole story of course, with top brands like Guinness also brewed locally under licence.
But although they only rank at No.6, our imports of Irish drinks still are still worth more than our biggest export to Ireland - also, as it happens, medicaments, at $51.2 million in 2016-17.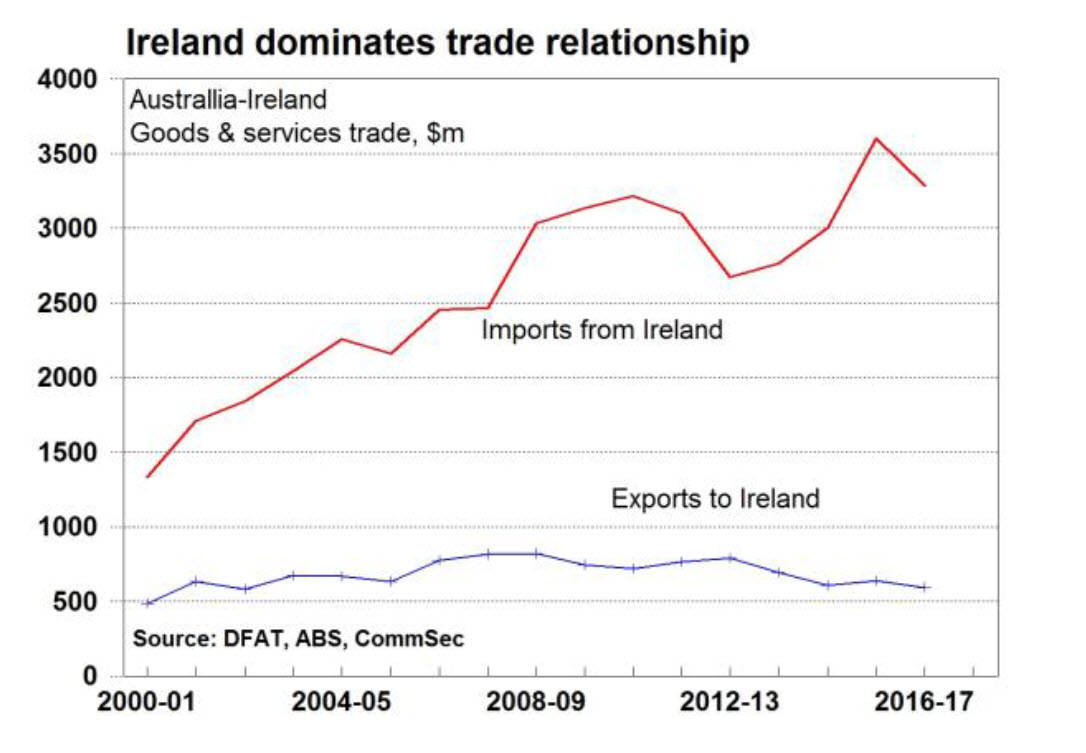 Indeed, our trading relationship with Ireland is quite small and very lopsided, Craig James says.
"The trade with Ireland is very, very small. In terms of destination of exports, Ireland ranks as the 57th biggest. Imports from Ireland is ranked as the 21st biggest source, so clearly we are importing a whole lot more than we are exporting."
With people, the trend goes the other way. In the year to January, 56,900 Irish citizens visited Australia, according ABS data released this week, continuing a trend that's been pretty flat since about 2015.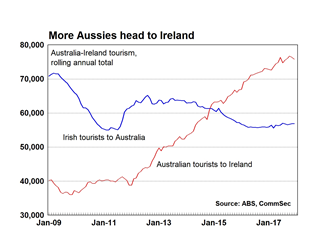 In contrast, the number of Aussies heading to Ireland is booming. "In last five years the number of Australians heading to Ireland for a holiday has doubled to over 70,000 people," Craig says.
"The deficit of Irish tourists into Australia is somewhat interesting. You can't put that down to the currency, the Aussie dollar is holding somewhere around US78 cents, certainly there is not parity like there was a few years ago," he says.
But whatever the trade in goods and tourists, Australia's fondness for St Patrick's Day looks set continue, with nearly 2.4 million Australians claiming some Irish ancestry, according to the 2016 Census.