It's Saturday, 25 January 2020, the first day of the Australia Day long weekend. Amidst the celebrations, a media release emerges quietly from the health minister's office in Canberra. It was news that within two months would spark a full-blown health crisis and a dramatic lockdown of the Australian economy.
The significance of its contents are almost lost: Australia has its first confirmed human case of the coronavirus. The country is about to be plunged into its first health pandemic in 100 years.
The day before, Commonwealth Bank's employees at offices around the country and across the Group's 900 strong branch network were looking forward to taking a short break from dealing with the summer's devastating bushfires. The fires still had two weeks to run.
It was an eerie prelude to the coronavirus. Whole regions in New South Wales and Victoria had been locked down and evacuated. Recovery programs were getting underway, including CBA's announcement of a $10 million Bushfire Recovery Grants program aimed at helping local communities to rebuild destroyed and damaged facilities.
The smoke from the fires was still lingering heavily in the air across Australia when Canberra made its coronavirus announcement. China had already indicated the seriousness of the situation by shutting off the city of Wuhan, where the virus had originated, from the outside world.
In Sydney, the Bank's Business Resilience team quietly activated its First Response Team to begin the planning and co-ordination for the potential impact of the coronavirus on the Group.
Fast forward to April, and the full force of the virus on the global economy has been staggering. Like many other countries, Australia's has effectively been put into hibernation as whole swathes of industries and companies shut down. The impact on people has been devastating.
Social distancing and movement restrictions has left hardly any business unaffected. Some have been lucky, quickly adapting the way they deliver their products and services. But for the vast majority, life has taken a dramatic turn for the worst. From local cafes to the larger end of town, the floor has fallen from underneath them.
With a large number of Australians either losing their jobs or being stood down by their employers – losing in the process the security of their incomes – many households continue to face an uncertain future.
For CBA's Chief Executive Matt Comyn, the course of action has been clear – an unprecedented crisis required an unprecedented response. It needed to be quick and it needed a level of co-operation and collaboration across government, regulators, banks and people that hadn't occurred since World War 2.
Faced with a health and economic crisis not seen since the Spanish Flu pandemic of 1918-1920 - a 100 year-old event with uncanny parallels for the bank and its response now - Mr Comyn told CBA's 45,000 staff that we had to come together as a nation to combat the serious and wide-ranging risks posed by the coronavirus.
"We will ensure that people can get paid, that small businesses can keep operating, and that we can provide access to emergency funds when needed," he said. "These are just a few of the many vital transactions that we will continue to make happen. This is what our purpose of improving the financial wellbeing of our customers and communities is all about."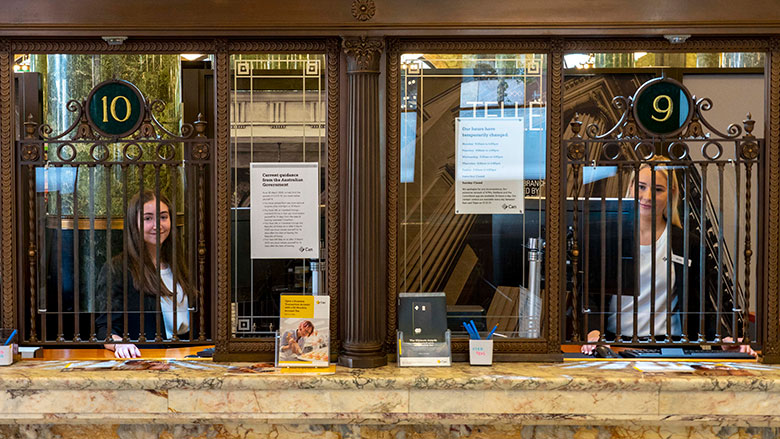 Like the pandemic at the end of World War I, banking was declared an essential service by the Government early on in this current crisis.
Almost immediately, the phones began to ring off the hook at our Australian-based call centres with the teams who usually took a few hundred calls a day from customers experiencing financial hardship dealing with up to eight times that number.
Pressures on teams have been enormous. Employees across the bank, in particular frontline staff in branches, have been called upon to support them and deal with hundreds of thousands of requests from customers for help and advice.
One unlikely area where the bank has looked for outside support has been the travel industry. As airlines stood down many of their staff after significant travel restrictions were put in place, CBA moved quickly to hire some of them into our contact centres given many of the similar customer-facing tasks they perform.
A commitment to serve and provide support has also been evident in the branches. With many customers and small businesses still dependent on a variety of those services, CBA committed to keeping as many as its branches open as possible.
As they did in 1919-20, branches and their staff have played a vital role in reducing the risk of infection. Opening hours have been shortened and branches with weekend trading are temporarily closed on Saturdays and Sundays. Hygiene measures and social distancing markers have been put in place to ensure staff and customers keep a safe distance of 1.5 meters from each other.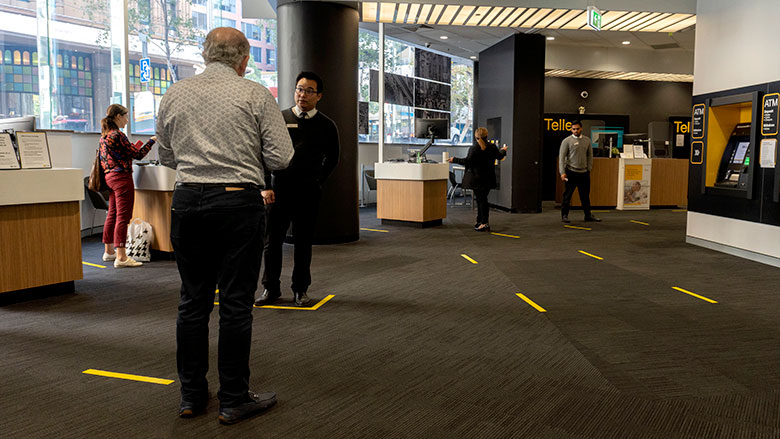 To allow our staff members to have safe conversations with customers, clear plastic screens have been installed at counters, and they have the choice to wear face masks.
As the Spanish Flu spread around Australia, there was an unwarranted scare about the possibility of germs spreading through bank notes. This saw CBA employees provide guidance on how to handle notes carefully to avoid infection.
Today, staff have been educating customers on banking online and paying without cash through our various tap and pay options, and customers have seemingly embraced cashless payments as a result.
During March alone, Australians made a record number of transactions using their smart devices with more than $1 billion spent using digital wallets. In the meantime, NetBank and the CommBank app have set new records for daily usage with upwards of 8 million log-ins recorded on some days.
While frontline employees have been tasked with maintaining the status quo for customers, staff in the bank's corporate offices continue to adjust to a new normal – working from home until it is safe to come back.
Working from home has been an option for some time for many people at CBA but with around 20,000 people – roughly half of CBA's Australian workforce – currently doing just that, this has presented the group with a whole new challenge – technologically, operationally and socially.
The bank has significantly increased the capacity of its remote working system to allow for this without disrupting its technology and day-to-day service operations. Corporate offices have also implemented split-team work rosters to reduce the density of people in their workspaces and ensure people could work while practising social distancing.
Other health measures have seen employees rostered to work from an office, be it a call centre in Launceston, a corporate office in Melbourne, our new workspaces at South Eveleigh and headquarters at Darling Park, greeted by a concierge wearing a mask and gloves, ready to take their temperature with a thermal scanner.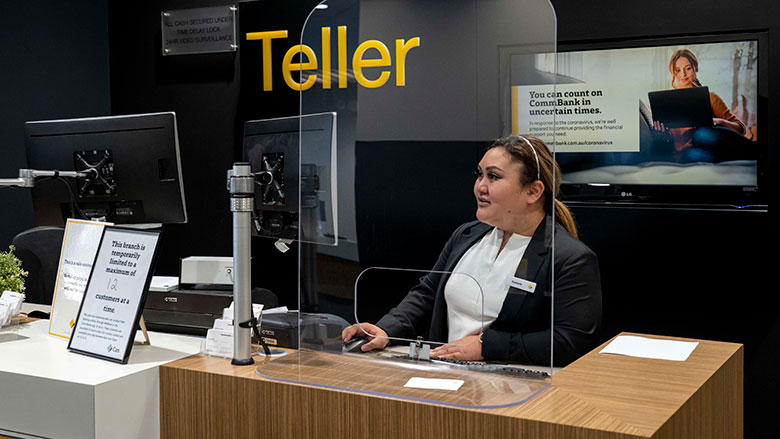 An unprecedented event has indeed required an unprecedented response.
This has also encapsulated the action taken by the Government, the Reserve Bank, regulators and banks like CBA who have worked together to help steer the country through a health and then an emerging economic crisis.
Interest rates have been cut to historic lows, hundreds of billions of dollars committed to a variety of stimulus packages aimed at helping Australian consumers, businesses and families avoid the worst effects of both.
CBA has done its bit by supporting them with the equivalent of $850 million a month flowing to customers in specific help through loan deferrals, fee waivers, lower loan costs and financial hardship relief. Over a year that will be worth around $10 billion.
"Containing the coronavirus is a matter of life and death," CEO Matt Comyn said in March.
"We need to work together to share the impact so that we all get through the coming months and bounce back strongly. The Commonwealth Bank will only be successful if Australia is successful, and that is why we will continue to take decisive action to support the country through this period.
"Individually and collectively, we all have a role to play in limiting transmission of the virus, keeping essential services operating and ensuring our economy and society remain intact so that we all rebound strongly."
Holly Pascoe is an adviser in CBA's External Communications team