Australians are doing more Christmas shopping online and during working hours this year, with peak spending seen between 11am and 5pm, new CBA research reveals.
These findings come as more Australians stick to their screens to purchase Christmas gifts for loved ones with the growth in online retail spend up 20 per cent on the previous year compared with in-store spending, which grew only two per cent.
We've seen a rise in "desktop shopping" this year, CBA Managing Director Retail Nick Aronson explains. Shopping trends such as Black Friday, Cyber Monday and Click Frenzy, and the launch of large online retailers like Amazon, have driven value-conscious consumers online to search for the best price.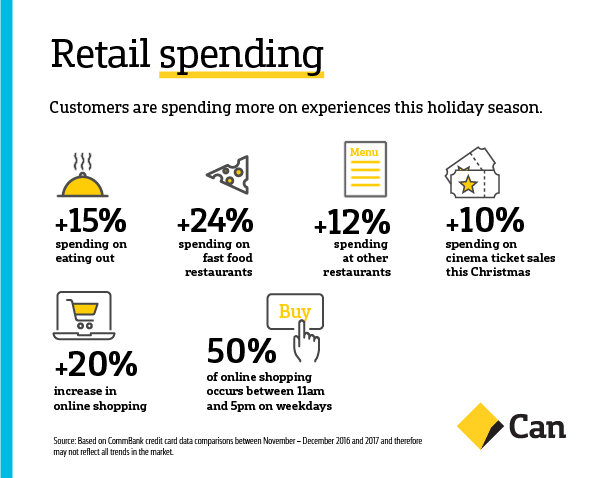 "The marked increase in online spending this year reflects the influence of these global and national shopping trends on customer behaviour, and we expect this only to grow," Mr Aronson says.
The research, which is based on CBA Credit Card data, reflects a significant uptick in online spending on 14 November (Click Frenzy), Black Friday, Cyber Monday and the Amazon Australia launch, particularly in the fashion, electronics and pet supplies categories.
"The increase in online sales on these four key dates indicate that the launch of Amazon has a potential to influence customer behaviour and reshape the way Australian retailers conduct business," Mr Aronson says.
During the six-week period from the first 'late night shopping' day in November, CBA research found that, while overall Christmas retail spend is slightly up both online and in store, there is a noted shift towards spending on experiences over physical goods.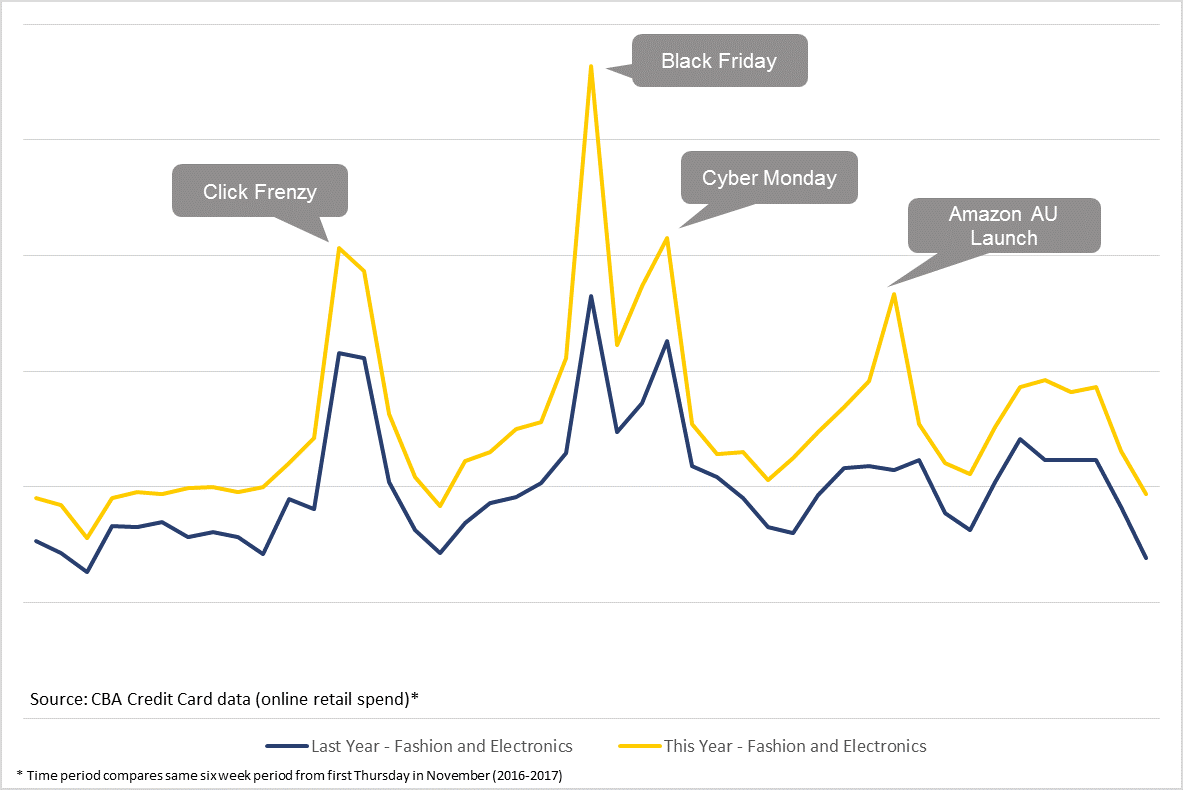 Consumers are spending more on eating out, up 15 per cent on last year's figures for the same period, in particular CBA Credit Card holders have spent 24 per cent more on fast food and 12 per cent more at restaurants more generally. The purchase of cinema tickets is also up 10 per cent this Christmas.
"The holiday season is notoriously busy for everyone. The increase in online spending, and shift in spending on 'experiences', reflect a trend of consumers placing higher value on the quality of their time," Mr Aronson says.
Disclaimer
Produced by Commonwealth Bank based on information available at the time of publishing. The statistics presented in this release only take into account Commonwealth Bank Credit Card Data and therefore may not reflect all trends in the market. We believe that the information in this report is accurate and any opinions, conclusions or recommendations are reasonably held or made as at the time of its compilation, but no representation or warranty is made as to accuracy, reliability or completeness. All customer data used or represented in this report is anonymous and aggregated before analysis and is used and disclosed in accordance with the Commonwealth Bank Group's Privacy Policy Statement.