Forget seasonal giving, Australians are generous all-year round and collectively donate an average $1.6 million every day to charities, according to new Commonwealth Bank data.
More than two million Aussies donated a total $590 million in the last 12 months, to tens of thousands of local, national and international charitable organisations the data reveals.
December is typically known as the season of giving, however it is ranked the third highest month for donations to charities ($50 million), while the nation donated even more in the two months leading up to the end of financial year in June ($66 million) and May ($54 million) 2017.
Kylie Macfarlane, Commonwealth Bank's General Manager of Corporate Responsibility, says the data provided rich insights into the charitable habits of Australians.
"It's encouraging to see that as a nation we are consistently giving. Our customers are donating to causes important to them on average seven times per year, with some people making as many as 26 donations in 2017.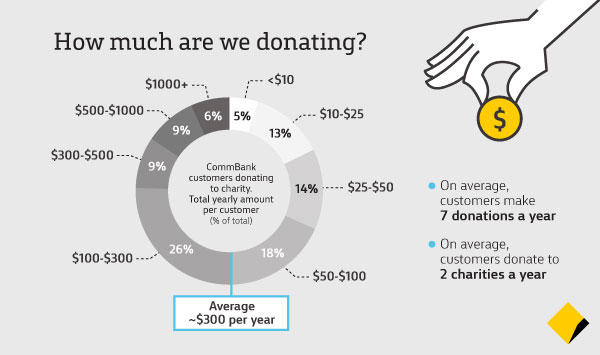 "When we look at how different generations are giving, we see that people under 40 are leading the charge and make up more than half the number of charitable donations. However, it's those over 40 who are generally able to give larger amounts and therefore make up two thirds of total donations."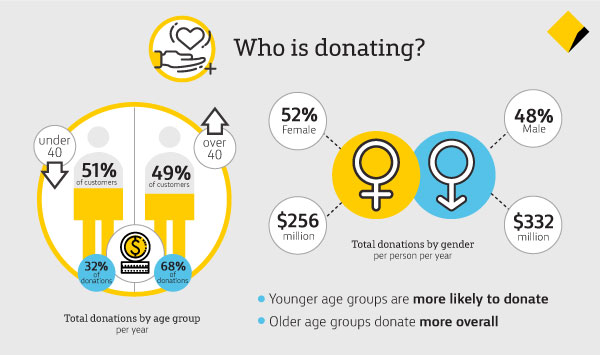 The insights have been commissioned to celebrate the 100-year anniversary of Commonwealth Bank's employee giving program, as bank branches and other employees across Australia mark the milestone by giving a total of $10 million to 1,000 community organisations over summer.
"Our employees have been generously giving for 100 years and to recognise their contributions, we're proud to partner with the CommBank Foundation to provide 1,000 Centenary Grants in local communities across the country from December."
The new charitable giving data also shows the average yearly donation is around the $300 mark, however many Aussies give much more than this, including a smaller proportion (6%) donating $1,000+ each year.
It also reveals slightly more Aussie women have donated in 2017 than Aussie men (52% vs. 48%), however Aussie men are likely to give more on average (approximately $100 per male vs. approximately $85 per female).
About the Commonwealth Bank Charitable Giving data
The Commonwealth Bank Charitable Giving data was captured in November 2017 and analyses the size of charitable donations made by approximately two million Commonwealth Bank customers via payments processed against retail Commonwealth Bank Credit Card and Debit Cards for MCC code 8398 (charitable and social service organisations) during the period of December 2016 – November 2017.