New Commonwealth Bank research on levels of business innovation activity in the Australian Not-for-Profit (NFP) sector finds that just one in four NFPs are innovation active when assessed against the leading international guidelines used by the OECD.
But the sector's preparedness to be truly innovative outstrips other industries across Australia.
The OECD innovation guidelines, known as the Oslo Manual, define innovation as a new or significant improvement in one of the following four areas – products and services, business processes, organisational methods and marketing practices. Ongoing improvements, however, do not qualify as innovation.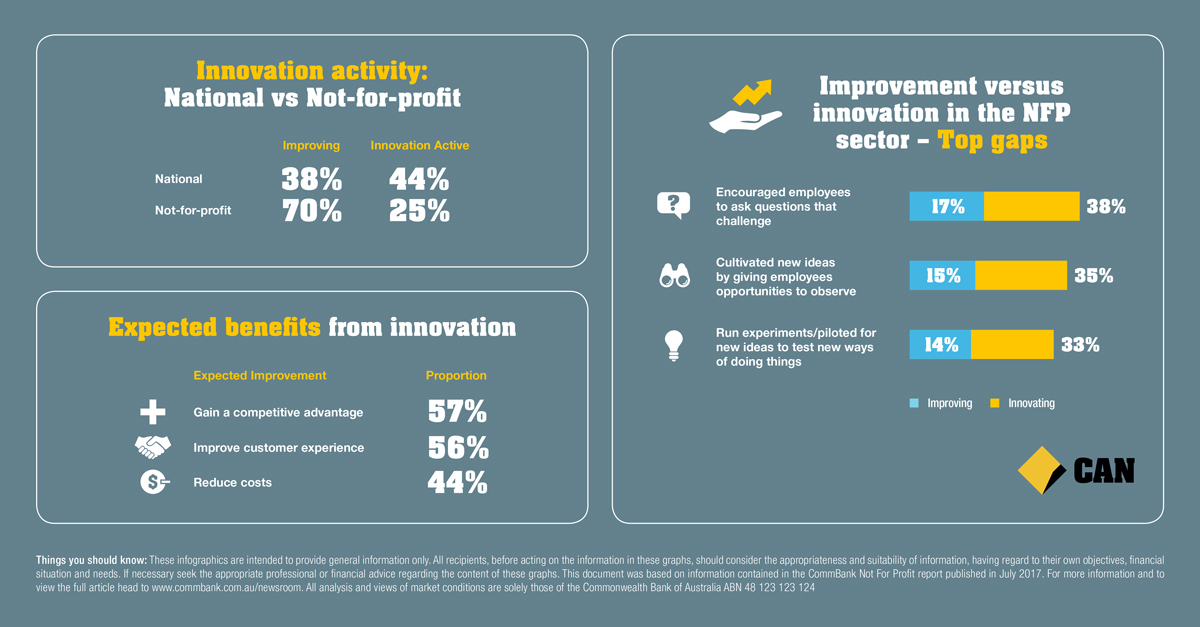 Unrivalled culture of improvement
While many Not-for-Profit organisations who took part in the research didn't meet the Oslo Manual standard for innovation, 70 per cent were well on their way having adopted improvements in at least one of the four business areas described above. This level of improvement was beyond the national average for Australia, which was just 38 per cent of all businesses*.
Commonwealth Bank General Manager, Social Impact Banking, Vanessa Nolan-Woods, said: "It's encouraging to see the Not-for-Profit industry embedding improvement as part of their day-to-day operations. This provides a strong foundation to be truly innovating which may generate significant revenue and cost saving benefits."
The benefits of innovation
For those NFPs truly innovating, most indicated that innovation helps provide a competitive edge (57 per cent) and improves the experience of the individuals they support (56 per cent).
"As the landscape to attract funding remains challenging, innovation can help organisations to remain competitive and importantly, improve the experience for the individuals, families and communities they serve.
"While Not-for-Profits indicate a strong financial return from innovation, the role of innovation in improving service quality, securing funding support, attracting good staff and supporting their community is equally important in the long term," Ms Nolan-Woods says.
Breakthrough factors for innovation
Some of the key factors separating those improving to the successful innovators were:
• A focus on running experiments and piloting new ideas (14 per cent of those improving versus 33 per cent of those innovating)
• Encouraging staff to ask questions (17 per cent versus 38 per cent)
• Developing new ideas by giving employees opportunity to observe activities of customers, competitors and suppliers (15 per cent vs 35 per cent)
• Evaluating creativity as part of employee performance (8 per cent versus 25 per cent).
"There are easy steps organisations can take to move into the realm of innovation. These can be as simple as being clear on the problem you are trying to solve, a greater focus on testing new ideas or asking employees for feedback. These often come at little or no cost, but can deliver a substantial benefit," Ms Nolan-Woods says.
Tips for starting innovation
For Not-for-Profit organisations looking to kick-start their innovation program, here are some simple steps to take:
1. Start experimenting: find projects that may get stuck in the funding queue and divert them into low cost experimentations
2. Inject different talent: During the hiring process consider the benefits of diverse thinkers, alternatively skilled candidates and opinionated thought leaders that can disrupt the status quo
3. Shift the mindset: reset the definition of staff performance to include failing in the pursuit of success, and its contribution to learning within broader organisational growth
For more information regarding our Not-for-Profit sector team visit: https://www.commbank.com.au/corporate/industries/corporate/not-for-profit.html
*Small sample size. Please treat figures as indicative only.