The weaker local dollar may be encouraging more Australians to holiday at home, helping to prop up expenditure across the broader economy, according to the latest Commonwealth Bank Business Sales Indicator (BSI).
Economy-wide spending has now risen each month for two years and was 0.6 per cent higher in January, the BSI showed. Among the biggest gains in spending in January were domestic transportation (up 3.3 per cent); hotels and motels (up by 1.1 per cent); and airlines (up 0.9 per cent).
"There was a strong theme of spending on domestic travel in January," said Craig James, CommSec Chief Economist. "This may be driven by the weaker Australian dollar deterring Aussies from heading abroad as our purchasing power diminishes in foreign currencies, as well as petrol prices being the cheapest for this time of year since 2016."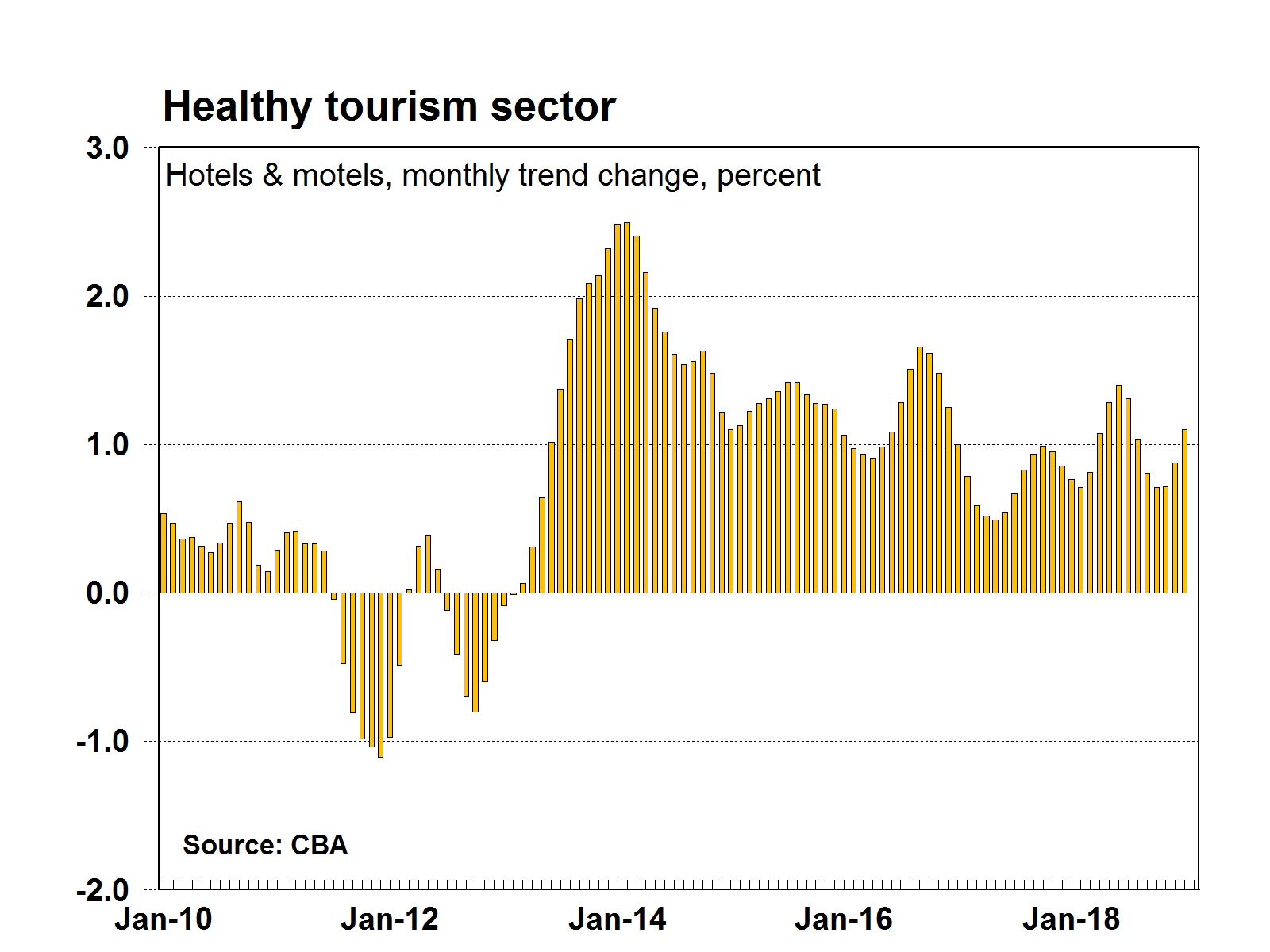 In January, the Australian dollar fell to its lowest level in three-years. The Australian dollar was trading about 18 per cent below its 10-year average and about 6.0 per cent below its two-year average.
Higher prices may have also played their part. "Domestic holiday travel and accommodation prices were up 6.2 per cent in last quarter's Consumer Price Index and the lift in prices may have also served to boost spending in January," Craig said.
The monthly growth in sales in January was closely mirrored by annual spending growth, with transportation, airlines and hotels and motels also experiencing the strongest annual growth rates.
The Commonwealth Bank BSI is obtained by tracking the value of credit and debit card transactions processed through Commonwealth Bank merchant facilities.
In January, five of the 19 industry sectors recorded reduced spending on the previous month, led by automobiles and vehicles, down by 1.3 per cent.
"People are not buying cars like they used to and the wealth effect of lower home prices looks like it may be having an influence on big ticket purchases," Craig said.
Economy-wide sales were stronger across all states and territories in January. The strongest growth occurred in Western Australia, Tasmania and Northern Territory – all up 1.0 per cent.
"Looking at annual growth figures, all states and territories had sales above a year ago, with Western Australia and Tasmania seeing the strongest growth, up 10.6 and 8.1 per cent respectively," Craig said.
For more, read the latest Commonwealth Bank Business Sales Indicator.