The game has taken a significant step forward in the past two years, with superstar player and Commonwealth Bank cricket ambassador Ellyse Perry leading the charge.
The game has become more professional with the leading players now paid to play, grassroots participation is growing strongly and there are more opportunities for girls and women to make their mark across a range of different roles, Perry said.
Speaking after the Australian team's return following their World T20 success in the West Indies and at the start of this season's Rebel Women's Big Bash League tournament, Perry said the recent growth in the women's game has been sensational.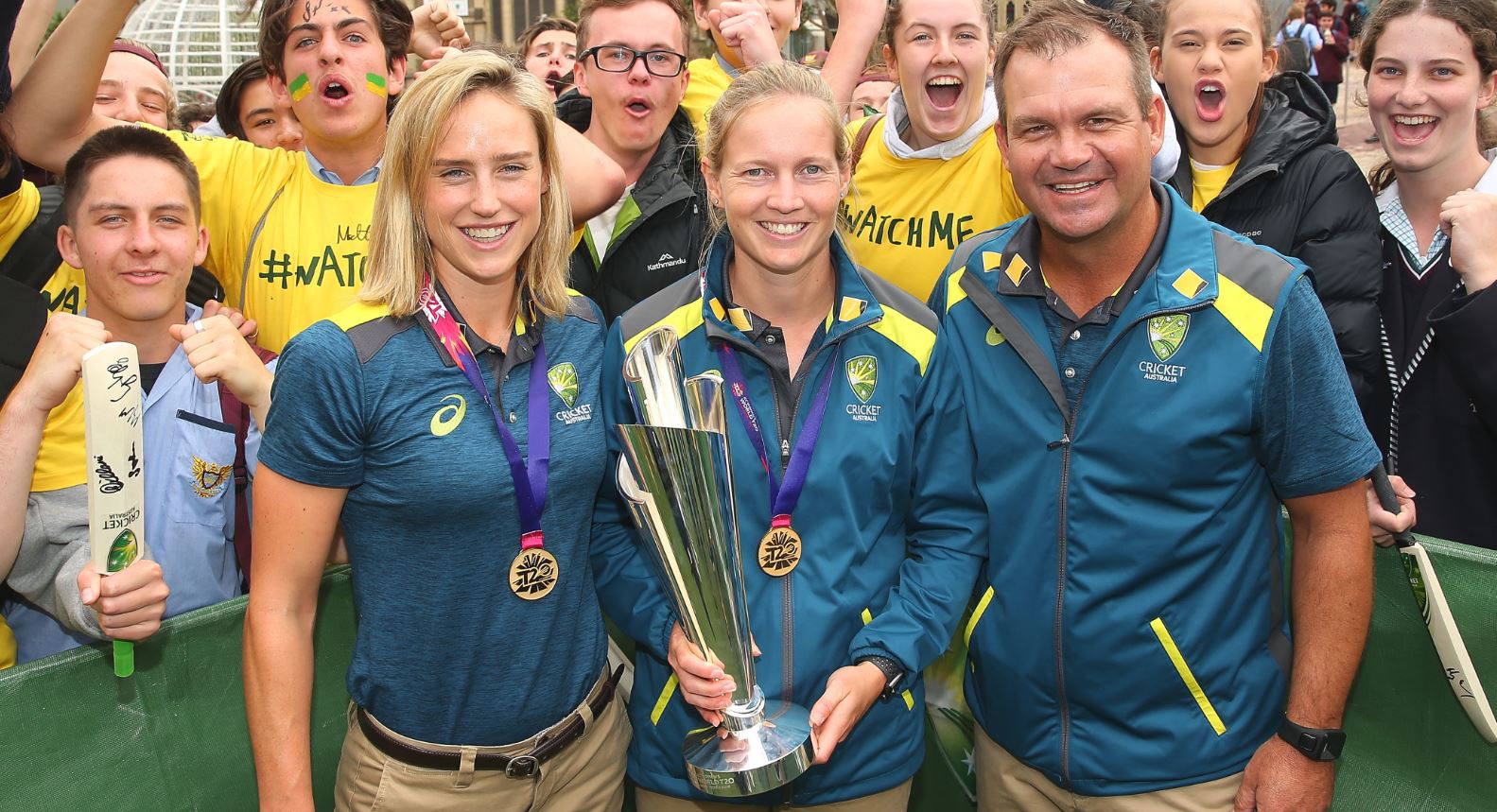 Women's World T20 2018 winners | Image source: Getty Images
"There's absolutely no better time to be a female athlete with so many incredible opportunities to be involved in the sport… as a player or if you are interested in administration or coaching or officiating as well," she told CBA Newsroom.
"On top of that, it's just about making the most of the opportunities and not being afraid to put yourself out there. If you are a player, it's about trying to be involved in as many matches as possible, seeking advice from anyone who is around in terms of your coaching and development, and just seizing on the momentum we have got at the moment. There are so many willing people in the game who want to help and who want to grow the sport."
Perry is a prime example of the transformation of the sport. Now 28 and at the height of her playing career, the talented all-rounder became the youngest Australian to play cricket for her country when she made her debut in a One Day International against New Zealand at the age of 16.
It was an even more remarkable entry into the sport as she had never played a domestic match at senior level prior to that. She was a dual international at the same time, also representing Australia in soccer.
Listen to the podcast: Ellyse Perry talks cricket with CBA
Now a full-time cricketer, the elite right-handed bat and right-arm fast bowler from NSW is a veteran Test, ODI, T20 and WBBL team member who has played more than 250 professional games including 100 T20 international matches. She was the inaugural International Cricket Council's Women's Cricketer of the Year for 2017 and along with Australian captain Meg Lanning and fellow international Alyssa Healy, she is one of the faces of women's cricket in this country.
Perry says the growth of the game is no accident, but it has taken a huge amount of work by a lot of dedicated people and organisations to get it to the stage it's at now. Among them has been CBA, now in its 20th year of sponsoring the women's game.
"It's taken a hold even more so in the past couple of years. I've been at this level for about 11 years now and from where it first started in terms of most girls needing to have full-time jobs and not really being paid to play, to now being full-time professional cricketers and doing it as a career, it's absolutely sensational.
"A huge kudos to Cricket Australia and the work they have done there, but also to CommBank. They've supported women's cricket for 20 years. We've been really fortunate in that sense. I think that leads the way in professional women's team sports in this country.
"It's pretty amazing that a lot of us sit back and I guess in retrospect can't believe it's got to this point. It's happened really quickly in the past two years, but I think there's 10, 15, 20 years of foundations that were laid and development work put in that was often quite a hard slog. Where it is now is quite sensational."
Perry is particularly delighted with the support the women's game is now attracting.
"Something I have noticed more and more in the past couple of years is how many young boys and girls have come to our matches, families but also just general fans who have started watching the women's game and really enjoyed it so there is a real boom in women's sport in Australia at the moment. I don't think that's any real secret, but it's been really nice to benefit from that," Perry said.
Find out more about how we're supporting Australian cricket.