Online shoppers are placing more of a premium on when, where and how they receive parcels than the speed of delivery, according to the latest CommBank Retail Insights report.
Whereas the majority of retailers surveyed (58 per cent) are focused on getting goods as fast as possible to their customers, shoppers are willing to wait at least a day to receive their purchases to avoid paying a delivery charge.
Sixty per cent of shoppers said same-day delivery wasn't essential for them and were happy to wait, while a further 32 per cent rated on-the-day service important but not if they had to pay extra money for it. Only 8% of shoppers would be prepared to pay an additional sum to get their parcels on the day of purchase.
The numbers were even starker when it came to deliveries promised within a couple of hours. Just seven per cent of shoppers would pay for ultra-fast delivery, 26% said while important they wouldn't accept a charge and an overwhelming 67% were happy to wait until at least the next day or the day after that.
Figure 1: importance of delivery timeframes for consumers

Almost all consumers (92%) are clear that free delivery is the most important factor when choosing which retailer they shop with.
However, according to retailers, consumers are already paying for 58 per cent of all delivery costs which suggests that they are willing to pay for features of the delivery experience that they value. For example, the vast majority of consumers rank factors such as access to online customer service, updates on delivery status and the ability to amend purchases as important. However, these features are only on offer among a small minority of retailers. (see figure 2 overleaf).
This misalignment may explain why nearly one in two shoppers (47 per cent) are only moderately or not at all satisfied with the delivery services on offer. This also appears to be holding back the growth of multi-channel retailers' online sales with the Retail Insights Report showing that actual growth has flat-lined at approximately 30% of total sales since 2017.
Jerry Macey, National Manager, Retail Industry, Business and Private Banking, Commonwealth Bank, said: "Over the past decade, retailers have looked to build out distribution channels to match the rise of online shopping.
"But consumers' demands have changed, and many retailers remain overly focused on getting parcels to shoppers quickly. With consumer expectations around cost and choice outpacing retailers' offerings, this could be holding back online sales growth more broadly."
Consumer expectations outpacing retailers' delivery offerings
Retailers are grappling with how to offer a last mile experience that meets consumers' expectations and generates a profit, and in many cases, online shoppers see room for improvement.
"This isn't entirely surprising," said Mr Macey. "It's estimated that between 23 and 35 per cent of deliveries fail on the first attempt[1] and with a substantial proportion of the population working full-time, people simply aren't always home to accept deliveries."
Innovation may hold the key to changing the way online shoppers view and use delivery services in coming years, says the Insights Report. Many shoppers already have some trust in emerging delivery innovations, but only a few retailers are adopting these services. Smart lockers are trusted by 73 per cent of consumers and available among only 26 per cent of retailers. In addition, 26 per cent of consumers have some trust in secure technologies that allow for a delivery to their car boot or inside their home.
"It's clear that while consumers want lower cost deliveries, they also place a premium on control and flexibility when it comes to managing their deliveries," added Mr Macey. "New and innovative delivery services are well received by consumers but only a few retailers are offering these features. There is an unrealised opportunity to introduce innovative delivery solutions to keep pace with customer expectations, rather than do more of the same."
Figure 2: delivery features offered to customers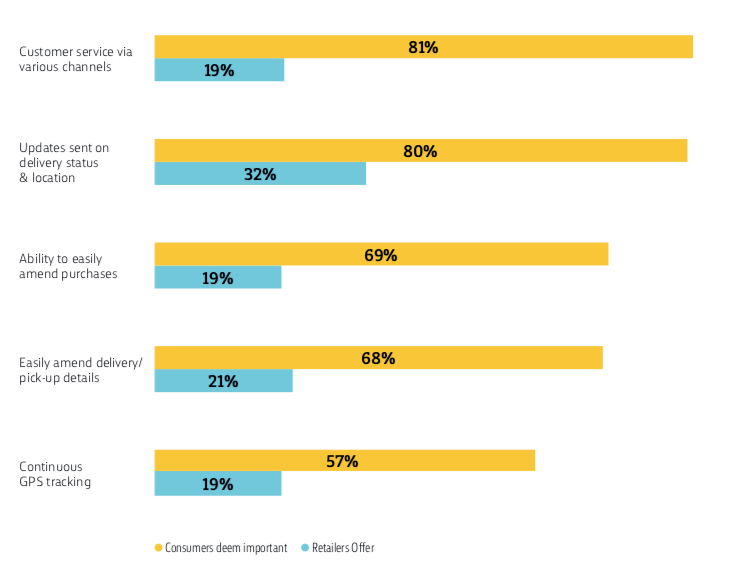 Important information
The ninth edition of the CommBank Retail Insights Report is a wide ranging analysis of the Australian retail sector. This edition is based on two surveys conducted by ACA Research on behalf of the Commonwealth Bank. An online quantitative survey of 580 decision-makers from small, medium and large retailers across Australia. Results have been categorised into five key retail sectors: Homewards & Hardware, Food & Liquor, Take-away Food Services, Clothing & Footwear, and Other Retail. And, an online quantitative survey of 1,505 shoppers across Australia.
[1] Making the last-mile profitable (retail whitepaper). GRA Supply Chain Consultants. 2018