Confidence in the Australian retail industry has rebounded to fresh highs, driven by a sharp rise in optimism among bricks and mortar only retailers, according to the latest CommBank Retail Insights Report.
The research shows that retailers have become more optimistic over the past six months, with 41 per cent of those surveyed predicting an improvement in business conditions in the year ahead - the highest proportion since the survey began in August 2015.
In line with a more positive outlook for business conditions, the vast majority of retailers (76 per cent) are also forecasting stronger revenue over the next 12 months, with 43 per cent anticipating growth of 6 per cent or more. Of these, 18 per cent are aiming for growth of more than 10 per cent.
The steady growth in online sales is also expected to continue, with retailers predicting an almost 20 per cent increase in the year ahead to represent around a third of all sales by volume (31 per cent).
This includes an uptick in purchases via mobile devices, which is predicted to grow by a further 20 per cent in the coming year.
In spite of this, retailers operating only physical stores have reported the greatest increase in confidence, with 34 per cent now adopting a positive outlook on future conditions – double the number with a positive outlook six months ago.
The research suggests that this renewed optimism is underpinned by a spike in foot traffic, with almost one in two bricks and mortar only retailers (47 per cent) reporting more customers visiting their stores, up from 36 per cent in July 2017.
In addition, confidence has moderately increased across all retail channels, with 41 per cent of online-only "pure play" retailers flagging better conditions ahead (up from 32 per cent in July 2017) and 44 per cent of multichannel retailers expecting the same (up from 38 per cent).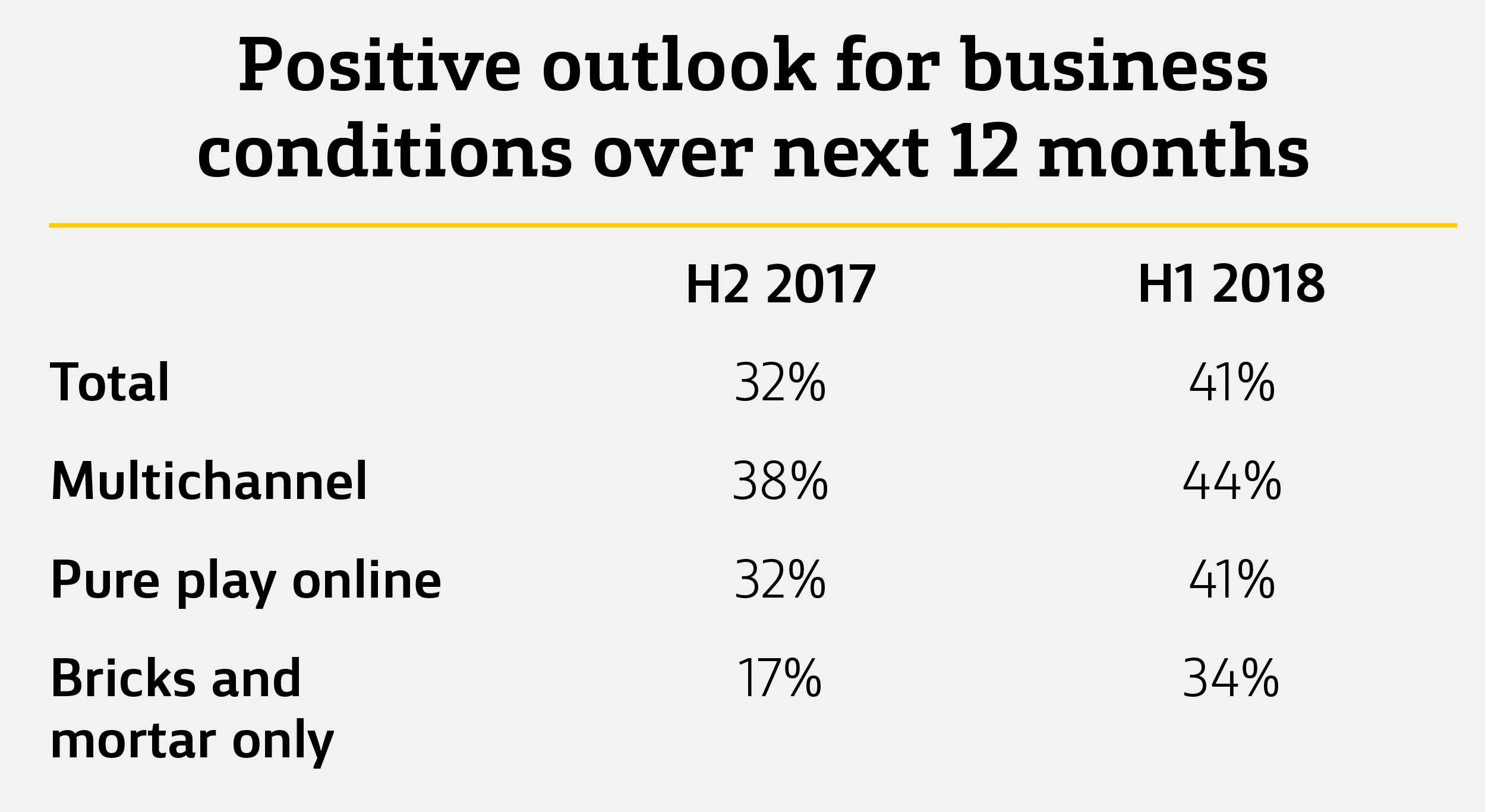 Jerry Macey, National Manager of Retail, Commonwealth Bank, said, "It's encouraging to see retailers' view on future conditions surpassing previous highs seen in our first analysis of the sector in 2015. This confidence appears to be underpinned by a healthy revenue outlook for most retail businesses and continued growth in online sales."
"We have seen bricks and mortar retailers emerge strongly from a period of subdued optimism as they report an upswing in customers coming through their doors in the year to date."
Confidence in all states and territories has increased, with a surge in optimism among West Australian retail businesses. WA retailers experienced the greatest jump to rank as the most confident state, with 56 per cent now expecting conditions to improve over the next 12 months - compared to just 33 per cent a year ago. In addition, retailers' confidence has increased significantly in New South Wales with 42 per cent anticipating better conditions, up from 28 per cent.

While retailers across all categories experienced improved confidence, this is most pronounced for Clothing & Footwear retailers with 40 per cent believing business conditions will improve in the year ahead, compared to 27 per cent in July 2017. In addition, almost half (49 per cent) are expecting revenues to grow by more than 5 per cent.



About the Commonwealth Bank Retail Insights Report
Now in its sixth edition, the CommBank Retail Insights Report is an exclusive, wide-ranging analysis of the Australian retail sector. This edition is based on two surveys carried out by ACA Research on behalf of the Commonwealth Bank:
- An in-depth online survey of Australian retailers in February 2018, involving 500 decision makers from small, medium and large retailers across Australia, with turnover ranging from less than $1 million to over $500 million. Results have been categorised into four key retail sectors: Homewares & Hardware; Food & Liquor; Clothing & Footwear; and Other Retail.
- An online quantitative survey of 1,314 shoppers across Australia in February 2018, segmented by generation.