Commonwealth Bank's Christmas cot fund
In 2022, CommBank raised $2.8 million to help flood-affected communities clean up, rebuild and recover. Almost 100 years ago, bank employees formed the Cot Fund that provided beds at the Royal Alexandra Children's Hospital in Sydney.  
In December 1920, patients in the hospital's Upper Todman Surgical Ward ranged in age from five months to 12 years. According to employee newsletter Bank Notes, they were "agog with excitement" for the ward's Christmas party on December 23. 
Father Christmas was played at the party by Cot Fund secretary and treasurer Miss McCourt, who "inspired so much awe, wonderment and delicious terror" when she went around to ask each child what they wanted for Christmas. (One five-year-old, wrapped in splints and bandages, asked for "some meat".) 
"To say our party made a big hit is putting it modestly," reported Bank Notes. "Those kiddies fairly howled when Santa Claus and his (or should it be her?) assistants took a reluctant farewell." 
1921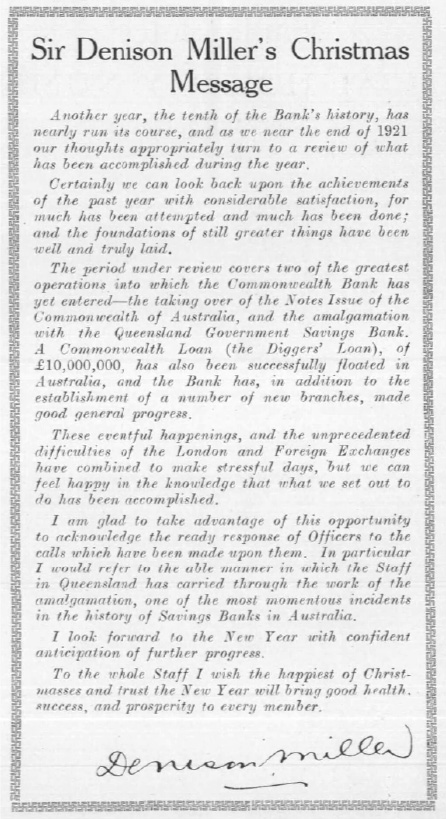 Sir Denison Miller's Christmas message to employees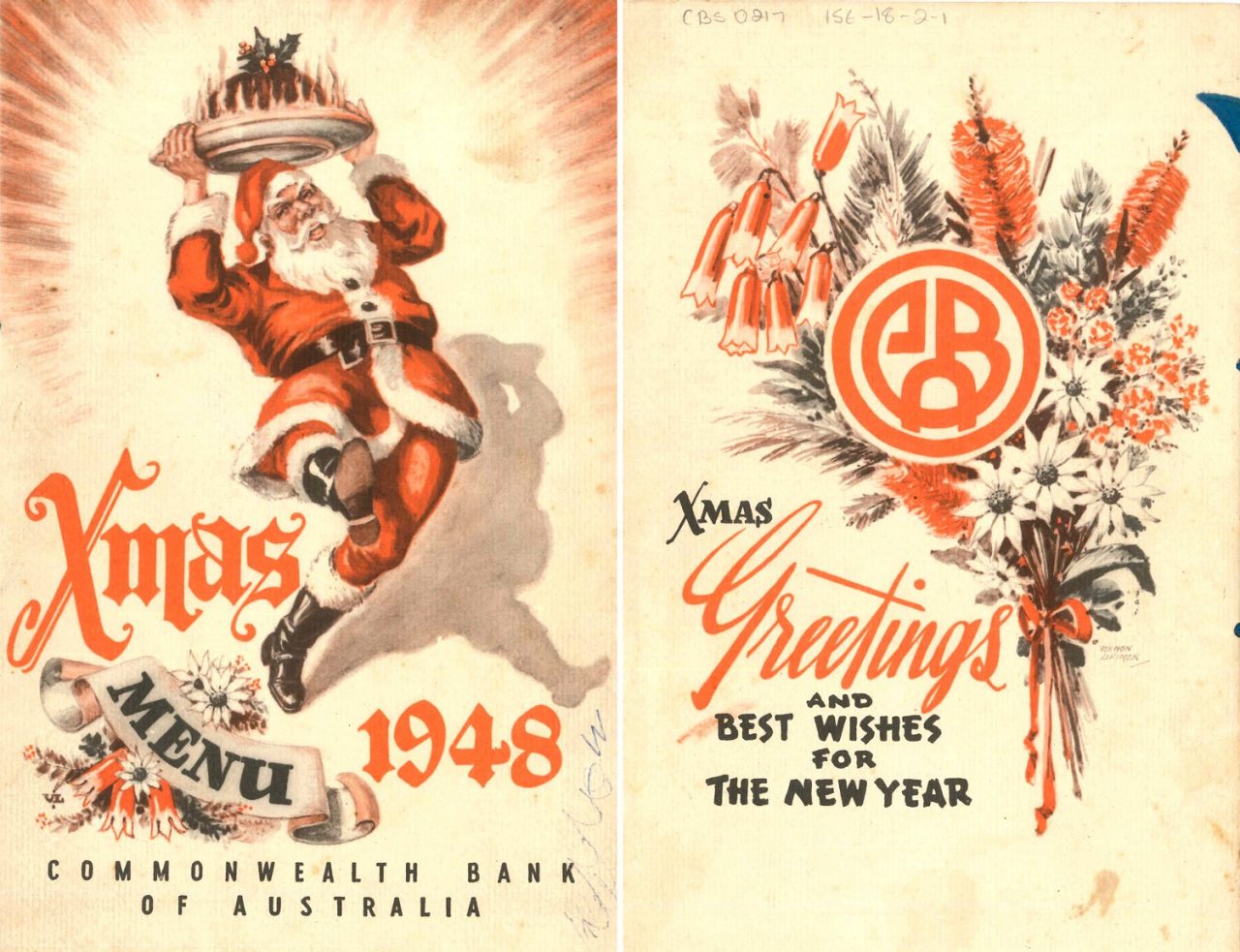 1948's Christmas menu
An unusual illustration of Santa (left) fronts this menu for a Christmas dinner event, while the bank's little-used blue logo makes an appearance on the back cover (right). Here's what was served up to guests: 
1948's Christmas menu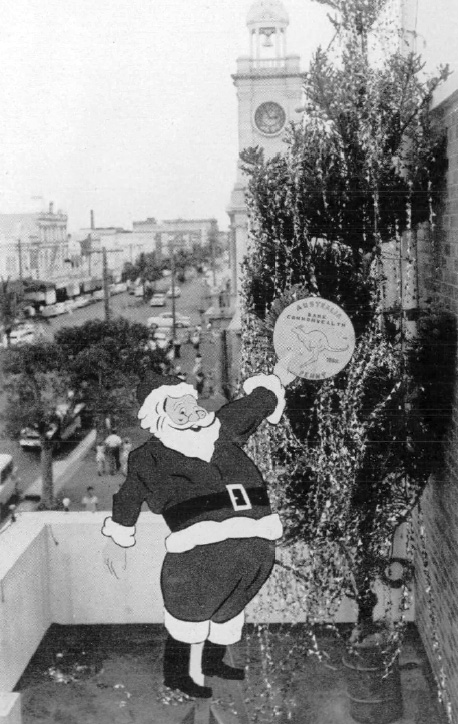 A life-size Santa Claus decoration
This life-sized Santa Claus stood atop the Rockhampton branch in the lead-up to Christmas, and proved so impressive that local paper the Morning Bulletin splashed its photo on the front page. That's according to the December 1961 edition of Bank Notes, which featured this charming illustration on its cover: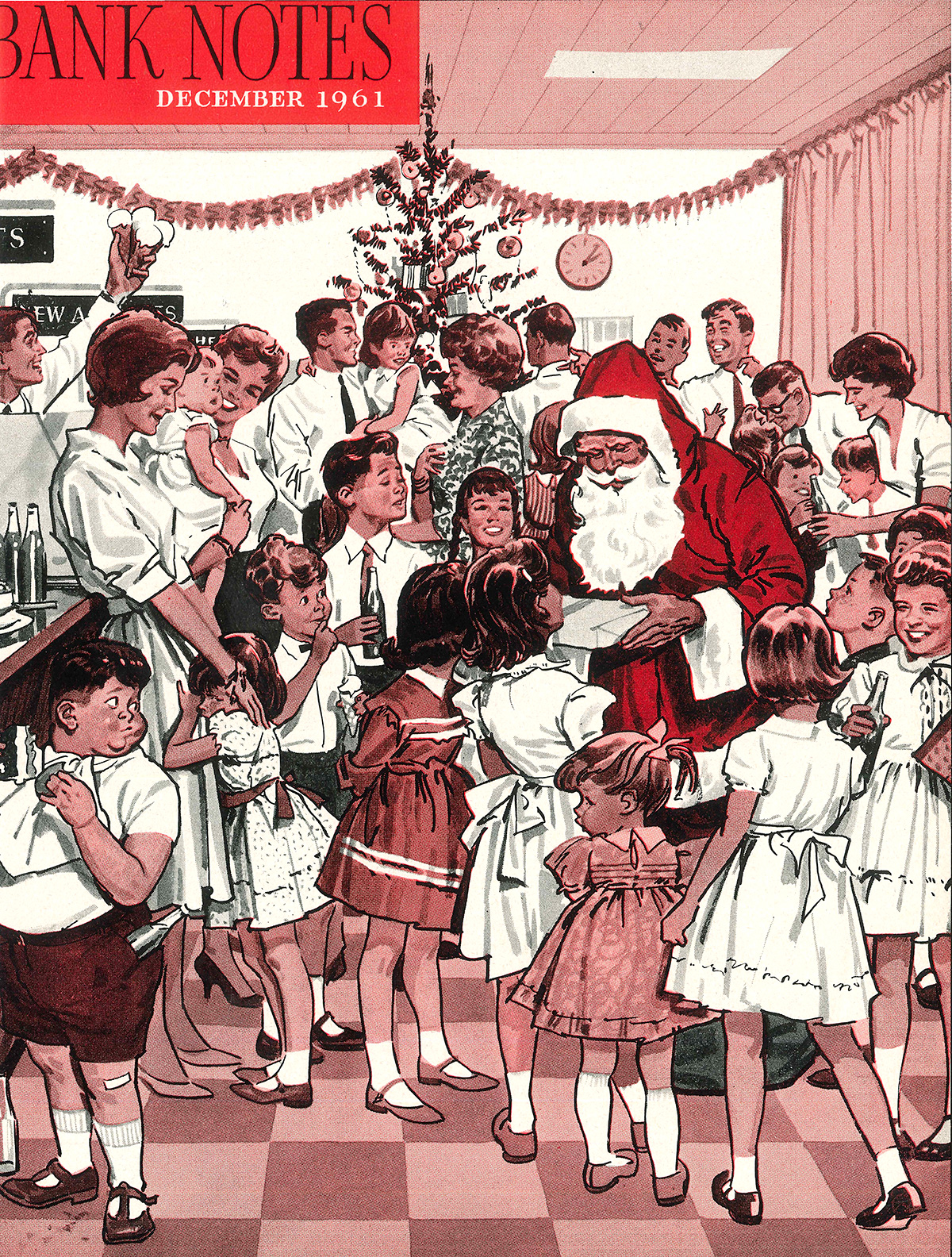 The December 1961 cover of Bank Notes
1964
That year's striking cover of Bank Notes was drawn by the renowned Greek-Australian illustrator Tony Rafty. It depicted Santa both using the bank's Data Processing Centre to churn through letters mailed to him, and looking to the sky at the oncoming conversion to decimal currency, which would happen a little over a year later on 14 February 1966.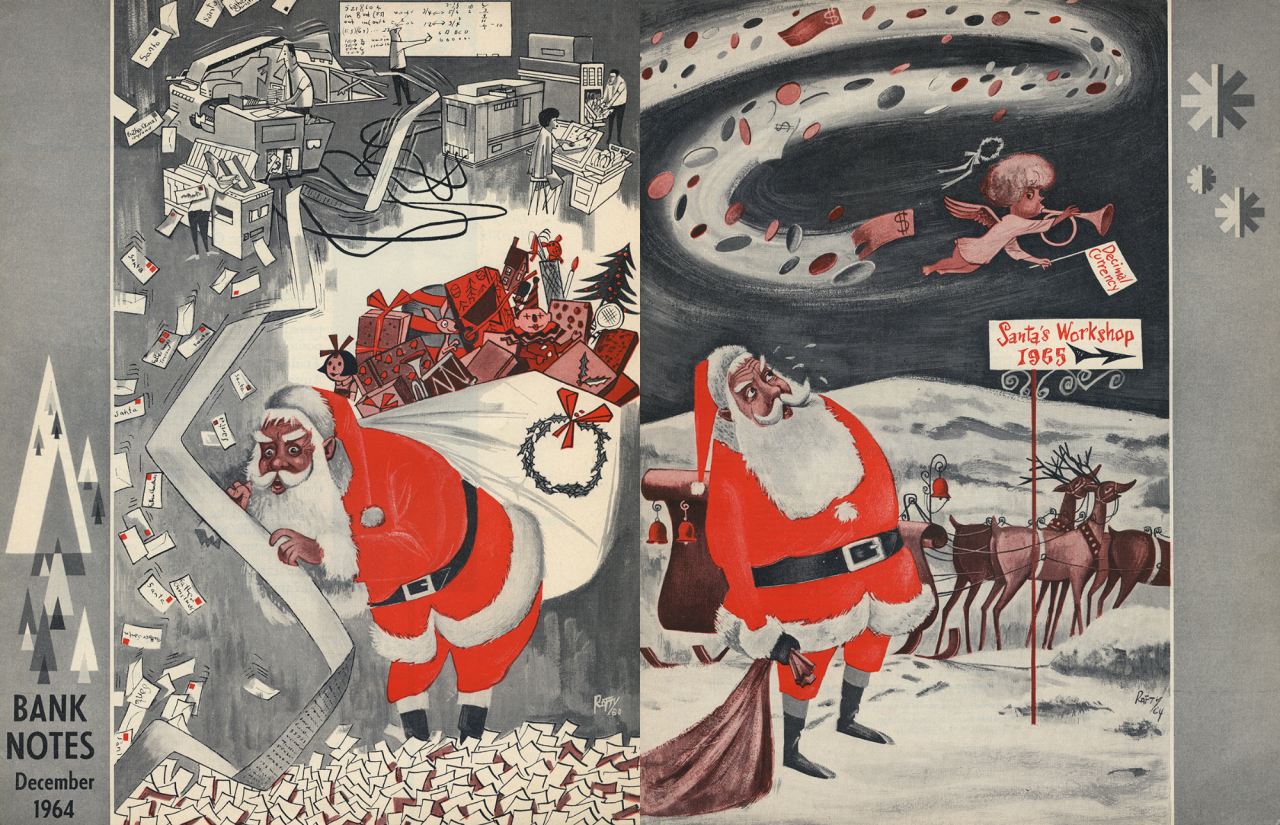 Christmas 1964 cover of Bank Notes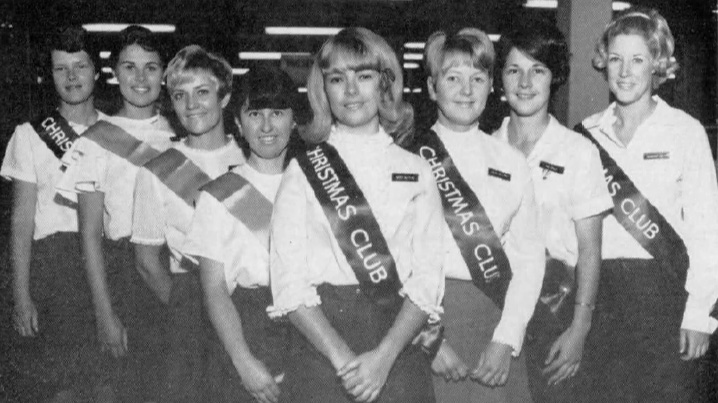 Employees promoting Christmas Club accounts in 1969
Commonwealth Bank introduced Christmas Club accounts in the 1960s to help customers save up for the Christmas period – the sooner in the year you joined, the more you could save. These eight women promoted the club from the Brisbane branch in February 1969. (The woman pictured second from the left had proved a "popular" Miss Christmas two years earlier.)  
1972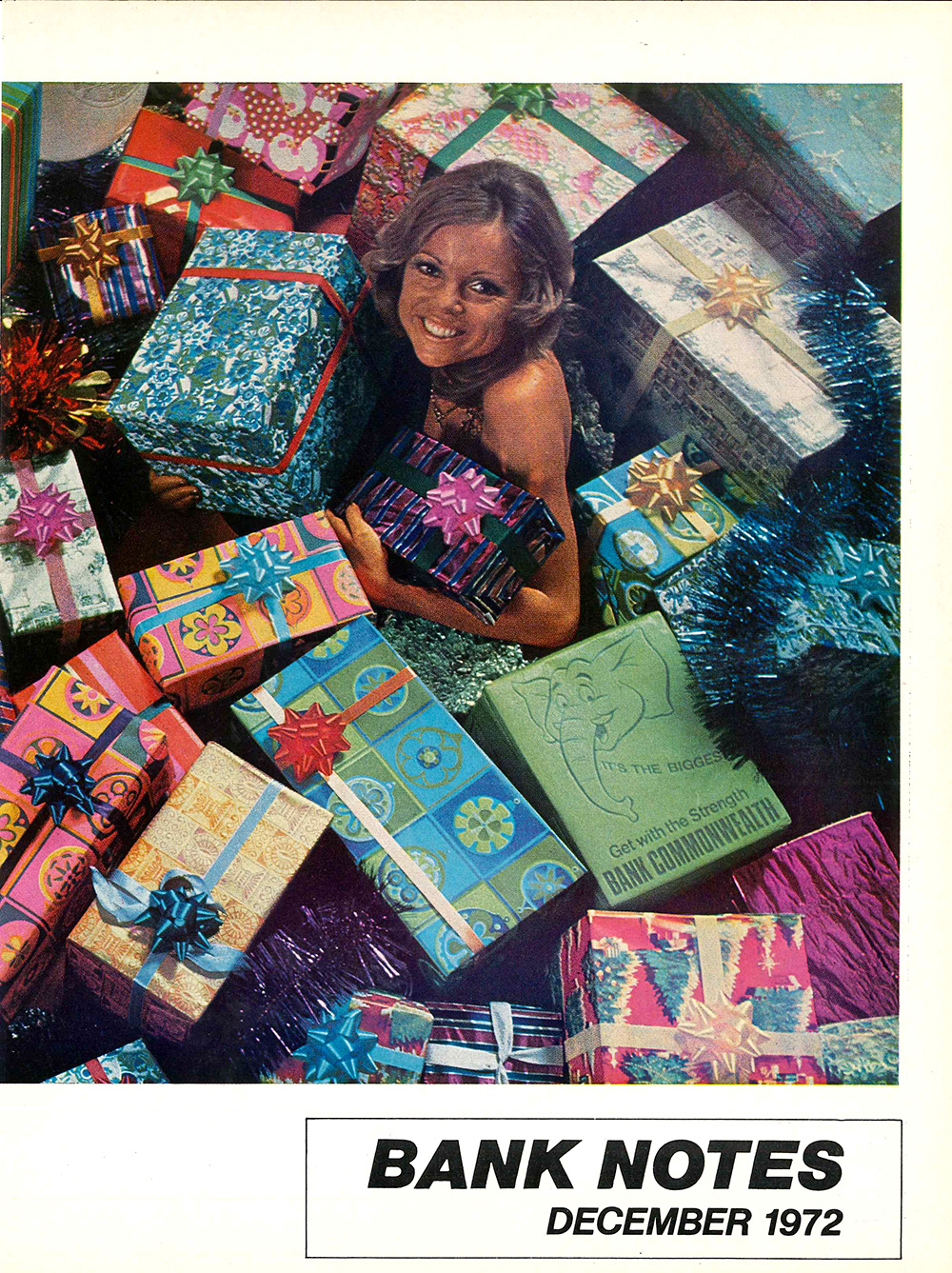 The December 1972 cover of Bank Notes
This was the festive cover of Bank Notes' Christmastime edition – note the elephant, which fronted the bank's Get with the Strength marketing campaign that ran from the 1960s through to the 1980s.
1973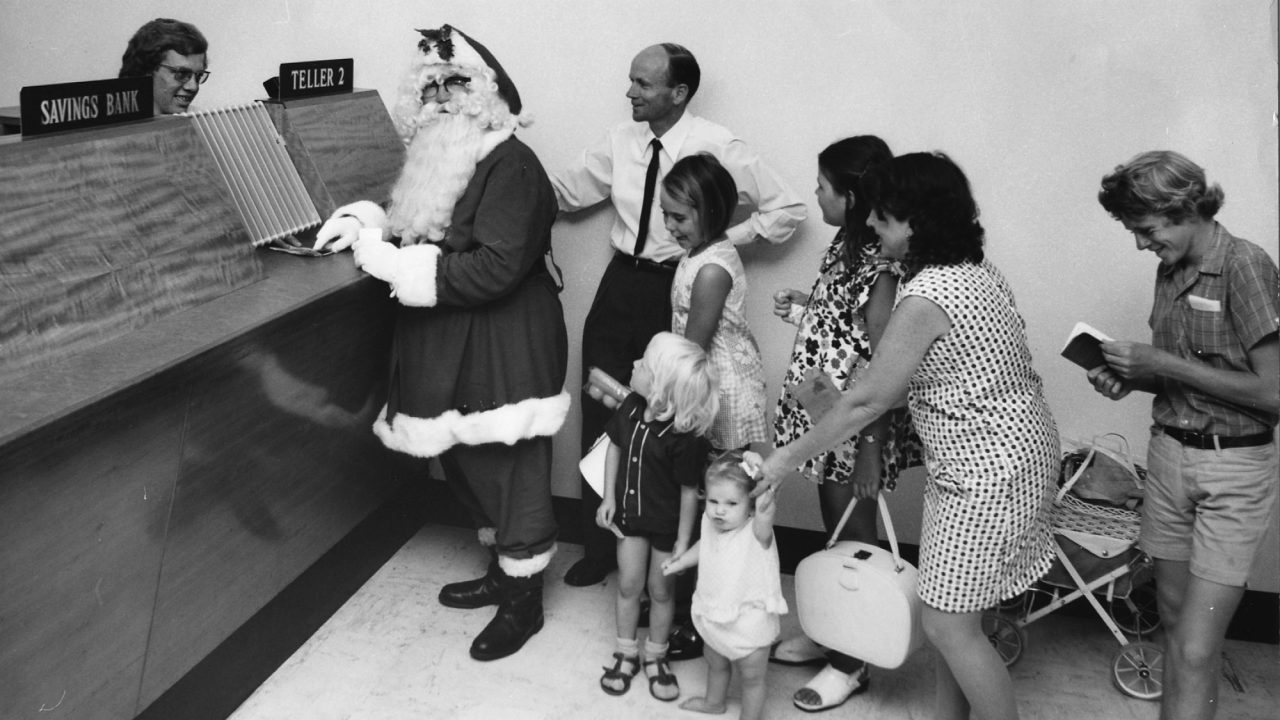 Santa visits a Commonwealth Bank branch
Bank Notes reported that "customer Mr S Claus" conferred with a teller shortly before he was introduced to young children visiting the branch at Brunswick Street Station (now known as Fortitude Valley Station) in Queensland. 
1983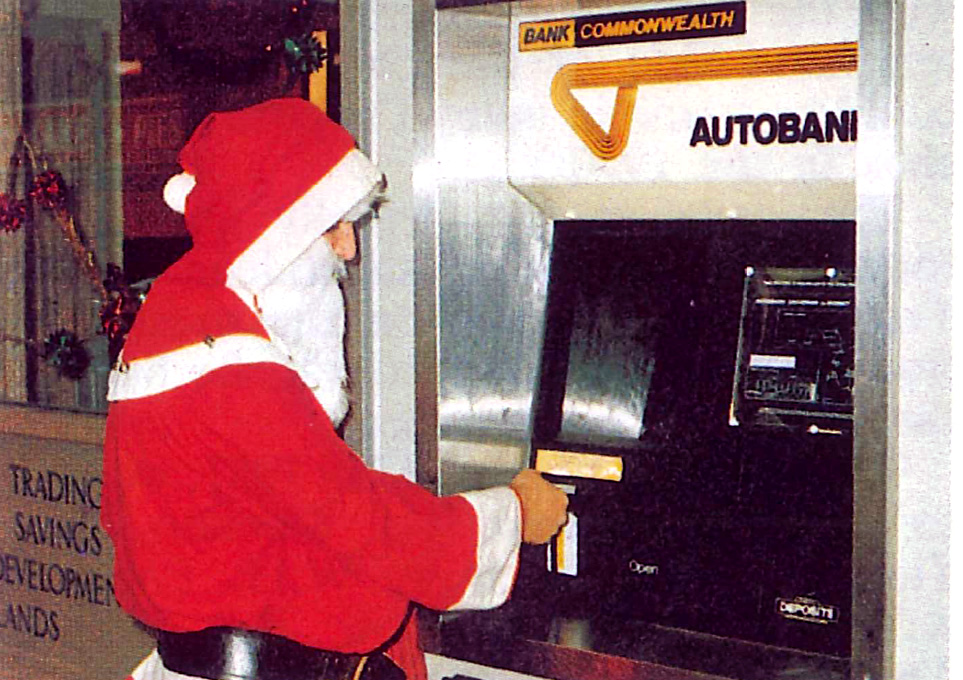 Santa grabs some cash from a "mechanical teller"
Go to CBA Newsroom for the latest news and announcements from Commonwealth Bank.