Commonwealth Bank is commemorating the centenary of the Armistice with a collection of podcasts, articles and videos remembering those involved in World War One.
Whether it was raising money to fund the conflict, helping to run commerce or seeing most of its male staff head off to the frontline, the Bank still had to ensure that the day-to-day business of banking went on despite the additional pressures imposed by the war effort.
The war brought into sharp relief just how important banks were to the country and none more so than CBA. As the government's banker, it took on the responsibility of ensuring that more than 400,000 service people based in countries as far afield as England, France, Turkey, Greece and the Middle East - as well as Australia - got paid (in cash or by cheque) and on time.
Keeping the Bank operating smoothly and efficiently was a significant challenge for Governor Denison Miller and his deputy, James Kell, as so many experienced male staff had enlisted.
While the Bank had just 14 branches at the outbreak of the war, there was no intention of putting on hold its expansion, which was aimed at ensuring that CBA was represented across the country and in key locations overseas, either through its own outlets or at Post Office agencies.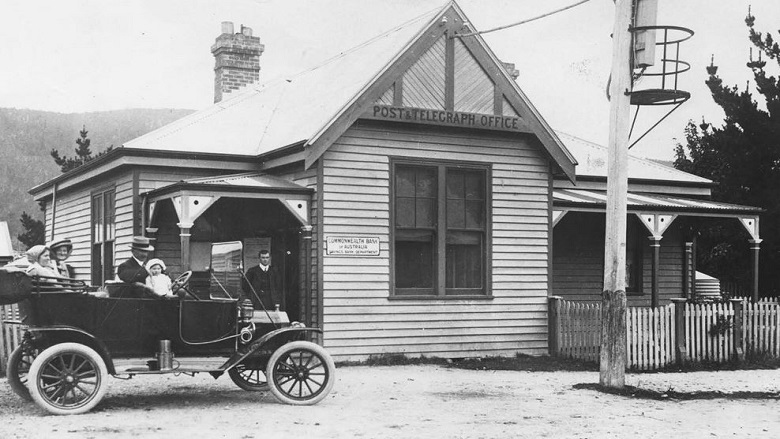 Expansion continued
By November 1918, the number of branches had grown to 36 with savings bank services offered through 2,770 agencies – nearly 700 more than four years previously. That was achieved despite the limited availability of employable men.
For Miller and Kell, the answer to the Bank's own manpower drain was simple - recruit more women and teenage boys of school leaving age and slightly older to supplement the few males staff left behind.
Rapid growth
Women, in particular, proved to be adept at the art of banking, which up until that point had been the preserve of men across the industry, not just at CBA. From only a handful on staff in 1914 - 21, representing less than 9 per cent of the overall employees - the number of women on the Bank's payroll by 1918 had grown to 582, more than 40 per cent of the expanded total of 1,415.
The Governor was at the forefront of the recruitment campaign, whether it was at Head Office or individual branches. "As the war progressed, and the need for men to go to the front was so apparent, I would not take on to the staff of the Bank any men of military age," he was to recall later. "By taking on boys and taking on girls we were able to carry on a fast increasing business."
The female and junior male staff went above and beyond to ensure the bank met its obligations to a rapidly growing number of customers.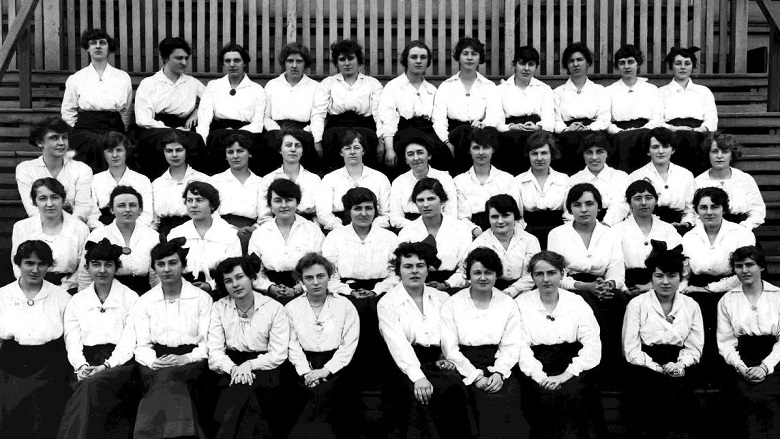 From 21 in 1914, the number of women on the Bank's payroll by 1918 had grown to 582.
A good example was the London branch, located at the newly-built Australia House in The Strand. Working first out of temporary offices while the building was under construction, the branch had, by its formal opening in August 1918, around 200 clerks alone, almost all of them women, working on soldiers' accounts. These included payments to widows and those on war pensions.
At one stage, the branch was responsible for 40,000 savings accounts and was processing 3,000 transactions a day. On top of that the staff were dealing with 1,000 customers in person.
Charles Campion, the manager of London branch, said afterwards: "At a time when our ordinary staff were nearly all called up for military service, we were left to handle this vast amount of banking business a number of lady clerks, some with only a few months training and others fresh from school. We had to work very hard, the space was restricted and the staff were not as highly trained as they subsequently became."
Inexperienced some of them might have been, but what the new staff lacked in knowledge was more than made up by enthusiasm and a determination to ensure nothing would stop the Bank's business from being done.
Going above and beyond
Myall McCourt, who worked in the Secretary's Department at Head Office, was to recall the efforts of one junior male colleague whose job it was to ensure the mail deliveries from Sydney to London made it to the ship in time.
"On finding the mail had gone when he reached the GPO (General Post Office) he dashed off to catch the ship before it sailed, found the wharf gates closed but climbed them and placed the Bank's London packet into the care of the Purser. On another occasion he even chased the ship up the harbour in a launch. A line was cast down with a bag on the end and the Bank's mail was hauled aboard."
It wasn't just the extra effort that was put in to get the job done. Life on the Bank's Home Front also saw the staff, particularly the women members, help raise funds for charities and other support groups as well as making up "comfort parcels" for their CBA colleagues serving in the forces.
Female staffers formed the Patriotic Club at Head Office, which helped to stock a stall called 'The Gunyah' that they set up in Martin Place to sell goods and raise money for these charitable efforts. Other clubs were set up in capital city offices, with staff able to make voluntary contributions through salary deductions each pay day to these funds.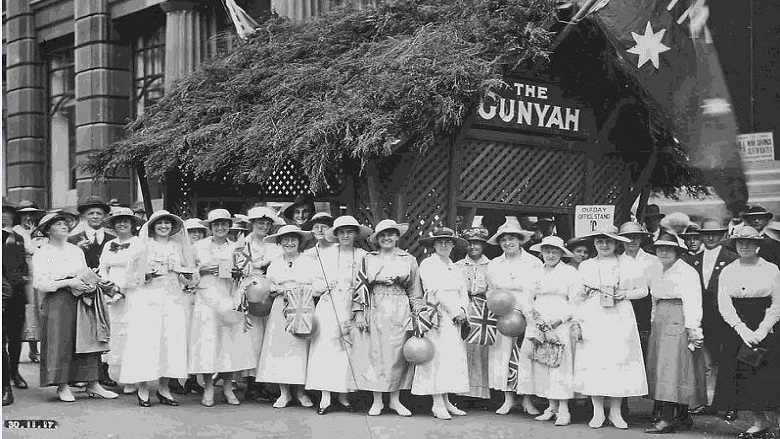 Female staffers formed the Patriotic Club at Head Office, which helped to stock a stall called 'The Gunyah'
Distributions from club coffers helped to fund "strong posts", groups of women staffers who gathered at branches and offices such as Martin Place to first farewell troops and then after Armistice Day to welcome home soldiers, sailors and airmen.
By 1919, about 200 CBA staff had returned from military service and rejoined the Bank. In the years to come another 500 veterans were recruited as CBA continued to expand.
Among those new recruits was Sister Elizabeth Murrell, who had gone to war with the Australian Army Nursing Service in 1917 at the age of 36. She served in Salonika in Greece, where she treated the sick and injured suffering from war wounds and illness caused by dysentery, malaria and black water fever.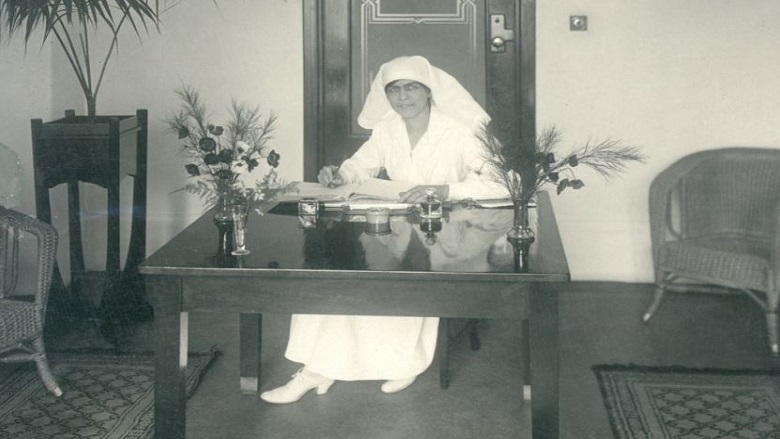 Sister Elizabeth Murrell
Her work in army hospitals earnt her a British War Medal and a Victory Medal before she was discharged from her duties suffering herself from debilitating sickness. Following her recovery, Sister Murrell joined the Bank in July 1919 as our first Medical Officer based at Head Office.
Described as a "capable, efficient nurse" who produced "good results in her special sphere", her war experience and reputation quickly endeared her to the Bank's staff, including the Governor, who was to recognise her service in a speech he gave in 1920.
"We have another soldier with us tonight," he told the audience. "Sister Murrell … came on to our staff to do special work and we are pleased to have her with us."
She retired from the Bank in June, 1937, and lived in Sydney until her death, aged 90, in 1970.
Sources of information, images: Official History of the Commonwealth Bank of Australia (Jaqui Lane); CBA Archives; CommBank History pages; Australian War Memorial; Reserve Bank of Australia Museum.