Commonwealth Bank is commemorating the centenary of the Armistice with a collection of podcasts, articles and videos remembering those involved in World War One.
By the end of World War One, 206 CBA men had been given military leave from their jobs to serve in the armed forces. Around 35 staff also resigned to sign up. They were among 417,000 Australians who marched off to war, around 60,000 of them never to come home.
Given that the Bank had only been operating for two years and employed just 228 men and women when the conflict started, the final CBA contingent was more than significant: the eventual tally equalled the 1914 total staff numbers and represented nearly 20 per cent of the workforce at the war's end.
Staff from head office in Martin Place, Sydney, and across the Bank's nascent branch network enlisted. Of the regions, states and territories represented, Tasmania - and in particular the Hobart branch - stood out, even more so because of its small population at the time.
Noted for their loyalty to the British Empire, 35 per cent of Tasmania's men joined up between 1914 and 1918. That percentage was more than matched by the Hobart branch where 14 of the 22 male staff volunteered for duty.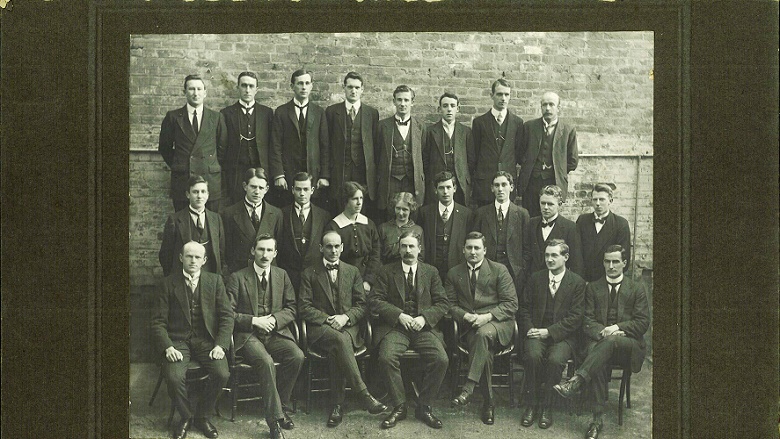 Hobart, Tasmania CBA branch staff, where 14 of the 22 male staff volunteered for duty.
Among them was the branch's superintendent, Ernest Hilmer Smith, who at the age of 36 was one of the oldest CBA men to serve. Initially given the rank of Captain, he subsequently became Commanding Officer of the 12th Battalion of the Australian Imperial Force (AIF) and saw action at Gallipoli, in France and Belgium.
All in together
He was joined in the 12th Battalion by his branch colleagues Vivian Cyril Brooke and John Chambers, the latter of whom had only recently transferred to the newly opened Launceston branch.
Brooke and Chambers were both at Gallipoli, while others such as Cyril McIntyre, Rupert Pennycuick, Edwin Clifford Trethewey, Thomas McGhee and Victor Tolland served in various different theatres of the war including the Western Front, Egypt and at Anzac Cove.
The willingness to serve and the tight-knit nature of the Hobart branch was matched across the Bank. Ronald Henderson was the first member of Wagga Wagga branch to enlist. An infantry man who rose through the ranks to become a Lieutenant and platoon commander, he served in Egypt, Belgium and France.
Reginald Atkinson was a 24-year-old clerk at the Adelaide Office when he joined up in September 1915. His first campaign saw him bound for Egypt and during the journey he dropped over the side of his ship a message in a bottle which was found a few weeks later on a beach near Cape Leeuwin in Western Australia. The note, which he asked to be forwarded to his mother, was brief and to the point: "Farewell Australia. All well and happy. Gnr (Gunner) R.C.O Atkinson, Australian Field Artillery."
Arthur Henry Cobby, better known as Harry, had already gained a commission with the 46th Infantry in 1912 while he was working at Melbourne branch as a clerk. Aged 18 at the time, he subsequently went to war with the AIF four years later in 1916 and was posted to the fledgling Australian Flying Corps (AFC) where he did flight training.
Fellow Victorian Colin Robertson was based at Shepparton branch and having enlisted with the newly raised 7th Battalion, left Melbourne for Egypt in October 1914. In between training, the members of the AIF visited Cairo and saw the pyramids. Robertson subsequently served at Gallipoli.
On the battlefield
For all of their training, their hopes and their optimism of surviving what lay ahead, nothing could really prepare them for the horrors that confronted them.
Soon the news of dreadful losses and of badly wounded servicemen started to reach Australia. They included personal letters from Lt Colonel Ernest Smith of Hobart branch to the Governor of the Commonwealth Bank, Denison Miller, who had the difficult task of dealing with the growing number of CBA casualties. By the end of the war, the number killed would reach 26.
Despite the attentions of the censor, Smith painted a vivid and often bleak picture of the conditions on the battlefield. But his letters to his boss also contained upbeat messages, while downplaying the harsh tribulations he and his fellow troops faced daily.
In correspondence to Miller from France on New Year's Day in 1917, Smith wrote:
"The country in which we are located is laid waste by war. Not a village or a tree remains standing and the ground is one mass of holes caused by H.E. [High Explosive] shells for miles and miles.
"These holes are really dangerous especially if one is out in the dark as being full of slimy mud to often a depth of 6ft it is a difficult matter to get out after once getting in. Good fortune and Providence have so far watched over me and I have escaped other than slight injuries.
"The conditions of living here are extremely hard but better than Gallipoli. The worst thing we have to contend with is mud. This is literally over our knees in most places and one wants to be in the pink of condition to travel far in it. The organisation is splendid and everything works well but the life is too strenuous for a man to hope to last very long at it……
"….The weather conditions are trying, rain frost & snow prevail but our fellows are standing it remarkably well. It is astonishing what men will go through and yet remain cheerful. We have now been for 5 weeks without our clothes off once but beyond rather a tired look on their faces the men are as full of spirit as ever….."
After his final tour of duty on the Western Front, Lt Col Smith went on to survive the war and returned to Australia in the middle of 1918. He rejoined the Bank and subsequently became Superintendent for NSW in 1925.
Those that came home
Fellow Hobart workers Victor Tolland and Thomas McGhee both returned to Tasmania, having got married prior to their arrival home, while colleague John Chambers was also one of the fortunate ones.
Evacuated from Gallipoli and then wounded on the Western Front, he was seconded for duty at the Bank's London branch, where he worked until 1919. After returning briefly to Australia, he secured a transfer to the Bank's Rabaul branch (Chambers had been born and brought up on the island of New Britain). His story also had an uplifting ending. He moved back to Hobart in 1922 and married his CBA colleague, Kathleen Street, who had been recruited to replace him when he went off to war.
Sergeant Reginald Atkinson, whose message in a bottle washed up on a remote Australian beach, was another survivor. He fought at Passchendaele, Ypres and Villers-Bretonneux and at war's end was seconded to a temporary branch of the Bank at a military camp in England. After his discharge from the Army in 1920, he resumed working at the Bank's Adelaide office.
Captain Harry Cobby not only survived the war, he also came home as Australia's most celebrated flying ace, having shot down 29 enemy aircraft and 13 balloons in his Sopwith Camel fighter over the Western Front between February and September of 1918. His exploits earned him some of the highest aerial honours, including the Distinguished Flying Cross and the Distinguished Service Order and he led the AFC's flypast over London on Anzac Day 1919.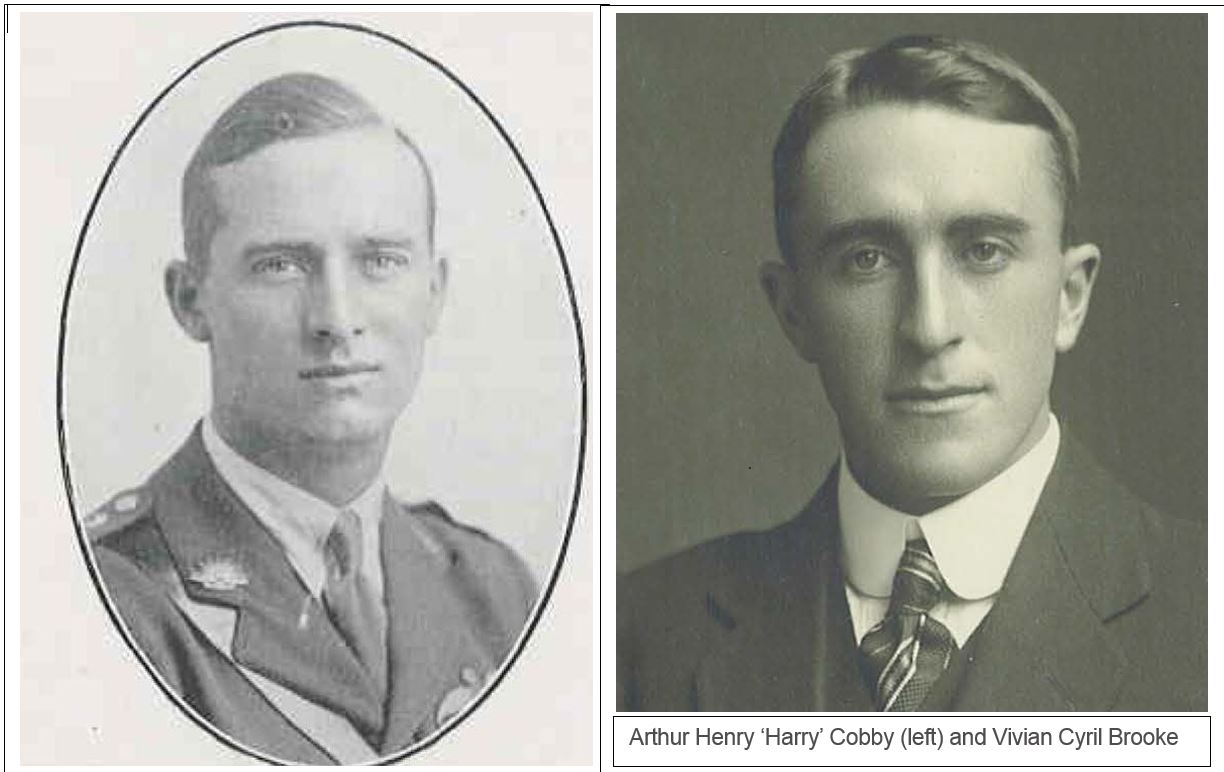 Casualties of war
But others weren't so lucky. Private Colin Robertson of Shepparton branch landed with the second wave of troops at Gallipoli on 25 April 1915. Separated from his company in the confusion, he fought alongside a group of New Zealanders during the day, after which he was initially listed as missing in action. It was later established that he had been killed that afternoon. He was 23.
Lance Corporal Vivian Brooke from Hobart branch was among those first to land at Gallipoli on day one, 25 April, in 1915 but within 24 hours of the battle raging, he was seriously wounded and taken prison by the Turks. Transported to Biga in Turkey, he was admitted to hospital but died of his wounds on May 4. Aged 27, he was originally buried at Biga and his remains later transferred to a cemetery at Gallipoli. Wagga branch's Ronald Henderson was badly injured twice in France and Belgium in 1916 and 1917, with his heroic actions in one battle earning him the Military Cross, the third-highest decoration for gallantry.
Lt Henderson, aged 25, was killed during an artillery bombardment near Villers-Bretonneux in April 1918 and is buried in a military cemetery in France. He lies alongside his 18-year-old brother, Hugh, a private in the 35th Infantry Battalion, who was mortally wounded in battle nearby and died of his wounds just a few days before Ronald.
Pte Robertson's, Lance-Corporal Brooke's and Lt Henderson's sacrifices, along with the other CBA war dead and those who served, are commemorated on the World War One Roll of Honour that was unveiled at the Bank's head office in 1919. Their names are also etched in our memories forever on the Australian War Memorial in Canberra.
Sources of information, images: Reserve Bank of Australia Museum; the Australian War Memorial; CBA Archives; Obituaries Australia; The Bankers Magazine (London), 1918; CommBank History pages.