It was the moment when all of Australia looked on transfixed in horror. The last test match of the summer was being played out at the Sydney Cricket Ground but few could concentrate on the game.
Up in the commentary box, Shane Warne couldn't believe what he was seeing on TV. Bushfires were raging across NSW, Victoria, and parts of Western and South Australia, leaving a trail of dead and injured, and devastated communities and wildlife in their wake.
"We were sitting there watching cricket, commentating on Australia playing New Zealand, and there were people losing their homes, people were dying," the former Test cricketer told media in January this year.
"It touched all of us and I thought I just had to do something. I felt this need to do something. Everyone else was doing things in their own way and I had to do something in my way."
Warne's response was to auction his treasured "Baggy Green" cap to raise money for the Australian Red Cross Disaster Relief and Recovery Fund. He expected it to go well, but even he was amazed when the bidding went into the tens and then hundreds of thousands of dollars.
And his response when the final successful offer of just over $1 million came in? "Just, wow!"
To CBA chief executive Matt Comyn, who was the mystery bidder on behalf of the bank, Warne's generous decision to part with one of his most cherished possessions and help those in need deserved to be matched in a similar way.
"He has demonstrated the same Aussie spirit we are seeing across the country with acts of generosity and dedication throughout this disaster as communities rally to support each other," said Mr Comyn at the time.
The $1 million donation was part of a broader contribution by CBA to bushfire relief that was to top more than $10 million in commitments in the 2020 financial year. Among other projects the bank supported following the devastating blazes were individual grants of up to $50,000 to help grassroots community groups get back on their feet.
The fires came at a particular challenging time for many people in regional and rural Australia. Communities were still reeling from years of crippling drought – conditions that only started to ease over the past 12 months but were then followed by fire and now the coronavirus pandemic.
Together with our customers who donated more than $6 million through the CommBank App and in-branch fundraising appeals, the group committed close to $20 million to disaster relief for drought and bushfire affected communities.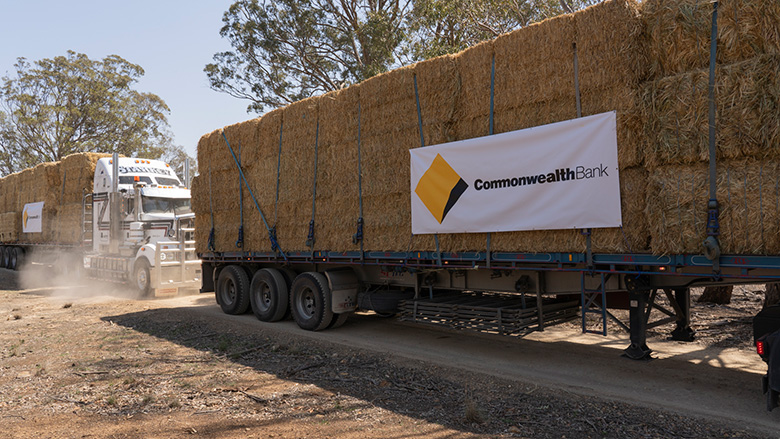 Rural Aid and CBA roll 296 bales of hay into drought-stricken Armidale in December 2019
From providing significant monetary donations – some of which helped to deliver almost 300 bales of hay to drought affected farmers in northern NSW, to launching a new program of services to help those experiencing domestic and family violence, CBA and its staff have proven their readiness to support those Australians most in need.
Over the past financial year, CBA has:
Donated $500,000 to both Rural Aid and Australian Red Cross as part of its Christmas Drought Appeal.
Launched an online 'Drought Support Hub', that brings together all of the Bank's support packages and resources under one portal, and directs customers to the many benefits and support packages available from government and external services.
Donated $100,000 to the Bush Children's Education Foundation of NSW.
Expanded its support for people impacted by financial abuse, with the launch of Next Chapter; a new program that brings a range of services, support, resources and research to the market.
In addition, a wide range of local community organisations have been helped by the CommBank Staff Foundation.
Now in its 102nd year, the CommBank Staff Foundation has a strong history of supporting youth-focused organisations through the Community Grants Program. The $2 million dollar program is made up of fortnightly contributions by CBA staff, which are matched by the bank.
2020 marks the first year in the program's history that CBA employees have been able to nominate any eligible organisation or charity in their local community that needs a financial boost.
Recipients of this year's grants are working to address a diverse range of issues across the community – including homelessness, Indigenous disadvantage, domestic violence and cancer support.
Commenting on the different forms of help provided by the bank, Mr Comyn said: "Our customers and the communities we serve deserve our support in good times, but especially when times are tough. And times don't get much tougher than they are right now."