Like the faces and names that appeared on its pages in ever increasing numbers, the editorials in the CBA staff magazine, Bank Notes, at the beginning of World War Two reflected the sense of foreboding but also the hope that the bank's servicemen would return home safe and well.
Typical of those expressions were the tail-end comments of the introduction to the list of bank officers who had joined up by the time of the publication of the March 1940 issue.
"Let us close this semi-editorial note with our special good wishes to all our soldier, sailor and airman members at home and abroad. We pray for their safety as we do for their success," it stated.
The columns of those who enlisted continued to grow as the war intensified, especially after the Japanese bombed Pearl Harbour in December 1941, bringing the Americans into the conflict and the battle to Australia's doorstep.
But as the Bank farewelled more of its young men to the front, so too did it have to face up to the increasing numbers of them who would never come home.
The issues of Bank Notes between 1941 and 1947 – the latter ones two years after the war's end in August 1945 as the men began to be demobbed - make for increasingly sombre reading.
In the June 1941 edition, there was a stark and sad addition to the names of those who had enlisted.
Entitled "Our First Casualty List", 19 names of staff from places as far afield as Townsville and Melbourne, stood out under the headings of "Missing - believed wounded", "Killed in Action", "Wounded in action – dangerously ill" or just  simply "Missing".
Over the next page and a half, the uniformed portraits and smiling faces of four of those who had died were displayed along with short biographies of their lives and information about their military service.
Below those was an editor's note: "Bank Notes adds, on its own behalf and for the whole staff of the Bank, deepest regret for the untimely passing of these fine young men and extends sincere sympathy to sorrowing relatives."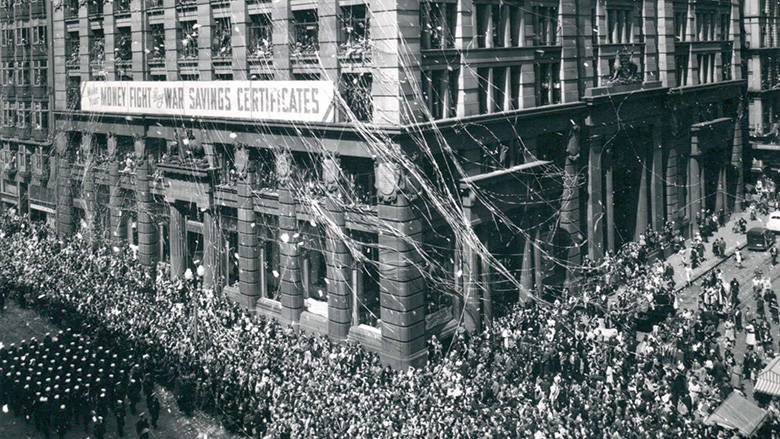 Commonwealth Bank Head Office Corner Martin Place & Pitt Street (Reserve Bank of Australia Archives; PN-000979)