For the first time in almost three decades, Commonwealth Bank has reimagined its iconic diamond – a symbol that has been rooted in the brand's history.

Commonwealth Bank's Chief Marketing Officer Monique Macleod said the bank had transformed in recent years – delivering customer focused changes – and as such, the time was right to launch a refreshed brand.
"We have been working to put the needs of our customers front and centre," she said.
"With the work we are doing to reinvent the organisation around a new strategy and values, now is the right time to refresh the iconic diamond, making it lighter, brighter and more dynamic, and inject new meaning into the Can platform.
"A symbol of optimism fit for the future and one that represents the work we've done to be better, the work we still have to do, and the brighter future we are committed to helping Australia achieve."
In addition to evolving the iconic logo, the bank has breathed new life into its Can platform, becoming 'Can Lives Here'.
According to the bank, this platform celebrates the Australian capacity to not only thrive, but to stay optimistic even when optimism is under threat.
To deliver the new look and feel and corresponding creative platform, Commonwealth Bank partnered with M&C Saatchi and Re Agency.
Sharing the story behind the new corporate identity and campaign development, M&C Saatchi Chief Creative Officer, Cam Blackley, said: "In the early parts of creative development, we spoke directly with customers and front-line staff and we heard over and over again about that shared resilience, the "can do" attitude and positivity that Aussies have always shown.

"We wanted to create a campaign that celebrates and showcases the achievements and attributes of these people, on television, in print, on outdoor sites and social media."
The new marketing campaign, which debuted on Australian televisions screens on Sunday 11 October, showcases real stories from real customers who prove 'can lives here'.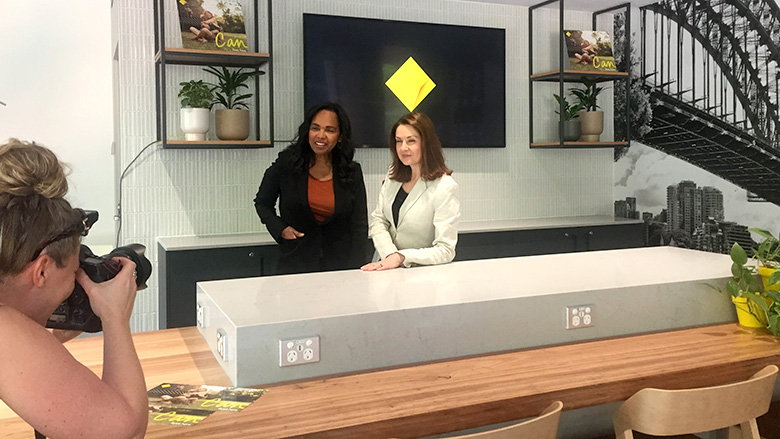 Commonwealth Bank's Group Executive Marketing and Corporate Affairs, Priscilla Brown, and Chief Marketing Officer, Monique Macleod, unveil the refreshed logo